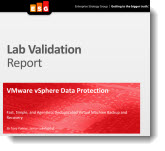 New PDF report testing VDP  has been conducted by ESG. Recently an enhanced version of VMware vSphere Data Protection has been unveiled by VMware. This Enhanced version of VDP is about 4 times more scalable than the VDP Standard. You can read all the details about VDP advanced in my post here.
Very good performance on the variable-length deduplication which can lower the usage on storage by four compared to traditional fixed length solution (Note that vSphere Data Recovery (VDR) introduced in vSphere 4 uses fixed-length). In this new PDF produced by ESG. In this 17 page document you'll find how the tests has been done.
They used dual quad-core Intel Xeon CPU and 40 Gb of RAM connected to an iSCSI storage via 1Gbe LAN with 8 x 2TB 7.2k SATA drives. The array has presented 8TB LUN to the server.
The interesting part was when they restored a full VM by using changed block tracking (CBT), and they compared to a backup solution without the use of CBT. They deleted folder which contained some 20 Gigs of data, and then they launched the full restore operation. The result: It took only 3 Min with CBT which was 6 times less time than without using CBT (18 Min).
VMware vSphere Data Protection – Quick quote from the document.
variable-length deduplication is able to find more duplicate data patterns than fixed length because some of the repeating patterns are smaller than the fixed-length deduplication chunk size and are effectively "hidden" inside the larger fixed-size chunks that are being examined.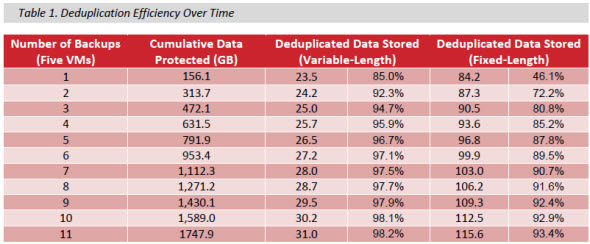 VDP's unique variable-length de-duplication can decrease backup storage by a factor of 4 compared to commonly used fixed-length de-duplication technologies
6x faster recovery when VDP uses Changed Block Tracking (CBT) during recovery as compared to a conventional backup utility
Last, but not least – a nice quote on ease of use: "ESG Lab confirmed that VDP is a robust and easy-to-use solution that provides tightly integrated data protection for VMware vSphere environments. VDP's simple, intuitive user interface is built specifically for virtualization and the solution is delivered as a virtual appliance, making implementation and management easy."
Source: VMware SMB blog