New book has just been published – VMware vSphere Performance. The authors are well known in VMware virtualization communities – Matt Liebowitz, Christopher Kusek, Rynardt Spies.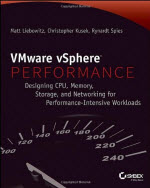 I looked into the content on Amazon. A test lab design is there. How and why to design a test lab and which tools to use for capacity planning, performance analysis,  performance benchamrks or performance simulation tools.
Why to built a test lab? Test new application before deploying in production, or test changes before applying in production. Simulate or re-create production problems, simulate performance problems for troubleshooting etc…
The four main virtualization chapters are on the menu: Memory, CPU, Network and Storage. Each of those topics gets explained in details. Every vSphere feature is listed, like vFlash Read Cache (VFRC) cache  or VSAN.
A chapter on troubleshooting storage performance issues looks promising too. Here is a few:
Storage latency
Misconfigured Storage for your applications
Storage Queues
End-to-end networking
The book is available at Amazon as Printed or as Kindle edition.
VMware vSphere Performance  – 7 principal chapters:
Performance Design
Building Your Toolbox
The Test Lab
CPU
Memory
Network
Storage
Quote from Amazon:
Covering the latest VMware vSphere software, an essential book aimed at solving vSphere performance problems before they happen.

VMware vSphere is the industry's most widely deployed virtualization solution. However, if you improperly deploy vSphere, performance problems occur. Aimed at VMware administrators and engineers and written by a team of VMware experts, this resource provides guidance on common CPU, memory, storage, and network-related problems. Plus, step-by-step instructions walk you through techniques for solving problems and shed light on possible causes behind the problems.

Divulges troubleshooting methodologies, performance monitoring tools, and techniques and tools for isolating performance problems. Details the necessary steps for handling CPU, memory, storage, and network-related problems. Offers understanding on the interactions between VMware vSphere and CPU, memory, storage, and network. VMware vSphere Performance is the resource you need to diagnose and handle VMware vSphere performance problems, and avoid them in the future.

Who should buy the book?
The book with its advanced concepts is not destined to readers that do have already some experience with virtualization and should already deployed vSphere, used vMotion or DRS. Readers who already did some designs, management or administration of VMware vSphere environments.
*********************************************************************
Shop for vSphere licenses at VMware Store:
*********************************************************************
See the packed content I can only recommend this book to my readers… -:)
The book is available at Amazon at Printed or as Kindle edition.