After our successful upgrade of our vCenter Server Appliance (VCSA) to vCenter 6.0 and ESXi host to ESXi 6.0, we need to install an VMware vSphere update manager 6.0 (VUM) on a Windows. This is the only Windows Server requirements for VMware vSphere 6. (except surely a Domain controller…). The installer needs a Windows VM (or physical system) and also SQL database. For small scale (up to 5 hosts) you can use the bundled SQL Express 2012. Otherwise you can use Microsoft SQL or Oracle DB as external Databases, but those are paid options…
In case you're running the VUM together with Winwodws based vCenter server 6.0, the Windows VM needs 8Gb of RAM. If You're running the VUM on a member server, then you just needs 2Gb of RAM for that Windows VM. In my lab I decided to install the VUM on clean Windows 2012R2 VM, so I gave it only 2 Gb of RAM.
Update Manager 6.0 and the UMDS 6.0 can be configured to use the new embedded database Microsoft SQL Server 2012. The option to select and use Microsoft SQL Server 2012 database has to be chosen before starting the Update Manager server or the UMDS installation wizard.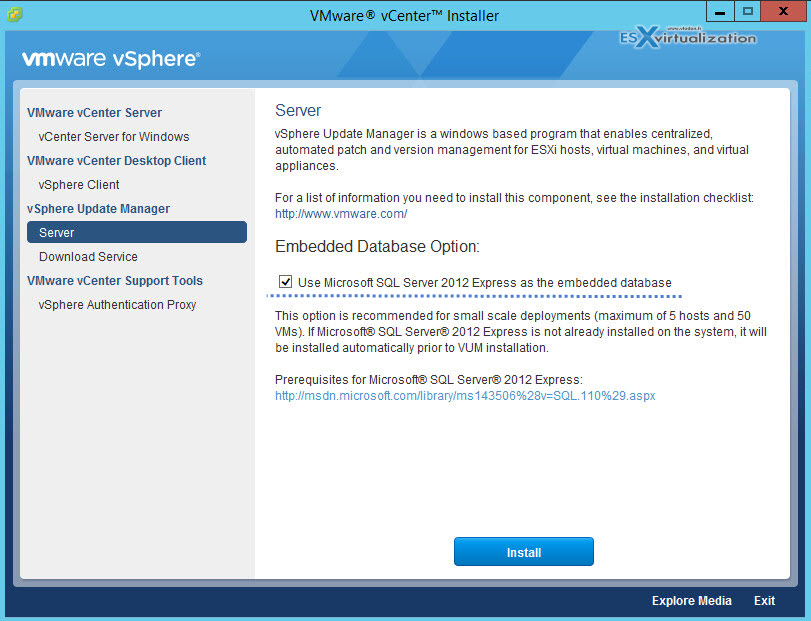 The System Requirements:
As being said, Windows box is necessary to install VUM. It can be anything from Windows Server 2008 R2 and higher. The OS support matrix for vCenter server and VUM is here. Obviously if you want to install VUM 6.0 you'll need to first install vCenter server 6.0. I precise as some would possibly think that VUM 6.0 can also upgrade vCenter server to the v 6.0. This is not possible.
I'd invite you also to check out this VMware KB Update sequence for vSphere 5.5 and its compatible VMware products (2057795), which will show you which product to upgrade first. If you run cloud products as well as security products, VR, VDP, View etc…
vCloud Director (VCD)
vCloud Networking and Security (VCNS) (formerly vShield Manager)
Horizon View
vCenter Server
vSphere Replication (VR)
vCenter Site Recovery Manager (SRM)
vRealize Operations Manager (formerly known as vCenter Operations Manager)
vSphere Data Protection (VDP)
vSphere Storage Appliance (VSA)
ESXi
vShield Edge
vShield App
vShield Endpoint
So basically this KB is a must !!! 

Why would you bother to do upgrade with VUM?
vSphere Update Manager is a software for upgrading, migrating, updating, and patching clustered hosts, virtual machines, and guest operating systems. Update Manager orchestrates host and virtual machine upgrades. If your site uses vCenter Server, VMware recommends that you use Update Manager.
Using vSphere Update Manger, you can perform an orchestrated upgrade. Orchestrated upgrades allow you to upgrade the objects in your vSphere inventory in a two-step process: host upgrades, followed by virtual machine upgrades.
Back to the lab where the new VM is just ready to be installed with VUM.. -:) I found out that installing the .NET 3.5 SP1 via the server manager BEFORE is actually better choice than leaving the installer to install the .NET…
It's a requirement

Basic networks settings are required like, fixed IP and both DNS records (forward and reverse) to be created on your DNS servers. The VM has to be also joined to the domain in your organization. Those are basic networks steps which are the usual ones. Then we can start the actual installer and see how it goes. On the first screen you basically saw that I checked the embedded option of the Microsoft SQL express 2012 as the DB option.
The built-in installer of Microsoft SQL Express 2012 does all the necessary job and so the DB is installed and configured when you select Microsoft SQL Server 2012 Express as your database during the Update Manager installation or upgrade. No additional configuration is required. Note for large scale deployment you'll be certainly using Microsoft SQL Database server and this post does not cover the installation.
As concerning the DB maintenance afterwards, VMware recommends to:
Monitoring the growth of the log file and compacting the database log file, as needed.
Scheduling regular backups of the database.
Backing up the database before any Update Manager upgrade.
Those are also usual tasks that any admin should take in mind. What I usually do is to install Microsoft Management studio or any other DB management software so I'm able to navigate through the tables and the DB properties. You might want to check my post 5 Free Alternatives to Microsoft SQL Management Studio.
Let's see how it goes in the lab.
01. Run the Autorun.exe after mounting the iso into the VM and choose vSphere Update Manager Server. Check the "Use Microsoft SQL Server 2012 Express as the embedded database" and click the Install button.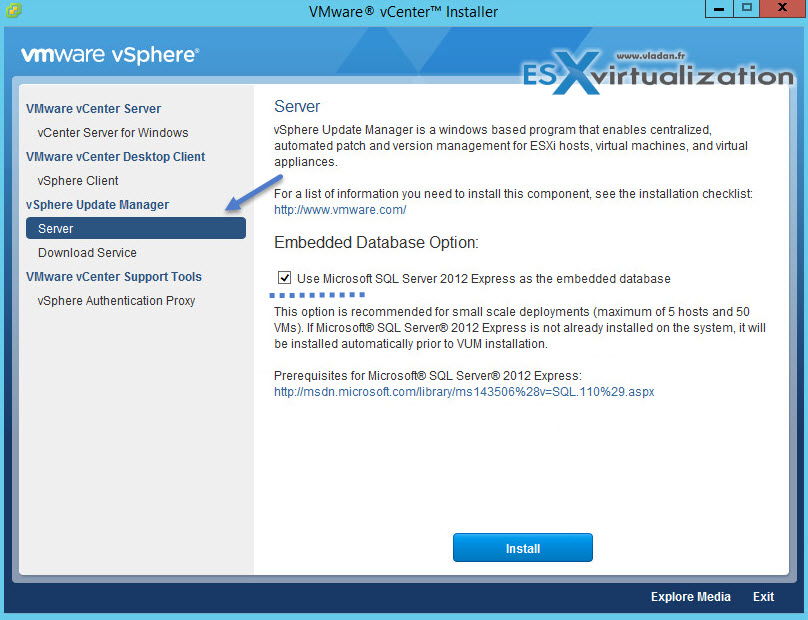 02. The installer will start with the SQL express installation and after 5-6 min when it finishes, it will launch the VUM installation. You'll see then the VUM installer starting… Pretty straightforward…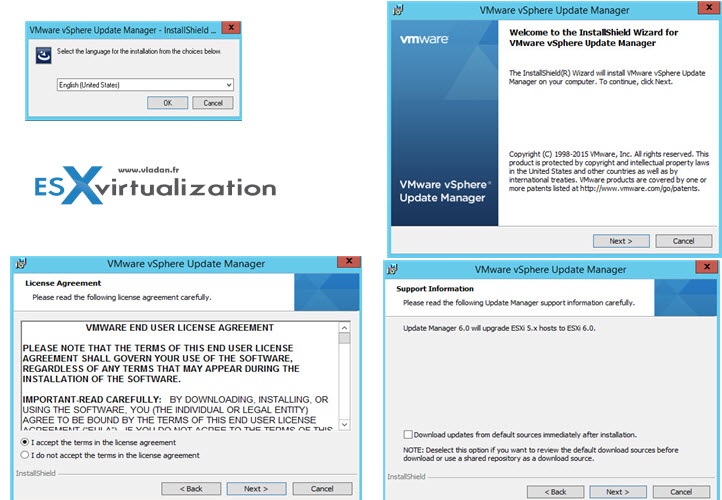 You're asked about the vCenter server credentials, and then it finishes  …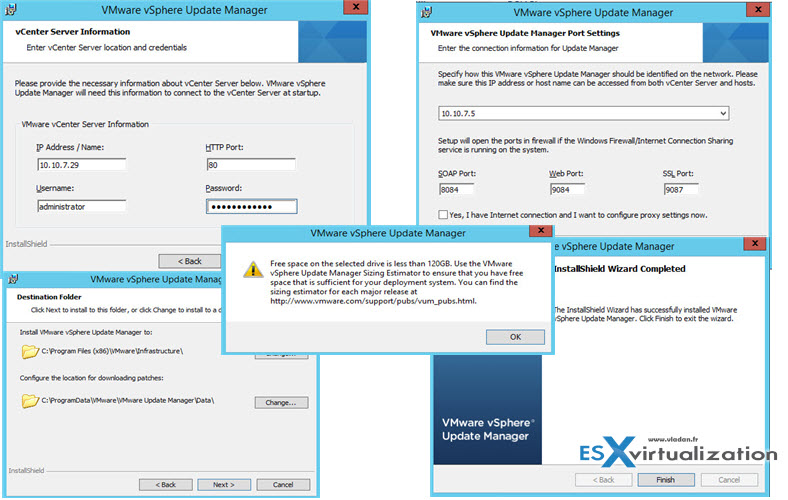 Note that if you want to install the VUM download service on the same machine, you can't…. 
It means that you'll need another Windows VM… -:(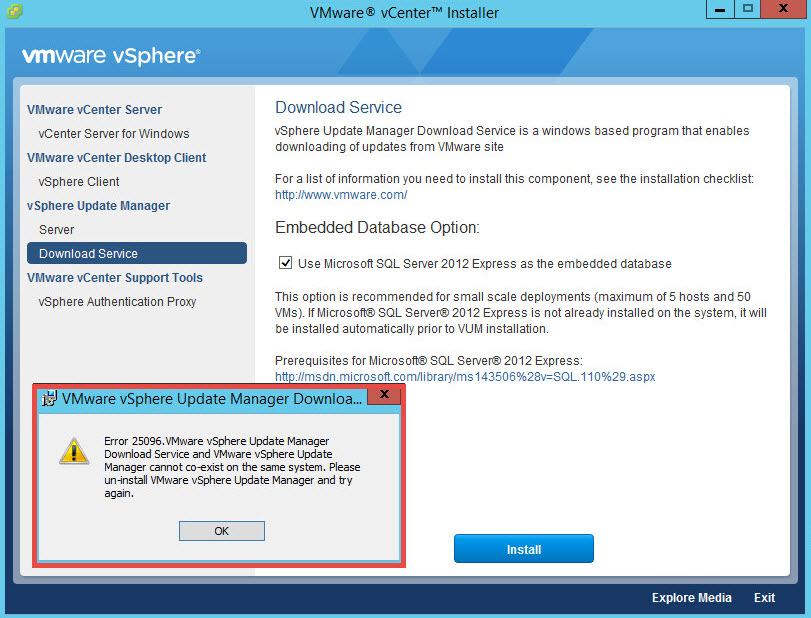 I have also recorded a quick video to show the installation… Watch in HD and Full Screen !!
Update: UMDS is meant to be used just in case vSphere Update Manager does not have an access to the internet. So basically UMDS is destined to be placed in the DMZ…. That's explains why it is not possible to install it on the same system as VUM. Note that UMDS 6.0 can work with certain versions of VUM 5.5. Check the vSphere 6.0 documentation.