The other day I was trying VMware Workstation 10. I can't remember if previous release was able to downgrade the virtual hardware, but the release 10 of Workstation can. I was actually trying to upload a Windows 2012 R2 server VM which I installed by using Workstation. This is something that has been around since version 8. I found out that I can downgrade virtual hardware with the latest release.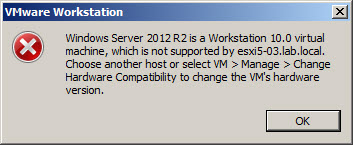 My lab is currently running the latest release of vSphere 5.1. So when I wanted to use Workstation to upload that VM to my cluster, Workstation was complaining that the destination cannot run my vmx-10 virtual hardware. True. And the message said that I have to downgrade the VM.
That surprised me as I was practically certain that once your virtual machine hardware being upgraded there is no way to go back….  Here is the way to do it.
Right click the VM  > Manage Hardware compatibility > A wizard will pops up showing you to which version of virtual hardware you want to downgrade.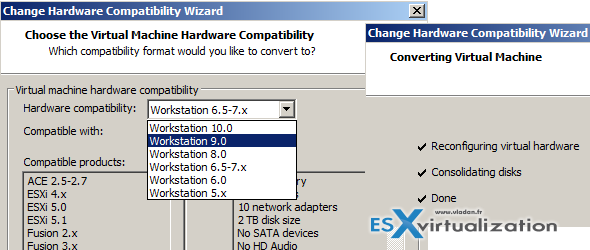 Once you click next, you'll see a radio button choice selected on "Create a new clone of this virtual machine" . The other choice is Alter This virtual machine.  It's up to you….. I would say if the VM is important take the first option!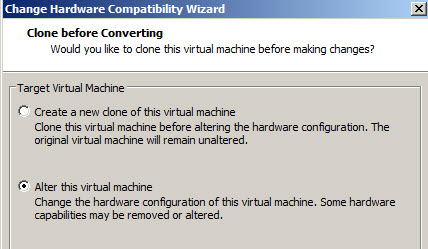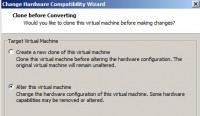 I took the second option as I have been testing the uploads/downloads etc, so I did not really care if the VM gets corrupted. But I've tried twice and it worked like a charm. So what have we learned? VMware Workstation 10 is the best complementary tool for an enterprise admin.
What's New in VMware Workstation 10?
Creation of Restricted VM Advanced – can expire a VM at predefined date and time.
When you run Workstation VM on a tablet, the VM can use accelerometer, gyroscope, compass and also the ambient light sensor.
Multi-monitor setups easier than before. Can use 2, 3, or 4 monitors
Unity Mode Integrated to work with Windows 8.1
New converter built-in can also p2v W8.1 from physical to virtual.
Support for 16 vCPUs, 8 TB SATA disks and 64GB of RAM
New Virtual SATA disk controller
Now supporting 20 virtual networks
USB3 streams support for faster file copying
Improved application and Windows VM startup times
VMware Workstation 10 and Upgrades – Best Desktop Virtualization Software
VMware Fusion 6 – Restricted VMs, Virtualized VT-X/EPT…
VMware Upgrades – vSphere, Workstation, Fusion, ESXi, & vCenter Server…
Save Big on VMware Workstation 10 & Fusion 6 – VMware Academic Store
Enjoy…