There is a new version of the most popular desktop virtualization software – VMware Workstation 15.5 Download Available. We have reported on the new features in our recent post, and there is also a VMworld session presenting those features here.
It brings some latest support for Windows 10 19H2 bringing improvements and updates to the existing Windows 10 19H1. (The 19H2 will be delivered just like a normal Patch Tuesday release, also known as a Cumulative Update and it is smaller download.)
Worth to note that VMware Workstation 15.5 Pro is a free upgrade for all VMware Workstation 15 Pro users. If you're still on Workstation 14 or 12.5 you can Upgrade Here!
From the release notes, we'd like to highlight few new features which are worth to upgrade…
Workstation 15.5 introduces the pvscsi device, bringing improved desktop-to-datacenter compatibility for many virtual machine and OVA/OVF templates. You no longer need to change virtual devices and settings when migrating workloads between Workstation and vSphere. It improves the compatibility for VMs migration between Workstation and vSphere.
Other new features we can mention is a new support for the OS below (including W10 we talked briefly at the beginning of this post)
Support for new guest operating systems:

Windows 10 19H2
Debian 10.0/10.1
Debian 9.11
Oracle Linux 8.0
SLE 15 SP1
FreeBSD 12.0
PhotonOS 3.0

Jumbo frame support: Virtual networks can now be configured with MTU size of up to 9000 bytes.
Preserve Network Configuration: Network settings are now preserved after upgrades. You can also import and export your network configurations.
Multiple display shortcut key: You can now quickly adjust the VM display layout with a new keyboard shortcut. Ctrl+shift+m brings up the topology chooser where you then key the number of the corresponding layout you want.
Here is the screenshot showing the upgrade screen…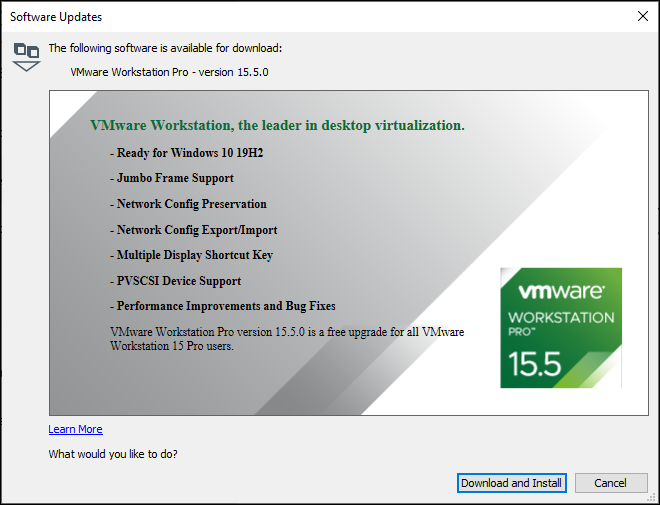 VMware Workstation – Export your network configuration
If you're planning to migrate to a different machine or before a major upgrade, you can now export your network configuration. If you want to export all your network configurations, you'll have to start the Virtual Network Editor tool available from the Menu Edit > Virtual Network Editor.
This allows you to share those configs across different PCs if you, for example, created some complex network environment or you just simply have some nested ESXi with vCenter server and some networks for let's say vMotion, FT, HA and you want to be able to re-create that on a different machine quickly.
There you'll find the export button there.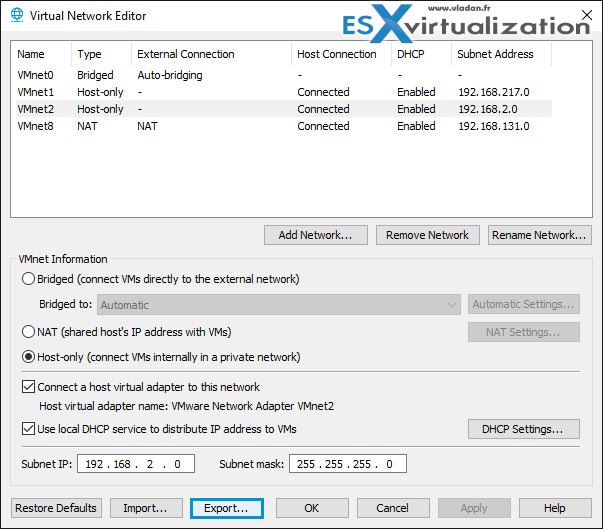 Note ther Rename Network button there allowing you to rename a network. This feature was added in one of the previous releases of VMware Workstation and finally allows to personalize the networks the way you need.
Other than that, the Workstation software has really matured and it is really the most complete software for desktop virtualization. I use it personally for nested lab scenarios.
Get your copy: Download VMware Workstation Here!
Upgrade: Upgrades can be found here.
You can also check VMworld 2019 Video from US
More from ESX Virtualization
Stay tuned through RSS, and social media channels (Twitter, FB, YouTube)