VMware Workstation is evolving. Soon we'll have a new release, but right now you can download and test Tech Preview that we'll have a look at in this post. The main UI hasn't changed much, but some nice additions, including the VMware Workstation Fast Encryption feature, have made their apparition.
The latest version of VMware Workstation (Tech Preview for now which you can download and test here) introduced a nice new feature called Fast Encryption. When you install Windows 11 VM now, via a wizard, you'll find Windows 11 in the drop-down list of operating systems (Yes, Windows 11 is currently officially supported so the installs are easier). The virtual TPM required by W11 is now added automatically when you walk through the wizard.
This version of VMware Workstation is still a Tech Preview so I won't create and use new VMs in production with this release, but it allows me to test all the features that this version has to offer.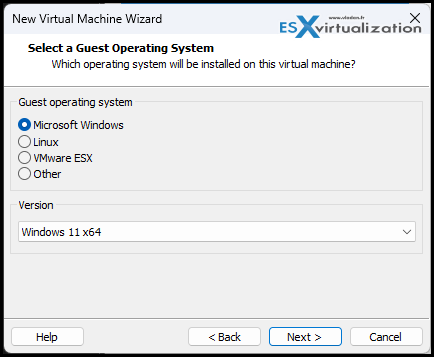 So via the wizard of new Windows 11 VM you're presented with a screen where you can encrypt either some of the VM files, or all of them. By choosing only some of the files (.nvram, .vmss, .vmem, .vmx, .vmsn) you'll improve the speed of the VM performance quite nicely.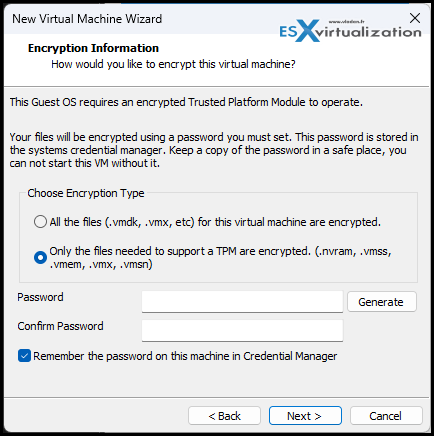 Quote:
With the new 'fast encryption' mode, only the most critical parts of the virtual machine's local storage space are encrypted, dramatically improving overall VM performance but providing a secure enclave for sensitive data such as a TPM device. Fast Encryption can be enabled for all VM types from the VM Settings. > Encryption window, or during the New VM walkthrough.
Fast encryption is definitely very good for Windows 11 VM performance!
What's New in VMware Workstation?
Windows 11 Support – while we could install and test W11 with the previous release of VMware Workstation, the latest version allows this much easier with faster VM performance too. So this release of VMware Workstation for Windows and Linux now officially supports Windows 11 for x86 and x64 CPU types.
Virtual Trusted Platform Module (vTPM) – As I said, during the new W11 VM creation, the vTPM is added automatically, but you can add the vTPM to any VM (via VM > settings). The vTPM  has been enhanced by incorporating 'Fast Encryption', key auto-gen and key storage via Keychain with a TPM 2.0 virtual device profile that is compatible with Windows 11 system requirements. Of course, vTPM device can be added to any VM, but that VM must have either Full or Fast VM encryption enabled.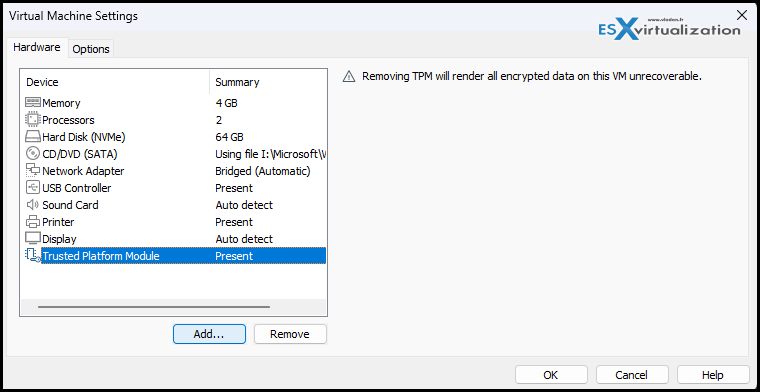 Fast Encryption – yes we talked about this above.
Encryption Key Auto-Generate and Store – Workstation can auto-generate a password for the user, and the local keychain is used by default to store the encryption key, relieving the user from having to type it in whenever their VM boots.
Graphics Enhancements
OpenGL 4.3 – Workstation for Windows and Linux, when used with a Linux VM that has a kernel of 5.18 or newer and Mesa 22.1.1, should notice that OpenGL now reports its version at 4.3 and OpenGL ES at 3.10.
Autostart VMs – Workstation brings autostart VMs! Yes, I think this feature is very usefull when you have some permannent VMs that you always launch after booting your system. Now you can configure your autostart VMs via File > Configure Auto Start VMs.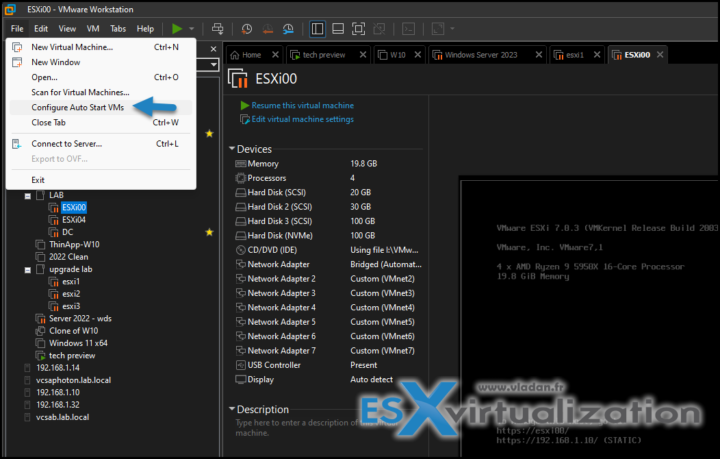 Wrap Up
I'm certainly very happy with those new features that will be added to VMware Workstation soon (not the date of the official release yet). I'm using this software since over a decade and I can tell that it always catches up with new features when we need them.
The evolution of Microsoft's OS over time makes the use of VMware Workstation my principal tool that allows me to configure, test and do some write ups. VMware Workstation is also used as my nested lab (screenshot above) where I'm running a 2-node cluster with StarWind providing me shared storage.
Source: VMware Blog
More posts from ESX Virtualization:
Stay tuned through RSS, and social media channels (Twitter, FB, YouTube)