Unless you living under a rock you already probably know that this year's VMworld 2020 is a digital event due to COVID situation. So this year VMworld 2020 will be a digital event and you'll be able to watch and interact online.
Here are the dates: September 29 – October 1st.
I know, it's much less sexy than attending physically with real people, interact with other VMworld's attendees, or exchange with your peers.
The content catalog is already online so you can register and have a look. Sessions are listed chronologically and times display in your local browser time. The VMworld online website where you can register is updated with new content daily. New content is added on regular basis.
The Agenda: https://www.vmworld.com/en/agenda.html
The Registration page has 2 options: Free and Premier pass.
FAQ PDF is here.
The Free pass has 7 VMworld live channels, 500+ on-demand sessions, solution exchange, etc. The premier is paid and has some limited capacity sessions hosted on Zoom in two times zones. But it allows you can book up to 3 roundtables AND 2 guided workshops.
The Premier pass ($299) allows you also to do VMware hands-on labs guided workshops, led by VMware product experts who develop lab content, covering a variety of VMware products including vSphere 7, NSX, VMware Tanzu, vSAN, vRealize Suite and more. There are also Birds of Feather meetings led by the VMware community, participate in an informal discussion focused on shared professional interests. You can also participate on 1:1 expert consultations.
Another benefit of the premier pass is also that it allows you to get a discount for VMworld 2021 in San Francisco or in Barcelona. Also, a VCP certification voucher discount is included when you pick the Premier pass.
Quote:
Option to purchase a VCP certification exam voucher at 50% off* (*Exams must be taken October 1 – 16, 2020. To receive the offer, you must purchase the voucher during VMworld registration.)
Register for a VCP exam and attend VMworld next year and with the premier pass you'll get 50% off a VCP which is worth $125 + $100 off VMworld 2021 = $225 worth of discounts.
Note: If you are registering for a FREE pass, you can still save %25 Off VMware certification exam voucher purchased as part of VMworld 2020 registration.(exams to be completed October 1 – December 31, 2020).
You can also use PSO credits for VMworld. PSO/Training Credit accounts must be valid (not expired) and active at the time of purchasing the VMworld pass. PSO/Training Credit accounts must be activated before purchasing the passes.
If you're interested in purchasing for VMworld using your PSO credits, just check the FAQ pdf listed above.
Screenshot from the content catalog, which has a nice help guide….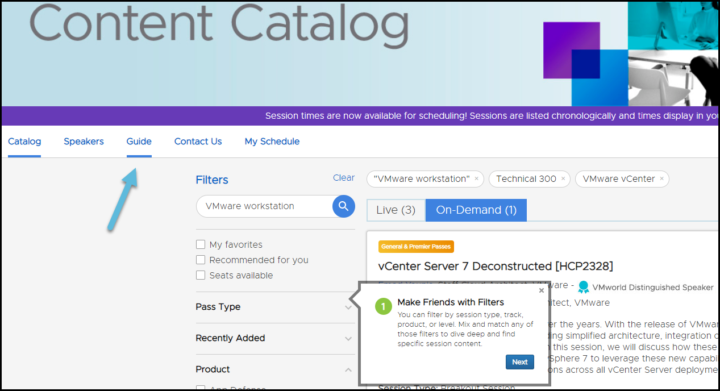 The agenda is broken into two days:
Day 1 and Day 2. You can check the agenda and the time zones on the agenda page here.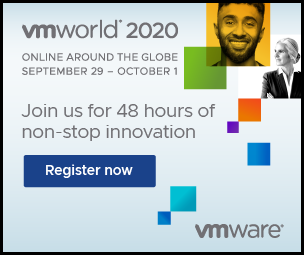 VCP learning during VMworld 2020?
Check this out:
Education Services Sessions at VMworld 2020
Our VMware Certified Instructors will be conducting sessions covering everything from vSphere troubleshooting to advanced NSX to VMware on AWS, and much more. In addition to our usual product-focused sessions, there will be some professional development-related sessions as well. This year's session types will include:
Pre-recorded breakout sessions (available to all registrants for viewing anytime)
Exam guide review workshops (reserved for Premium Pass registrants)
Intimate roundtable discussions (reserved for Premium Pass registrants)
Click here to view the complete list of Education Services sessions.
Some links from my certification page:
On-Demand Training Classes (mandatory to pass VCP):
and also, our Free (sponsored) VCP-DCV 2020 Study guide (based on vSphere 6.7).
[Note: VCP-DCV 2020 Study Guide based on vSphere 7 Is in the works too, however, there is 80 chapters to cover… expect the guide to be ready in a couple of months]
Final Words:
I know that you might be disappointed by the fact that this year's VMworld isn't happening in real, only online, but as you can see, All IT and consumer events around the globe gets canceled and only digital (virtual) events are held. This situation is quite exceptional and we do all hope that it will resolve for next year.
We do believe that humanity will win this battle (this time) and that COVID will be history, sometimes next year.
More from ESX Virtualization
Stay tuned through RSS, and social media channels (Twitter, FB, YouTube)