As last year, I got that change and attend personally this year's VMworld in Barcelona. I feel very privileged to be able to attend as many folks don't have that possibility and stays home. While I don't have an employer, it's still my employer (myself) who pays for the travel and expenses… But most importantly, VMware has offered me the entry ticket for the show – a blogger pass. While being a self employed is my personal choice (I like my freedom), it does not mean that I'm not opened to propositions for activities that do not require my physical presence …. (hint, hint…)

My thanks to VMware and my website sponsors that my venue to the 10th VMworld Barcelona is possible! 
Hopefully the weather will be as nice as last year. Last year we had an almost summer time when arrived. I'm planning to attend some sessions, sure. But the sessions are available after online too, so I haven't overbooked too much. I'll rather spend much more time and hang out in the blogger's lounge to network with my fellow bloggers or discover new technologies and products in the solution exchange.
There is many cool stuff which is still expected to be announced the day D – 15th of October (currently under NDA) and there will certainly be many cool parties to attend too. While the ESXi 5.5 and (almost) the whole vSphere 5.5 product suite was announced during VMworld San Francisco,  and released few weeks after, not all products got their updates…
Be sure to check the latest news about VMworld on My dedicated VMworld 2013 Page.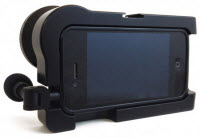 You can expect new videos and interviews to be recorded during the show, as I'm packing my All-in-One camera-phone gear with me again this year. Stay tuned for those videos at www.vladan.fr/youtube … My video shooting gear got little enhanced this year, with another external mike. The mike is nothing fancy. It's a device with a real cable which just plugs in. Yes wired. I did not want to spend money on a new device which I'm not using much through the year. I really did not ruined myself on this one, but I think that background noise when some talk directly to the mike will be much lower than only with the small directional mike which I had originally with the mCamlite iPhone adapter. The solution exchange is very, very noisy….
Hey, I'm a blogger and reporter. If you see me, come to say hi… -:)
One of my professional activities is is blogging. I'm also IT guy, didn't you noticed yet? -:)… I run this blog on daily basis, it's a full time job. I'am a professional blogger, and I blog daily. While I'm not native English, my writing got better (I hope) and the flow of daily posts satisfies wast majority of my readers as I'm always trying to find interesting topics from Virtualization, IT and VMware based sources.

During previous VMworlds I met some of my readers who recognized my blog and spontaneously said "hi, I know your blog". This is very satisfying and encouraging.  I was able to discuss different implementations of products that has been covered by myself (installed in my lab) by the folks in the field and I got their reactions, which was a nice feedback.
I'll be wearing my (very fancy) ESX Virtualization t-shirts during the show so my regular readers, people who stumbled through this blog, and everyone else, can come to see me and recognize me. I'm preparing mentally and physically for the show as I know it will be like 3-4 day's marathon again. But I hope to have some a lots of fun and good time.
Get In touch !
As being said, my writing got much better since I run this blog, but if you still find some errors it's because I'm not an English native. I just speak two other languages – French and Czech. -:). See you there….