VMware VSAN shall be released in March 2014. This is close! We're already in Mid-February. VMware VSAN is currently in public Beta and all beta customers can apply for 20% discount. It's limited time discount on any product purchase of 10 licenses or more. (valid until June 2014).
VMware VSAN is licensed per CPU. If you don't enter the VSAN license, there is no possibility to create disk groups etc…(I tested during the beta, see this post). And I also tested VSAN with nested ESXi hypervisors here.
At VMware PEX helded in San Francisco last week some new informations about VSAN were unveiled. If you were part of the betat, you certainly know that the public beta supports up to 8 nodes. VSAN when released as GA shall support up to 16 nodes. Another information is concerning the licensing. VSAN shall be licensed
Quote from official VMware press release:
VMware Virtual SAN will be certified with hardware servers and devices from Cisco, Dell, EMC, Fusion-io, HGST, a Western Digital company, HP, IBM, Intel, LSI, Samsung Electronics, SanDisk and Seagate at general availability — providing customers with a wide range of options on which to run VMware Virtual SAN. VMware Virtual SAN is expected to be generally available in Q1 2014.
Image from slide deck from VMware PEX (source: Chuck Hollis Blog)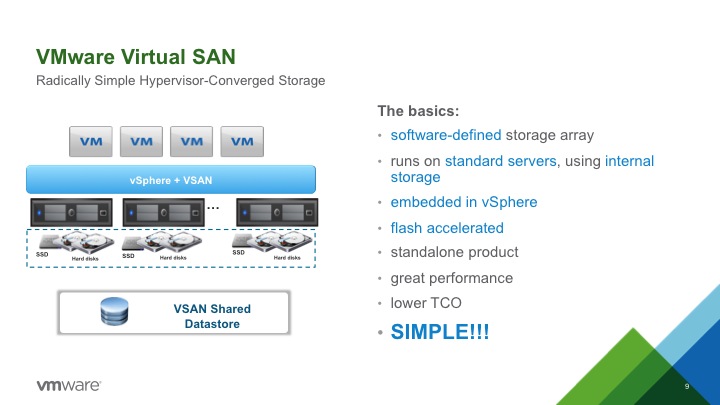 The VMware Compatibility Guide for VMware Virtual SAN is available at:https://www.vmware.com/resources/compatibility/wizard/request.php?deviceCategory=vsan
VMware works with hardware partners on VSAN Ready Nodes. Those shall be available as prepackaged servers compatible with VSAN out of the box. No manual adding of SSDs, controllers or magnetic disks will be necessary as those VSAN Ready Nodes shall integrate all compatible components inside the server. This is not new as I reported on that in my other VSAN post  here, but it shows that VMware want to make the integration of VSAN as simple as possible not only from the configuration perspective (software) but also from the hardware side, as VSAN do need a hardware to run on.
Each VSAN node can support up to 35 disk drives (in addition to up to 5 SSD or PCI-e flash devices). A maximum of 560 spindles in a single VSAN cluster is supported. That's getting big… -:)
Image from slide deck from VMware PEX (source: Chuck Hollis Blog)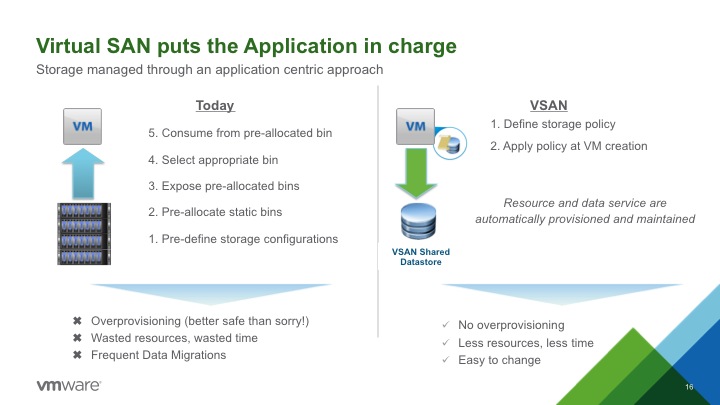 VMware VSAN's policies are to be created and then consumed by workloads which can be adjusted for performance or protection. VSAN will change our storage habits I believe….
The good thing is that is possible to make VSAN work on existing hardware (needs to be upgraded to vSphere 5.5 – if supported by the hardware).
VSAN Licensing:
(source: VMware vSphere Online Documentation)
License Capacity for Virtual SAN – Just like vSphere licenses, Virtual SAN licenses have per processor capacity. When you assign a Virtual SAN license to a cluster, the amount of capacity that is used equals the total number of processors in the hosts that participate in the cluster. For example, if you have a Virtual SAN cluster with four hosts with eight processors each, you need to assign the cluster a Virtual SAN license with a minimum capacity of 24 processors.
To your Agenda:
VSAN webcast on March 6th. Is that the one announcing the GA? Who knows… -:)  Stay tuned. All is know that the presentation shall be done by Pat Gelsinger, Ben Fathi and John Gilmartin…
Source: Chuck Hollis Blog