When I finally accomplished my "homebrewed" VSAN cluster by checking "activate VSAN" check box and manually associated the locally attached disk drives into the disk groups, I thought that's it, VSAN is up and running. True, but after migrating few VMs to the newly created VSAN datastore I thought hey, there should be some storage policies somewhere, no? And I started to digs through a bit more after having a column showing empty values in the VM storage policy compliance.
VSAN does not show any VM storage policies out of the box and it's normal, because it's up to you to activate and configure those policies to fit your needs.
It's you who will create those policies depending of the size of your cluster, number of disk and disk groups etc. You might want protection for some of your VMs (number of failure to tolerate – further configurable) but more performance for others (stripe – also further configurable). QoS for your VMs….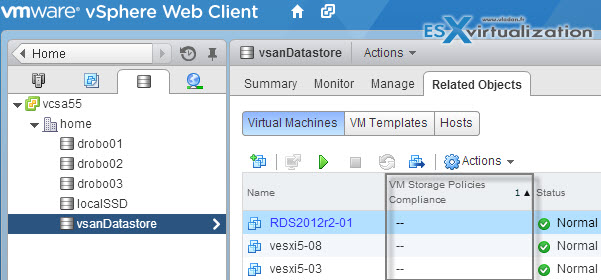 How to enable and create VM storage policies?
When VSAN gets activated the capabilities will be visible in the Storage policies (Home > rules and profiles).
Enable First – First thing to do is to enable the VM storage policies (per host or cluster). Note that storage policies has to be licensed.
From Home, click the VM storage policies button and then click the icon as on the image below to enable VM storage policies.

You'll get a prompt, where you can select the resource (in my case cluster) where I want those policies to get enabled. You can click to enlarge.

Create a VM storage Policy
Once this done we can create a storage policy.  Let's take example for number of failures to tolerate policy. By clicking the + button you add a new policy. You are presented with a window like this.
VSAN has different VM storage policies:
1. Number of disk stripes per object
2. Flash read cache reservation (%)
3. Number of failures to tolerate
4. Force Provisioning
5. Object space reservation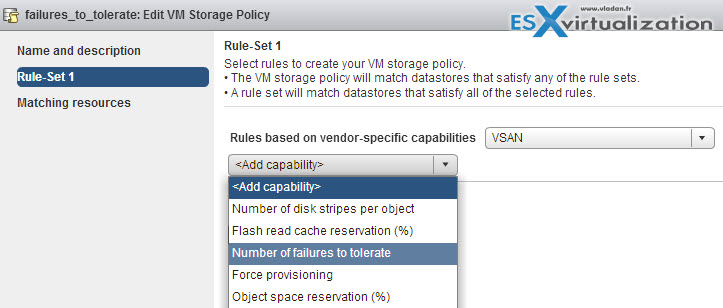 You can specify the value (the default is one). The failure can happen on full host, disk or network. So if you want to tollerate a failure of 2 objects, then select two.

Validating by clicking the OK button brings up another window wanting to apply the storage policy on your VMs now, or do it later. It's up to you. Once the policy is created you have few options:
Migrating existing VMs – If you migrating your VMs from another datastore into the VSAN datastore, you get an option to keep existing VM storage policy or apply a new VM storage policy.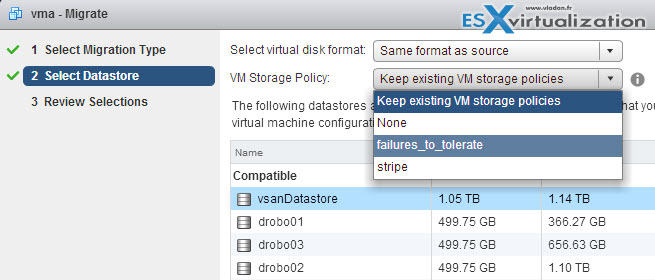 Note that you still have an advanced options in case you want to change your disk from thick to thin etc…

Creating New VMs – when creating new VMs and selecting the VSAN datastore, you are able to select the storage policy and as you can see the other datastores are showing as incompatible.

I'd like to point out to a document which might help when setting up a VSAN lab (physical or nested). The document can be found in the VSAN communities at this page and it's called VMware Virtual SAN Proof Of Concept Guide – March 2014 Edition.
If you're VMware partner there is also a new document called VSAN Starter Kit (46 Mb) which is even more up to date. Thanks Twitter and @lhjartarson for the info! Did you like this post? Just share…