VMware vSphere 5.5 platfor introduced new power management technique to allow save power and manage more efficiently hosts with settings which allows saving energy via special settings in vSphere Host Power Management (HPM). The default HPM policy uses deep halt states (C-states) as an additional power saving model to the dynamic voltage and frequency scaling model (DVFS).
The settings are done in bios where you need to select the OS Control Mode or something like that. There is a VMware paper which discusses that. The paper has also examples of config with a test system (HP ProLiant DL580 G7)
vSphere Host Power Management (HPM) is a technique that saves energy by placing certain parts of a computer system or device into a reduced power state when the system or device is inactive or does not need to run at maximum speed.
The power settings through web client looks like this and you can change it to fit your need through here: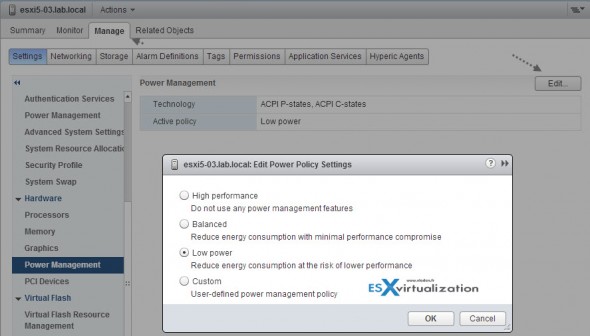 1. Select the host from the inventory > click the Manage tab > Settings tab.
2. Select Power Management (In the left pane under Hardware)
3. Click Edit on the right side of the screen.
4. You'll see the Edit Power Policy Settings window
You can even define your own settings, your own policy. You can do that by going to the Manage > Settings > Advanced system settings. The paper shows you also a table what each of the values means, because there is nine of them which can be changed.
The authors further evaluate the different settings and shows the performance impact. As a result they provide best practices to achieve best performance per watt in most workloads, which is the default one – Balanced.
Get the Host Power Management in VMware vSphere 5.5 paper here. The author is Qasim Ali who works for VMware in the performance engineering team.
The article was published first at ESX Virtualization website. Feel free to subscribe via RSS or by e-mail to get the latest news to be delivered via weekly newsletter.