My turn to show an installation of ESXi 5.0 in my lab.
In this video I'm showing clean installation of ESXi 5.0 in one whitebox from my lab. I do a clean installation of ESXi 5.0 (beta release), so I'm whipping my previous ESXi 4.1 from that USB stick. I do it in purpose just for demonstration purposes. If you want to see a video of upgrade from ESXi 4.1 to ESXi 5.0, you can have a look to video from Eric Sloof who did a nice job on that here when he did a upgrade of virtual ESXi just to demo it.
The video is not so clean as Eric's since I do have to manipulate my little video camera in my hand, and also the light in the room is not the best one too. But I tried to do my best. Also I'm not a cameraman professional and native English speaking person too, so my French accent might make you smile a bit.. -:). The video is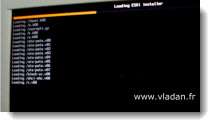 You can get the picture of how the process works. I temporarily connected a SATA CD-Rom drive and USB keyboard/mouse. Those devices are taken off when the initial configuration is done.
It seems that the installation process takes a bit more longer than we use to in ESXi 4.x version. It's probbably because there are some new components added in the ESXi 5.0, like an integrated firewall for example. Otherwise once in the DCUI (direct console user interface) the feeling is the same and you won't see any difference.
There are some differences during the installation process actually. It's the password assignment.  In the ESXi 4.x you had to install and reboot first and then on the first log-on you were asked to enter the login/password combination. Now the password is required during the installation process.
It's just my little contribution…..
Enjoy.. -:)
Enjoy… -:)