With the yesterday's release of vSphere 5 an official documentation for the product is available now, and in many different formats.
With the GA release of VMware vSphere 5 yesterday, there has been all the product documentation made widely available. The product documentation is a highly appreciate resource for every vSphere Admin here, since for the products features, functionality, best deployment practices, troubleshooting, how-to's …. it's all written there.
The official product documentation page can be found here. You can find there all the links to vSphere Documentation sets in many formats. There are PDFs, HTML, EPUB, MOBI….
So now not only PDF and HTML, but also MOBI and EPUB formats. The MOBI format can be used with many of the free MOBI readers, and the same for the EPUB.
Also there are links to the new vSphere 5 Documentation Center as well. The vSphere documentation center is an Online library in html format, which you can explore by topic. There are guides and how-to's for VMware vSphere and it's functions.
On the screenshot below you can see the different formats of files for the vSphere 5 documentation.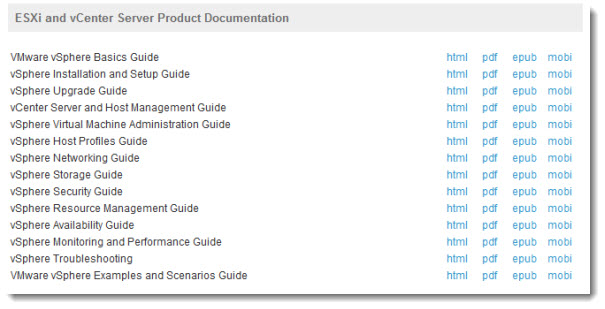 And on this screenshot below you can see a MOBI format reader running on a  windows box…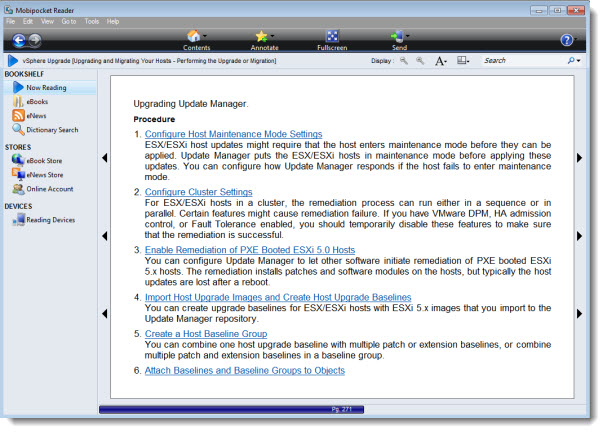 And on this screenshot here, you can see how the new VMware vSphere 5 Documentation center looks like…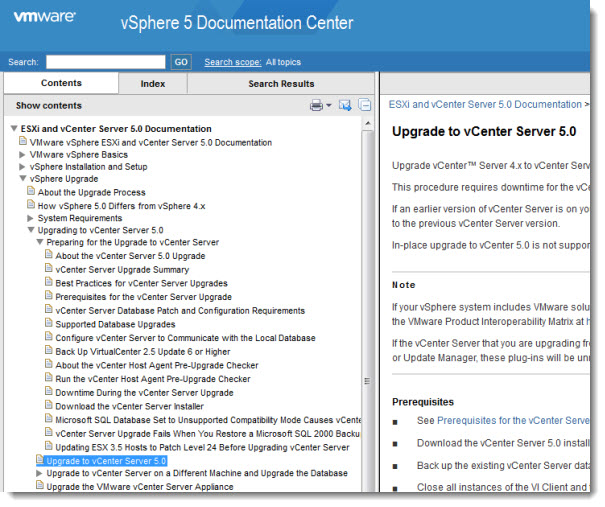 Some of the Free readers which can be used to explore and read the documentation:
EPUBReader is a handy add-on for Firefox and the ePUB format is handled quickly.
Stanza is a desktop ePub reader and converter that is fast.
MobiPocket Reader is not only an advanced ePub books reader but is also a great professional books organizer.
You can also check FBReader, which is an excellent eBook reader, manager, and downloader.
Best practices:
– Upgrading to ESXi 5.0 best practices
– Installing vCenter Server 5.0 best practices
– Upgrading to vCenter Server 5.0 best practices
– Migrating to vCenter Server 5.0 using the Data Migration Tool
– Product offerings for vSphere 5
– vSphere 5 vRAM Compliance, Usage, and Benefits
– Entitlement Mapping for vSphere 5.0
– Performance best practices for VMware vSphere 5.0
– vSphere HA 5.0 Best Practices Guide
Enjoy.. -:)