vSphere Data Protection (VDP) product bundled with vSphere Essentials plus and higher licensing is backup and replication product which is managed through web based UI only. It's tightly integrated to the Web based client console.
I've deployed the product in the past and also upgrades are quite easy to proceed too. VMware keeps making the product better with every release and adds new features. Check my latest post about VDP 5.8 for details here.
There is a new technical paper which discusses and shows examples of configuration of vSphere Data Protection when used for replication purposes, as Replication Target.. In such a configuration you have an opportunity to install a second instance of VDP called VDP Replication Target (VDP-RT in short).
In such situation the second instance of VDP isn't licensed with VDP advanced, but with a special free license tailored exactly for the purpose of the function – VDP Replication Target. VDP 5.5 introduced new ways of deploying the appliance. There are 3 ways to deploy the VDP product:
01. As VDP Standard – This is the default. Basic capabilities such as backup and restore of virtual machines using vStorage APIs for Data Protection (VADP). It also includes ability to recover individual VM files. VDP can replicate only to EMC Avamar. VDP cannot replicate to other VDP appliances.
02. vSphere Data Protection Advanced (VDP Advanced) – Needs separate (paid) license. Has increased backup data storage capacity, ability to replicate backup data to another VDP Advanced or VDP Replication Target appliance, support for application consistent backups, and support for EMC Data Domain as backup storage. For a full list of features available in VDP Advanced, please see my post on it here – VDP advanced compared to VDP Standard and Migration Options.
03. vSphere Data Protection Replication Target (VDP-RT) – has unique capability, which allows the appliance to serve as a replication target for backup data from a source VDP Advanced or VDP-RT appliance. This identity does not require a license key. A VDP-RT appliance can perform restores from replicated backup data. Backup capabilities are disabled in a VDP-RT appliance.
vSphere Data Protection (VDP) Replication Target
Example below showing second instance of VDP being deployed as VDP-RT in my lab. You don't need an additional license (if you already have VDP Advanced) to deploy VDP-RT.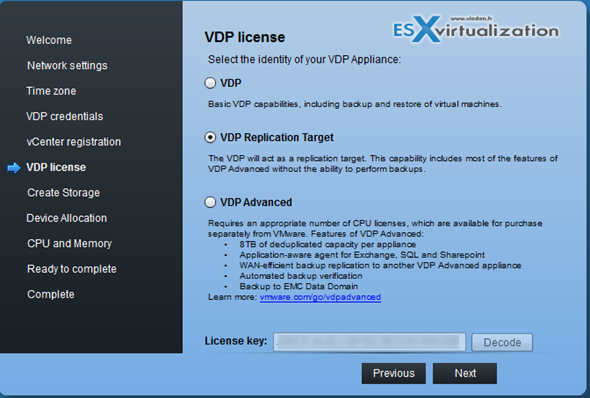 The paper goes further and discusses the possibility to replicate data backed up with a VDP product to the same or different datacenter.
In fact the VDP 5.8 brought many new feautres:
Exchange DAG support – Compatible for Exchange 2013/2010/2007. Able to protect Active and/or Passive copies, depending of the policy. It's possible to choose a policy for backups. The "passive prefered" does backup of the passive copy of the DB (if ok). The "active prefered" backups the active DB. If the passive (or active) isn't clean, the other option is choosed in order to still produce a clean backup even if one DB isn't OK. VDP Advanced does have possibility to restore individual mailbox. Needs an agent running in Exchange VM.
SQL Server AlwaysOn and Failover clusters – can backup and restore SQL Server data on shared storage in the cluster. Offers different backup/restore capabilities (Full, Incremental and Differential). Needs an agent running in the SQL server VM.
Replicate and Restore Anywhere – several scenarios possible. Backup at site A and replicate to Site B. Backup to site B and replicate to site C, etc… The replication is efficient replicating only the changed blocks to the other site.
External Proxies – possibility to deploy proxies which serves for caching and compression when replicating over WAN.
Scalability – you can now have up to 20 VDP appliances connected in vCenter (previously 10 appliances). Each appliance scales up to 8Tb of data.
Better Reporting – The reporting has been enhanced in the case when there is a task failure, the log information can be viewed directly within the VDP product. Also list of unprotected VMs now available, and all the reports are exportable as CSV files.
Linux LVM support – Linux logical volume manager and EXT4 is supported. EXT4 is more advanced, better performing with improved design.
WAN Acceleration is built-in!
Quote:
VDP replication is unique in that it sends only incremental and unique data segments over the network in SSL enabled encrypted format. VDP replication transmits, using Internet Protocol, only the new data segments that the target VDP appliance does not contain. Hence, WAN-optimized replication is built-in to the product. Over a period of time, as more data is replicated to the destination VDP appliance, greater commonality and decreased transfer times for replication will be realized. The backup data is always compressed and encrypted during flight in the replication cycle, which provides added security to the data.
Download the paper written by Mohan Amarnath and Suraj Vithalkar from EMC here.
Example of VDP Replication target topology: The first initial replica can be replicated to many different sites for DR purposes.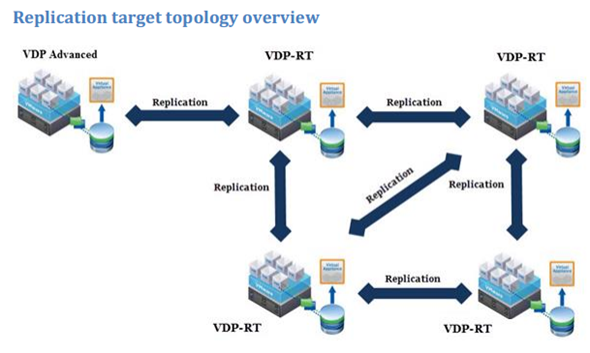 Check my other posts which might help you when working with VDP:
VDP replication target uses Asynchronous replication of backups to a disaster recovery (DR) location. The replication is optimized where replication streams are encrypted.
The replication topology options include 1:1, 1:M, and M:1 with VDP Advanced  RPOs (Recovery Point Objectives) of 24 hours. Another product to consider for DR plans?