vSphere Data Protection, based on Amavar's code (EMC), it is packaged as backup appliance which can leverage existing virtual infrastructure to be implemented. No need to buy a new hardware for installation of this backup server. In this post I compare VDP advanced compared to VDP Standard and how to migrate from standard to advanced.
I have done the install/config of VDP in my article here and you can also find other articles on the blog, like the one for resetting the VDP password.
vSphere Data Protection 5.5 is distributed with vSphere Essentials Plus and higher where the Advanced version of VDP 5.5 is a separate product. But its features make this product destined for customers needing additional layer of protection for enterprise applications like MS Exchange, SQL or Sharepoint, and also customers wanting to protect larger vSphere infrastructures.
Both versions are distributed as pre-packaged virtual appliance (VM) for easy deployment and management (integration in vSphere Web Client). The basic version of VDP supports up to 100 virtual machines per appliance.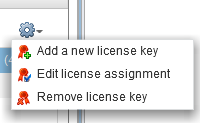 You might say that that's possibly enough for your environment, but every environment grows. Few VMs a day or more and you'll have to add an additional VDP appliance to be able to backup your additional VMs. So it's quite important IMHO to size and predict the evolution of the backup infrastructure before installation. Note that you can have up to 10 VDP appliances registered within single vCenter server, but then you'll have to connect to each of those appliances for managing the backup/restoration jobs as those jobs are managed per-appliance.
VDP Advanced version can backup up to 400 VMs per appliance and also the storage size is quadrupled at 8TB (2TB only in VDP standard). You might say that 2Tb isn't much in the standard version, but take in mind that this size is a deduplicated storage size of the storage repository.
Both versions supports:
Image level backups
Individual disk backups
Image-level restore jobs
Image-level replication jobs
Direct to host recovery
Detachable/remountable data partitions
File level recovery.
What's more in the Advanced version:
Application-level replication
Ability to expand current datastore
Backup to a Data Domain
Granular level restore of Microsoft Servers
Automatic backup verification
Application consistent backup support – guest-level backups and restores of Microsoft SQL Servers, Exchange Servers, and Share Point Servers, providing for application consistent backups of these servers.
8TB of deduplicated data for storage of backups (per appliance)
Up to 400 VMs per VDP Advanced appliance
How to upgrade from VDP Standard?
VDP advanced does not differ from VDP standard from the technical standpoint (single deployment of VDP standard can be turned on into VDP advanced by entering a license.
Once the VDP is licensed (tighten to a host), the advanced options will became available, So no need to reinstall or upgrade.
Each host can have only one VDP Advanced license assigned to it. But single license can be assigned to multiple hosts, as long as the sum total CPU count of the hosts is less than or equal to the amount allowed by the license.
Make sure that all hosts in the cluster are licensed.
To enter the license first connect via vSphere web client > VDP > configuration tab > Add new license key.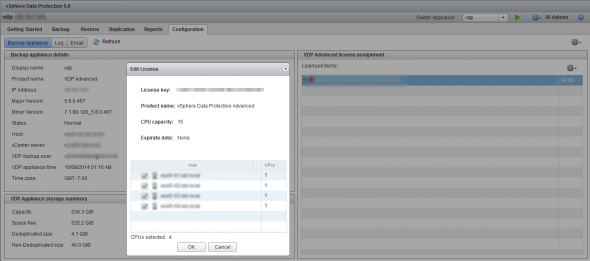 The deployment of VDP is straight forward and don't differ from other products which are architected around Linux and packaged as a virtual appliance (OVA file).
The usual steps needs to take into account the DNS entries (forward and reverse), default gateway and subnet mask informations.
When it comes to planning for storage, there you shall do a proper planning for capacity:
How many data you'll backup
How often the data changes (deltas)
Which frequency and retention period
Types of data (OS, Databases, individual files
VDP advanced has the possibility to increase the size of the backup repository, so even if you start small, you can grow up later. This isn't possible by using the Standard version.
As a best practice VMware recommends to deploy the appliance and the storage of backups on VMFS based datastore.
The Administration guide provided by VMware is a must-read point and I won't details every single aspect of it. The configuration UI is accessible through https://IP_of_VDP:8543/vdp-configure where you can manage different options including upgrades.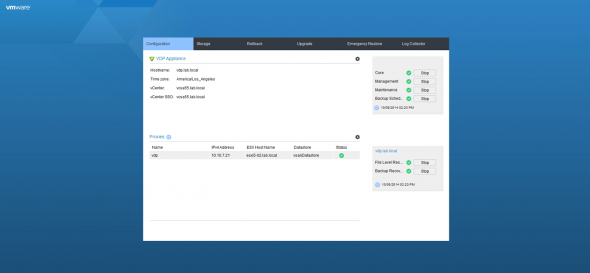 This configuration UI can also be leveraged in case of unavailability of vCenter. You can do an emergency restore without vCenter server.