Veeam has introduced a new portable licensing scheme called Veeam Universal License (VUL). It will be a license with the capability of the "Enterprise plus" level. It is a subscription-based model where you basically buy bundles that cover 10, 20, or more "instances". This post will cover What is Veeam Universal License.
Instance means a workload (VM) running either on-premise, in the cloud, or elsewhere. It's portable. It can be a physical server, workstation, or virtual machine.
The most up-to-date blog post from Veeam on the topic can be found here – Introducing the NEW Veeam Universal License! It is still very new. It is not an easy topic.
There is the latest VUL pricing calculator at Veeam which can help you compare different editions and possibilities. Also, the official VUL FAQ.
Veeam Universal Licensing Basics
If you have socket licensing, you basically have two choices:
Stay on Socket – you keep socket licensing. But some newest features will require VUL. One of them is Veeam backup for NAS….(blog post will come).
Change to Veeam Universal License (VUL) – and You'll get Enterprise Plus for the Enterprise for two years. You'll buy this subscription for Two years for the same price. Which is good for at least two years. Then you can make another decision.
How about Community Edition?
Good news for community-based edition users, which are able to upgrade to Veeam's lowest cost license with support and get an additional 10 instances. The license is called "Starter" and it covers 20 instances and offers support.
Quote:
We are pleased to announce the arrival of Veeam Backup Starter. The starter is a step up from Community Edition as it doubles the environment size of Community Edition for up to 20 workloads and puts your deployment on our Basic support program. The starter is intended to protect critical data for small businesses of up to 100 employees, and it starts at just $400 USD per year for 10 licenses with Standard edition capability.  Check it out!
Community edition + Support = Starter (20 instances)
I guess the Starter edition might be the best way to go for small businesses. You get 20 VMs and support. If you need to protect more instances, you can buy an additional pack.
Veeam universal license can protect workloads running in different environments. Those will work as a portable license which will allow customers to license all workloads with one type of license:
VMs –  VMware vSphere, Microsoft Hyper-V & Nutanix AHV
Servers –  Microsoft Windows and Linux
Workstations –  Microsoft Windows and Linux
Cloud Instances / VMs –  AWS, Azure and more
Enterprise Applications –  SAP HANA & Oracle RMAN
File shares –  250GB front end capacity per license (available very soon on v10)
Download FREE Veeam Community Edition Here. Veeam Backup And Replication 11a trial – protects up to 10 instances (VMs or Computers, laptops for Free.
Veeam Universal Licenses FAQ:
Those FAQs are from Anton Gostev's Newsletter. However, not everyone is subscribed to the e-mail newsletter. If you don't, I can only highly recommend that you do. Veeam Universal License FAQs:
Q: Is socket-based licensing going away with the introduction of VUL?
A: No. Socket-based licensing will remain available for purchase and renewal, and there are no plans to discontinue it in the foreseeable future. Its price will continue to be adjusted periodically to account for the increasing VM density per socket due to host hardware advancements.
Q: How does VUL impact "gifted instances" included with socket-based licenses?
A: Gifted instances is a feature of the product, as opposed to a counter in the license file. Because of that, in 9.5 U4 they will continue to use edition-specific instance weights. However, we're changing this logic in v10 to make gifted instances VUL-based, while still keeping their number intact (up to 6, based on your licensed socket count). This does mean that Standard and Enterprise edition users will be able to protect a few more workloads with gifted instances in v10.
Q: VUL is said to have more relaxed license merge rules, where it can be merged with a socket-based license of any edition. Since VUL is effectively Enterprise Plus edition, do such merged licenses enable additional functionality?
A: No. Just as before, it is still the socket license edition that continues to define platform capabilities level.
During Veeam Vanguard Summit 2019 in Prague, Rick Vanover (Rickatron) has brought this subject up in a complete session we had an occasion to watch. Many questions were asked there as well….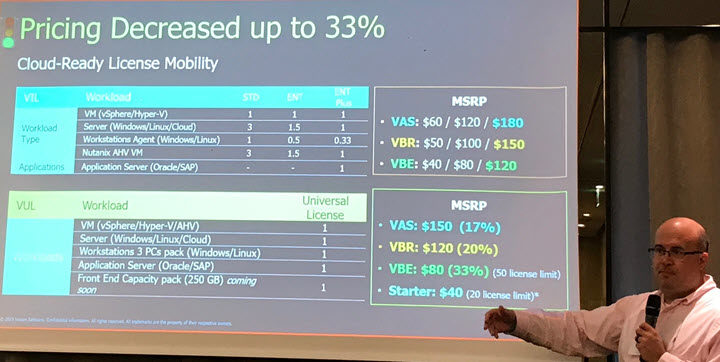 Q: I want VUL portability and full feature set. Is it possible to convert my existing Socket-based license to VUL?
A: Yes. Here's the summary of all license conversion perks for the existing customers with Socket-based licenses:
Conversion is done in conjunction with your Socket license renewal, and you will get VUL for the remainder of your existing contract + added years.
Conversion does not cost anything extra: you just pay your regular socket license renewal price.
You can buy up to two years of subscription at this renewal price.
Sockets to VUL conversion ratio is based on the actual number of VMs you're protecting. In other words, you name the conversion ratio (up to 15:1).
Regardless of your Socket license edition, you will get "Enterprise Plus" edition with VUL – because VUL only comes in a single, fully featured edition.
Q: If VUL comes in Enterprise Plus edition only, what is the cheapest Veeam offering now? It used to be VIL Essentials Standard Edition.
A: It's Veeam Backup Starter, which keeps the same low price of USD 400/yr for 10 instances and feature set of the former Standard Edition. This package is designed primarily to be an upgrade path for Community Edition users who require a support contract and/or need to protect more workloads.
Q: What does VUL mean for Veeam Agents pricing?
A: VUL effectively slashes agent price by 20%. In absolute numbers, the cost to protect 1 Server (or 3 Workstations) with Veeam Agent went down from USD 150/yr to USD 120/yr.
Q: What does VUL mean for Veeam Essentials pricing?
A: VUL Essentials keeps the price of the former VIL Essentials Enterprise edition (USD 80/yr per instance), but now comes with Enterprise Plus edition feature set!
Q: I have a VIL license now. How can I upgrade to VUL to get those Enterprise Plus edition features?
A: VIL customers will be upgraded to VUL when they renew their existing license, or when they purchase more Instances, or at the latest upon general availability of Veeam Backup & Replication v10 – when all existing VIL customers will be provided with VUL for v10 for the remainder of their contract.
Download FREE Veeam trial Here. Veeam Backup And Replication Trial 11a
Final Words
I agree that this subject might not become the most popular, but we're only the messenger. Time will tell if that's the right choice for Veeam and if Veeam users will be willing to accept this change after being over a decade on socket-based licensing only. Who knows? Will this become the new vTAX subject? Nobody knows.
The way the whole of IT is going, the universal licensing model makes sense. Different places you want to run your workloads need some universal form factor. And it is the VUL. For those of you who want to stay on socket licensing, you can still do that. Socket Licensing is not going away.
As you can see, you can stay on a socket-based license and you still are able to purchase a socket-based license, however, there are features that work only with conjunction with Veeam Universal Licensing. So if you want that particular feature, (NAS backup ex. ) you'll need the VUL.
****************************************************************
Save 15% On Veeam Backup for Microsoft 365 NOW !!
****************************************************************
Check out also FREE Veeam Products:
There are products from Veeam that are free. Did you know?
****************************************************************
Free Trial of Veeam Backup and Replication  – Latest ISO.
****************************************************************
More from ESX Virtualization
Stay tuned through RSS, and social media channels (Twitter, FB, YouTube)