VMware allows you to test products in different ways. The most common is to download a trial version of the software and install it in your lab or use the bits to create a nested environment in your lab using your desktop computer and VMware Workstation (or Player) software. However, there is also a new service called VMware Test Drive and you can open a free account.
In fact, they just announced that you can test VMware vSphere Platinum which we have talked about recently, and which allows you to leverage machine learning to keep the VMs in a good state and any difference from that known state is corrected by AppDefense.
All you'll need is your e-mail address for registration.
Let me talk about VMware Test Drive first and what's allow you to do.
Basically, when opening a free account at VMware Test Drive you'll get access to most VMware products. Those products are accessible online and they are already pre-installed and pre-configured so you don't loose time to do it by yourself.
You'll also get access to learning videos which shows you the learning process step-by-step.
In fact, VMware has also integrated many VMware Partners products into this. As such at the same time that you have the test drive account, you'll also have access to many other products within this trial.
We can name Office 365, Bluejeans, Dropbox, NVidia, Pivotal container services.
Link: VMware Test Drive registration.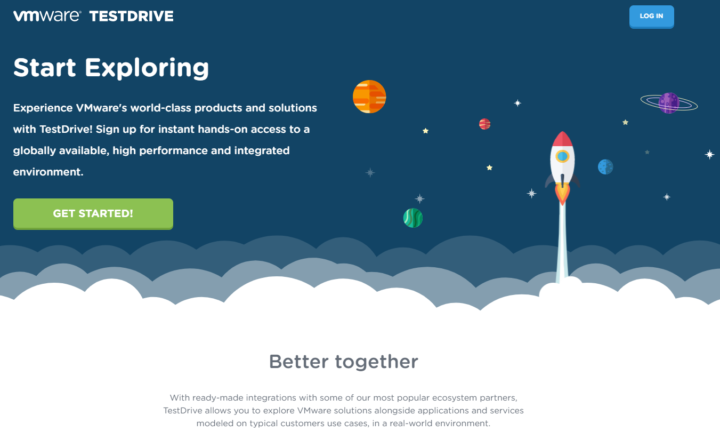 Quote:
With ready-made integrations with some of our most popular ecosystem partners, TestDrive allows you to explore VMware solutions alongside applications and services modeled on typical customers use cases, in a real-world environment.
The VMware test drive isn't the only resource you can learn from. Excellent VMware labs with preconfigured VMware products is just another one learning resource. You should consider using those resources when for example, studying for a VMware exam, and when you do not have internally enough hardware to run application and products you are learning.
VMware Platinum which is now part of the test drive is another step forward towards more secure infrastructures.
VMware vSphere Platinum:
It uses machine learning to keep the VMs in a good state and any difference from that known state is corrected by AppDefense.
Appdefense is able to visualize and know your application's behavior in your environment. If any app starts to behave strangely, AppDefense detects that.
The VMware Platinum edition is able to reduce the attack surface across your virtual infrastructure running VMware vSphere.
Seamless deployment (agent-less)
If you have already AV protection, this gets only stronger and enhanced.
Uses Secure Boot for ESXi which helps protect the integrity of ESXi hosts with code signing when booting up.
Supports Microsoft Virtualization based security and credential guard from Microsoft which can run on top of vSphere.
Supports Virtual TPM 2.0 and allows the necessary mechanism for making the guest OS more secure.
Link: VMware Test Drive registration.
More from ESX Virtualization
Stay tuned through RSS, and social media channels (Twitter, FB, YouTube)