New pricing options for Windows 8.1 has been unveiled by Microsoft last week. Retail version Windows 8.1 will be available in standalone, full versions of the software. Microsoft has previously announced that only upgrades from previous versions of Windows might be available. Users willing to upgrade from Windows 7 can upgrade to W8.1. There is several options. But first let's see the pricing:
The basic Windows 8.1 upgrade edition will cost $119.99, with the Pro version priced at $199.99. The prices are identical to the existing upgrade costs today for W8.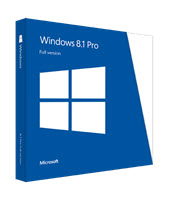 For other Windows devices, here is how upgrading to Windows 8.1 using the retail DVD and download software will work:
Windows 7: Consumers can upgrade a Windows 7 PC which will bring along all their files, but will require them to reinstall desktop apps including Microsoft Office.
Windows XP & Windows Vista: Windows 8.1 is not designed for installation on devices running Windows XP or Windows Vista.
For XP users only Clean Reinstall!
But users still wanting to upgrade from Windows XP or Windows Vista should actually buy the retail DVD instead of using the download and boot from the DVD to do a clean install of Windows 8.1. Note that Windows 8 supported upgrades from XP – still without possibility to bring in files. W 8.1 don't even support upgrade from XP…
Note: files, settings and programs will not transfer – users will need to back up their files and settings, perform clean installation, and then reinstall their files, settings and programs. This sucks. Microsoft could clearly do an effort and provide a tool for transferring files.
With Windows 8.1, Microsoft does some changes. Users can buy upgrade code for digital download or a retail DVD. This is rather good news as the retail DVD option wasn't available on W8. Get the possibility to still have disc in case of a hard disk crash.
The 8.1 release brings also SkyDrive integration. Your documents are stored directly into SkyDrive. It's completely integrated into the OS. Can we remove it..? -:) Will see.
The 8.1 should be available at 18th of October.