Connecting to my ESXi 4.1 host and doing some performance tests with IOMeter.
In my last post I have installed FreeNAS 7.2 on the homemade NAS box. I took the way to build a homemade NAS box, which in the end is cheaper than other NAS boxes you can buy, like QNAP or Synology and also you have some fun and pleasure that you can do it.
I've done it just as a test and have some fun to build it and do it myself. A home made NAS box is also more evolving than 4 bay NAS boxes, since in my case I took an option to put in an extention PCI SATA card to expand the number of SATA ports to six and in my case I already fit in another SSD drive (in addition of four SATA drives which are already in) which will become another datastore for my VMware vSphere lab. Such a PCI SATA card you can find second hand on e-bay for like $30, if you're living in the area where the shipping costs aren't too expensive.
By installing FreeNAS on the box I not only get a shared storage for my homelab, but you can also setup some windows shares, iTunes server and much more, but this is not the target of those series.
Today I'll cover the NFS configuration part on ESX host. It's fairly simple to connect an ESX host to the NAS box now. All you have to do is this two step process. Since I'm only having a dumb switch with flat network I won't configure any vmkernel interfaces for the access to the NFS share.
Here are the 2 steps to connect the ESX server to the NFS share.
01. Start your VMware vSphere client and select your host, go to Configuration TAB > Storage > Add Storage
Select the Network file storage radio button.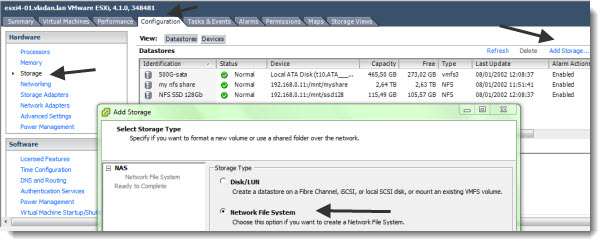 02.Enter the IP adress of your NFS storage, the folder (mount point on your FreeNAS) and give your NFS  datastore some friendly name too…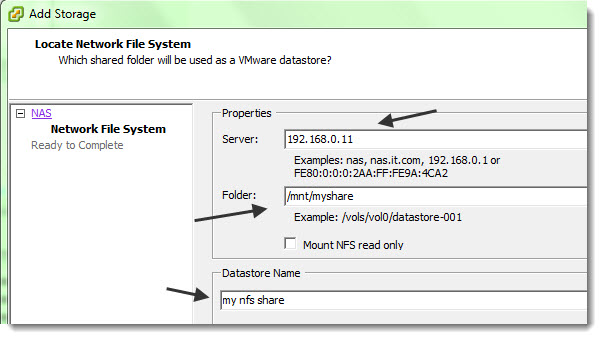 After the connection done, you should end up with a screen like this one, where you'll see your datastore all together with the local disks (in my case I have 500Gigs SATA drive in my ESXi 4.1 box.). And as you can see I also configured my Crucial 128 Gigs SSD drive as another datastore on my NAS box. So I have 3 datastores. One located on local storage, and the two others on shared storage.
Read the rest of the post on next page