Save 500$ with this new offer from VMware.
I was quite surprised with this one and I'm wondering what's the strategies behind this move. Is that the bundle for the SMB market does not sell well? Or is that the new upcoming product will be released the 16th of June 2010 and there might be some changes in the licensing model? I hope so… -:) But for now it's just my thoughts. One think is sure, this offer will ends 15th of June 2010. In 3 months.
Update: The promo will last till the 25th of July 2010. Read more.
Because right now, when you buy The essentials pack, you basically can't upgrade to standard or enterprise. You're stuck with it and if you want to change for having vMotion or DRS you must buy the standard/entreprise package AND the vCenter management server license too, and through away the essential bundle.  The essential bundle is limited to 3 physical servers with 2 CPU each and the vCenter server can only manage 3 physical hosts.
Also the essentials (not essentials Plus) comes with no HA (High Availability) and no VDR (VMware Data Recovery). If you want to have a look or buy the Essentials Plus version have a look at this link where you'll see all the features of the Essentials Plus version of VMware vSphere 4.
Since for some small shops this is fairly enough, and they will never need more, I witnessed a customer who went through a procedure like I described above and had to re-buy the standard version because there is no upgrade available…
Update: There is a new upgrade available for Essentials. You can upgrade from VMware vSphere Essentials Plus Bundle to vSphere Advanced Acceleration Kit for 6 processors. You'll get in your upgrade package VMware vSphere Advanced for 6 processors and VMware vCenter Server Foundation. Thus you're still limited to 3 physical hosts.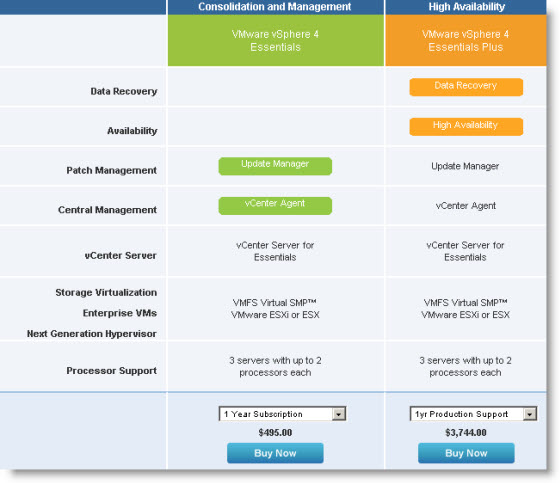 As you can see in the above image, with package you get the Essentials pack, not the Essentials plus with High Availability and VMware data recovery – VDR- (backup product). Thus you can buy VDR as a separate product.
To
Source: VMware