Today just an easy post where I'd like to share some news from one of the new backup vendors which are young and dynamic. Just recently, it's been a nice surprise to find new forums at Altaro. I don't know where the DOJO name came from but I find it kinda cool. With those icons and design, it is well designed. The forums and the site has been redesigned to match.
DOJO forums are meant to be there to share knowledge, learn new tech, ask questions. Not only about Altaro's product but also in general. Their IT team is dynamic and I'm sure their forums will be another good resource to learn from.
After registration, you'll receive an activation email. After activation, feel free to introduce yourself and interact with other members. It might be a good learning resource.
We're all ninjas, and when you first join, at first, you'll get a white belt only.
But don't worry, because then over time, if you stay active, you can earn belts of other colors. You can get more point by for example complete your profile, post a topic or reply to a topic already posted. Or provide the best answer.
You can go up to black belt and if you have over 2000 points, you'll become a Ninja.
Here is what it looks like. Pretty cool, isn't it?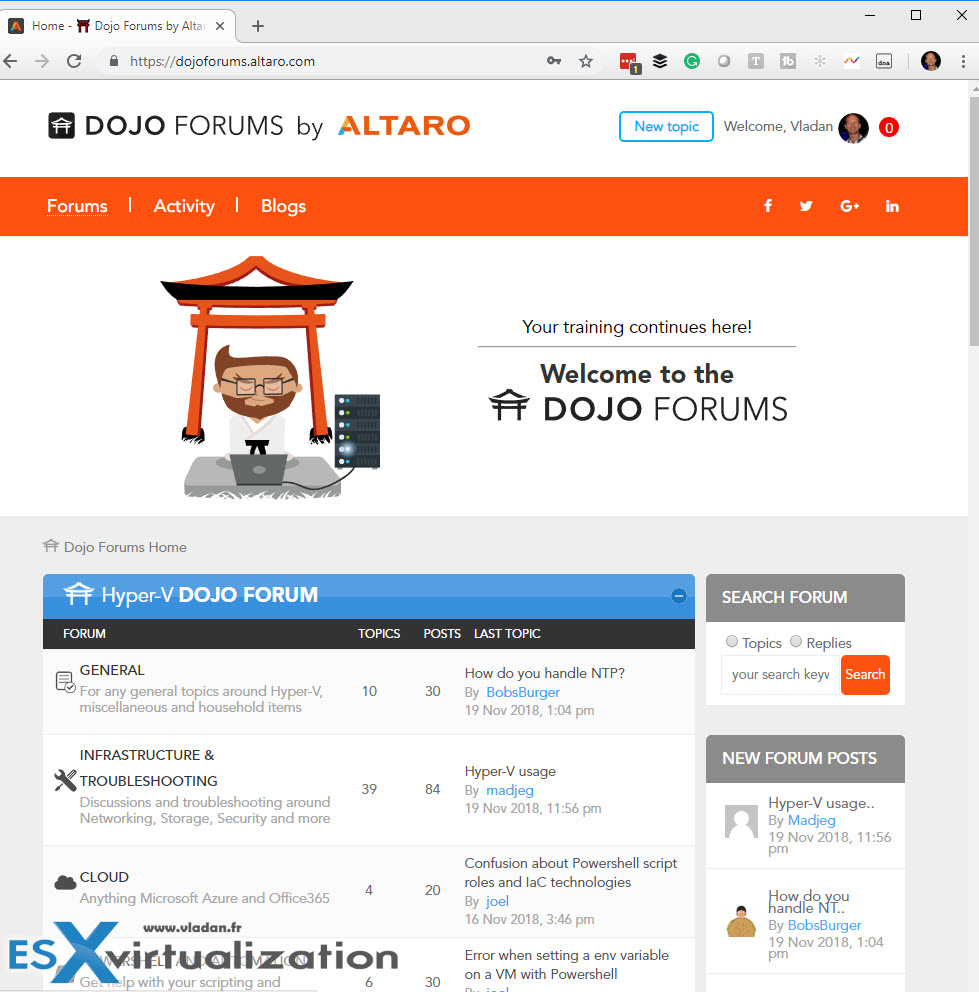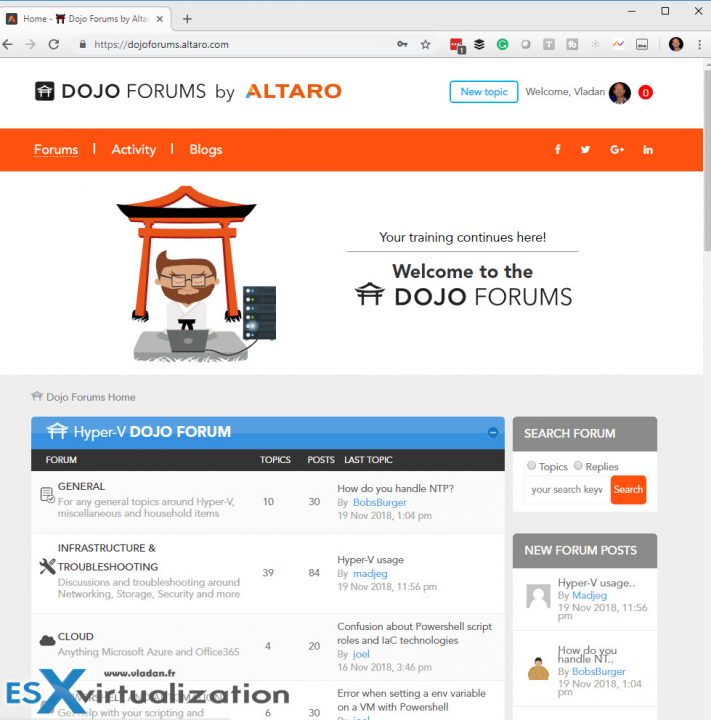 You can check further details in their post, but I'd like to quote one sentence which basically says it all.
Quote:
As you (hopefully) know from our blogs and webinars, we strive to provide information and insight from a host of community experts who are industry leaders, seasoned experts, Microsoft MVPs, VMware vExperts and more. These same industry experts will be joining conversations on the forums and will continue to provide their high-level knowledge and experience to help you with your day-to-day issues working in IT.
Learning through online forums, where you can get other member's replies, is a way to go if you don't have local peers to interact with. Sometimes you get stuck within your job, not able to move forward. You need answers to your questions. You need help. It might be the place to get help from other IT pros.
Obviously, you must respect some forum rules and you cannot be younger than 13 in order to create an account (pretty obvious).
I believe that forums are still a good way for a website/blog or partner, to attract new clients or new peers. However, a forum management might get time-consuming and needs significant resources to be thrown in if the frequentation of the forum goes really up.
I've been thinking several times to create a forum for my blog, but just never done that, because of the fear of not being able to handle the management. I still do reply to most comments and emails, which are sometimes considered too. So It's not easy in any way, to have a forum too.
You can read a detailed article from Andy Syrewicze forums here – Dojo Forums by Altaro.
Wrap Up:
For those of you who don't know Altaro, just have a look at their software. It does the basics (backup, restore) but also replication, replication to the cloud (Amazon, AWS), or also boot from backup for faster restores. They claim that they have better then others deduplication, (called augmented inline deduplication) which runs across all backup jobs, so you don't need to group virtual machines together (and it does not use post-processing).
They are also present at the MSP market (Managed service providers) where they just announced possibility to backup Office 365 mailboxes, which as you know, does not get backed up by Microsoft.
They have 30 days trial for VMware or Hyper-V. They also can give you a Free NFR license which you can use in your lab. To get your key, simply fill in the online form and they'll email your NFR key within a few days. You can download a free trial from Altaro website here.
More posts about Altaro from ESX Virtualization:
More posts from ESX Virtualization:
Stay tuned through RSS, and social media channels (Twitter, FB, YouTube)