A new release of Altaro VM Backup 7.6 has been just released. After several months of beta, the product is now GA. One of the main new features introduced is the Grandfather-Father-Son (GFS) backup for archives and Continuous Data Protection (CDP) allowing to backup every 5 minutes. Altaro Backup and Replication can be used for VMware or Microsoft hypervisors.
Altaro isn't new anymore as we follow their product since several years and it's been evolving with rapid development cycles. Altaro Backup and replication can be used for VMware and Microsoft hypervisors. For remote locations, you can use Altaro Offsite Server for replications. This allows replicating VM backups to an offsite location.
Altaro has also an individual console, which you can install on your laptop to manage your backup infrastructure remotely.
Altaro has released support for vSphere 6.5 just recently.
Altaro has also Pay-as-you-go model is transparent to the end customer where MSP has an income stream assured on regular basis. It's called a Subscription Billing, which is a licensing model based on usage and part of the Altaro VM Backup for MSPs program. The billing is be based on the number of VMs which are backed up per month, with a minimum of 10 VMs per month.
What is new in Altaro VM Backup v7.6:
Continuous Data Protection (CDP) – Users can switch from running daily backups to a continuous data protection model yielding an improved Recovery Point Objective (RPO) of up to 5 minutes. When CDP is enabled, VMs can be backed up as frequently as every 5 minutes. Note that the CDP still uses hypervisor snapshots in this case. (Note: this feature is For Hyper-V applications for now, with VMware support comming soon).
Grandfather-Father-Son Archiving (GFS) for Local Backups – Users can choose to archive local backup versions in addition to their continuous and daily backups instead of deleting them. Now you can configure three separate backup cycles to store three new backup versions every week, every month and every year. Retain Weekly, Monthly and Yearly backup versions outside of the retention policy.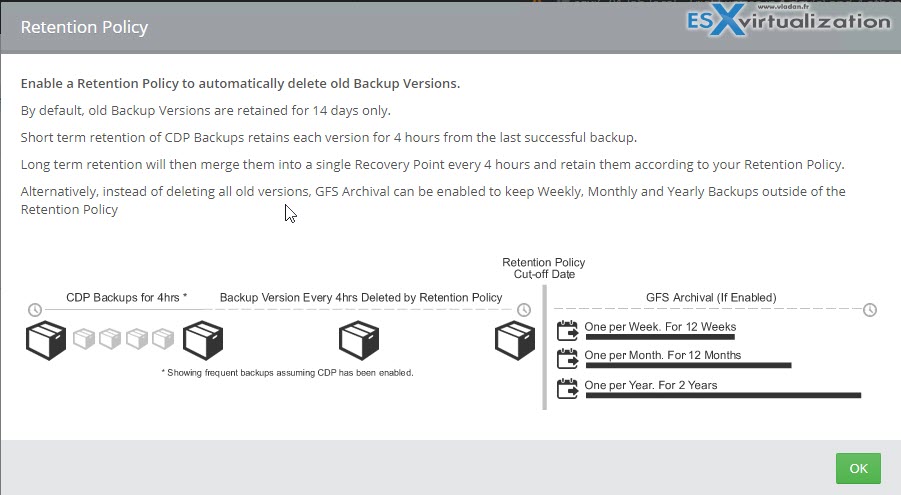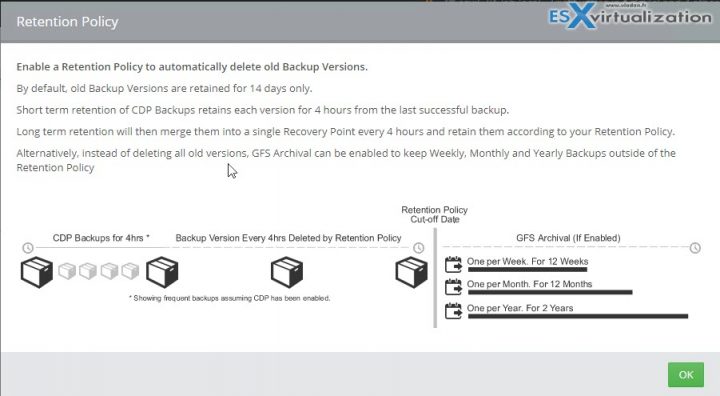 Other New features:
CBT V2 for Window Server 2012/2012 R2 – CBT continues working after a host reboots, during Altaro VM Backup upgrades, and while moving VMs between Failover Cluster Nodes.
Concurrent Backup and Restore Operations – Backups, Offsite Copies, Retention Policy and Restore operations for the same VM can now run concurrently. This means that a long-running restore operation or Offsite Copy operation will no longer pause Backups for that VM.
Altaro has a very efficient deduplication feature allowing you to save space on your backup repository. Augmented Inline Deduplication, which improves backup and restores speed as well as produces a smaller size of backups. Inline deduplication is a process when data are deduplicated before written to disk. With just a few backups configure in the lab, we could see some interesting space savings.
Lab screenshots shows 77% of savings…

Altaro User interface is software based and it is very fast to work with. Within the UI when you click on a question mark indicator, you'll get a nice overlay window with an explication (as on the image above, from our lab). Altaro needs Windows server for installation.
Altaro continues its development and on regular basis, there is a new version which introduces a new feature or new support for updated VMware/Microsoft hypervisors.
Altaro VM Backup 7.6 is another major step forward for this young company which continues their way to provide another backup and replication alternative to established players in the virtualization industry.
One of the positive feature to highlight? I think the one with the screenshot representing the deduplication savings is a good example how modern software should work. It does not only backup your VMs, but also brings some really good efficiency so you're not getting out of space on your backup repositories. The UI is pretty slick.
What's missing? I'm sure that there is a roadmap, but my 2c might add additional ideas for the development team behind. I'm sure that the next step should be a backup of physical computers. In every organization, there is tons of laptops/desktop which are running "rogue" accounting software whcih may or may not be backed up. Also, many organization still runs physical servers, especially the small organizations. So the possibility to manage all backups from a central location would be a big plus for Altaro.
Check Altaro Website for further details.
Download a free trial from Altaro website here.
More posts about Altaro from ESX Virtualization:
More posts from ESX Virtualization:
Stay tuned through RSS, and social media channels (Twitter, FB, YouTube)