New release of Altaro VM Backup 6 for VMware And Hyper-V is out. This new release is supporting vSphere 6 and it's the first time in history of Altaro as previously the product supported only Hyper-V. The backup market is very dynamic and traditional (legacy) backup products leaving the space now occupied by younger startups which innovates in this space.
Altaro VM backup does not only backup of running VMs, but handles also a replication, which is very useful for DR purposes. The web driven UI is similar to Unitrends that I have reviewed few months back (I did actually a review of this free edition).
Altaro has also free edition which allows protecting up to 2 VMs.
Screenshot from the UI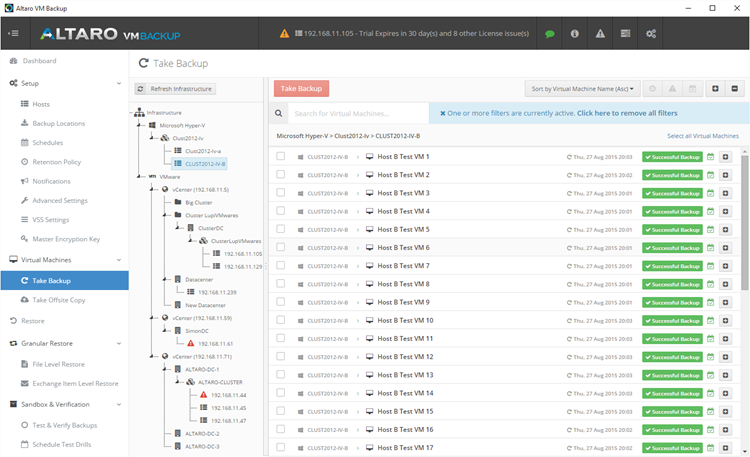 Altaro can be installed on physical host or in a VM. It can be any Windows system.
There is no Linux version (or OVF). If you like having an OVF (you're "sick" of Windows) you might want to check out other competitor in this space who's name is Nakivo, which in it's latest release also support VMware VSAN or Exchange server objects recovery.
The space becomes really crowded and only the real needs of the functions allows to chose the backup product which fits your needs. Depending of your virtualized environment you will or will n ot need Exchange, SQL, Sharepoint objects recoverability.
The budget plays a big role too. Here I could advise for another competitor who ESX Virtualization readers know really good – Trilead. Their ESX Explorer backup/replication product has unique licensing model – Per site. You only need single license per the whole site so you basically avoid all the costly "per-socket" or "per-VM" licensing models…..
The size of the environment plays a role too, where very large environments will probably need a product which offers the best performance/deduplication ratios and can do a backup via direct SAN access, like Veeam for example.
Altaro VM backup 6 – Pricing and availability
Altaro comes with per-socket licensing and is available in three editions:
    Standard Edition ($395 / 325 / £255): Most functionality with protection of up to five VMs
    Unlimited Edition ($585 / 495 / £390): All functionality for an unlimited number of VMs and supports clusters
    Free Edition: Protects up to two VMs and is offered as freeware
Altaro VM Backup 6 for VMware And Hyper-V Released – (This post)
Source: Altaro