Auto-Deploy GUI Fling – New Plugin for VMware vSphere 5
The Auto-Deploy GUI Fling is a GUI Plugin for VMware vSphere 5. It enables you to use Auto Deploy feature without the need of using PowerCLI in your environment. Remember – it's a Technology Preview License Agreement which you're accepting when downloading this tool…
The principal enginner's name is – Massimiliano Daneri . He works in the Center of Excellence group as a Senior Consultant TS Cloud Service .
Update: Please note that AutoDeploy is now part of VMware vSphere and the GUI is fully integrated within vSphere web client. AutoDeploy has a GUI! Yes, you no longer need to use PowerCLI cmdlets for creating and maintaining images.
We have played in a lab with the Image Builder GUI and we have created new customized image with drivers which were needed for the hardware we're using in our lab. What is Image profile? Image Profile is a simple collection of VIBs that are used to install ESXi server. The Image Profiles are stored in Software Depots which we have already explored in our post here.
Check the follow-up post – VMware vSphere 6.5 and New Image Builder GUI – Cloning a profile.
Dedicated vSphere 6.5 Page is here
A quick quote from the source Fling page:
The Auto Deploy GUI is a vSphere plug-in for the VMware vSphere Auto Deploy component. The GUI plug-in allows a user to easily manage the setup and deployment requirements in a stateless environment managed by Auto Deploy. Some of the features provided through the GUI include the ability to add/remove Depots, list/create/modify Image Profiles, list VIB details, create/modify rules to map hosts to Image Profiles, check compliance of hosts against these rules and re-mediate hosts.
Download the Auto Deploy GUI Plugin zip file, extract it and double-click the AutodeployGUI50_build number.exe file.
Follow the prompts in the wizard to complete the installation.
For more details on how to use Auto Deploy GUI please download and use the following guide. The guide is in the download itself, but you can also view it here:
Before, one had to use PowerCLI commandlets in order to implement Auto-Deploy feature in VMware vSphere 5. It's actually good to know for people willing to take VCP 510 since the topic is on the Blueprint….-:) . Read my VCP 510 resource post if you're studying to pass the VCP 5 before the deadline – the 29th of February.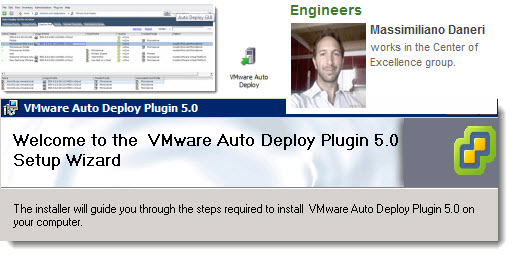 Get the Auto-Deploy GUI Plug-in Here: the Fling page
Check more articles from ESX Virtualization:
Stay tuned through RSS, and social media channels (Twitter, FB, YouTube)