VMware worked hard to get this done. AutoDeploy fling was a long time the only GUI utility allowing manage the setup and deployment requirements in a stateless environment. Some of the features provided through the GUI included the ability to add/remove Depots, list/create/modify Image Profiles, list VIB details, create/modify rules to map hosts to Image Profiles, check compliance of hosts against these rules and remediate hosts. All this is now bundled with vSphere 6.5 and AutoDeploy GUI.
AutoDeploy and Image Profiles are working tightly together.
During the first part – VMware vSphere 6.5 and New Image builder GUI – we managed to:
Create a custom depot
Import custom drivers
Import VMware Offline Bundle (a ZIP file)
Create an Image Profile adding/removing drivers
Export a custom ISO from the Image profile
Today we'll follow up on this by simply cloning this image profile.
Some requirements first.
You should check that vSphere ESXi Image Builder service is enabled and running.
If you plan to use it on regular basis, then you should make sure that the service is set up to start automatically….

Add or import a software depot to the vSphere ESXi Image Builder inventory. (we have done this in part 1).
Steps to Clone a Profile
vSphere Web Client Homepage > click Auto Deploy > Software Depots tab, select the software depot that contains the image profile that you want to work with. From the list of image profiles in the depot, select the image profile that you want to clone > Clone.

By clicking the Clone Icon (button) an assistant shows up. It seems that the new vSphere 6.5 has many assistants -:). And it's good !!!
The software depot called "lab" is the only depot we have created so far so there is nothing to see there.
(Note that you must specify the "vendor" otherwise the assistant reminds you to enter something in this field.)
You must enter a unique image profile name.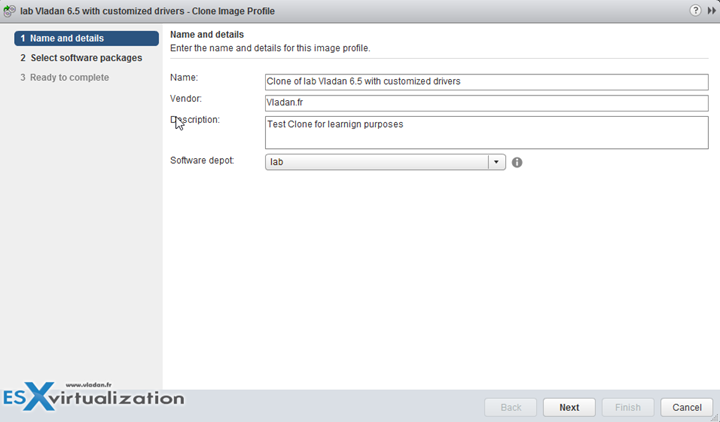 Next, we can change the acceptance level if we want to, and also add/remove packages (VIBs) from the image profile. The acceptance level is optional. The image profile must contain a bootable ESXi image to be valid.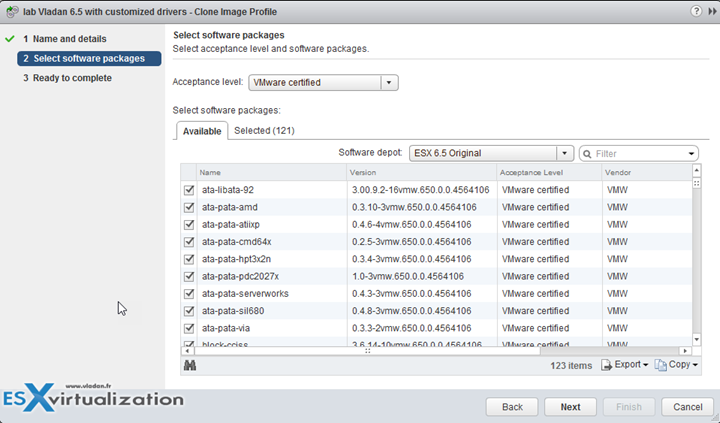 vSphere ESXi Image Builder verifies that the change does not invalidate the profile. Note that if there is a dependency between VIBs, you should know that if you include them in an image profile separately, there is a check done by Image Builder. When you add or remove a VIB, vSphere ESXi Image Builder checks whether the package dependencies are met.
A third screen only recaps what we did….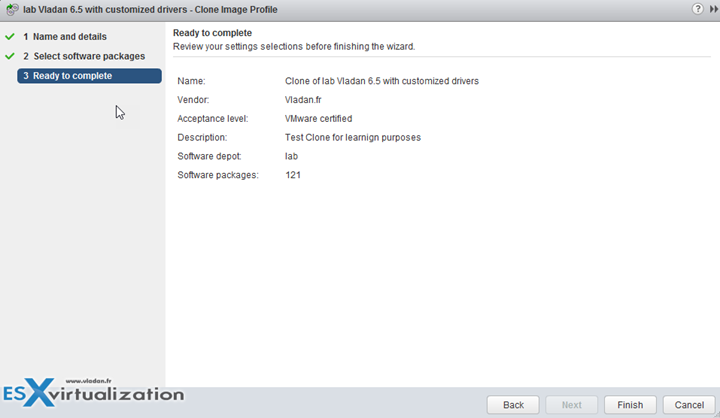 And we got what we were "cooking" – a clone of our profile.
There can be use cases where you want to keep original or created a copy with slight modification with less VIBs (only the ones you need for your environment)….

What are different use cases for Image Builder?
Create image profiles for use by vSphere Auto Deploy which will be used then to boot your hosts via PXE.
Add custom third-party drivers to existing image profile and export to ISO or bundle.
Do an upgrade – yes you can use Image builder to create an image profile which has base VIBs and then create a custom image with custom VIBs in it.
Create an image which has reduced footprint – as you can take off some unnecessary VIBs, to a reduced size of the Image.
Check our Dedicated vSphere 6.5 Page here.
More new recent posts about VMware vSphere 6.5
Few different ways to upgrade ESXi:
And also the upgrade of the vCenter:
Also:
Stay tuned through RSS, and social media channels (Twitter, FB, YouTube)