When it comes to build a power friendly ESXi host, one of the first things is to think about power supply. Take in mind that the host will be running 7/7 and so power efficiency is parameter to take into account. After all, next upgrade you might be planning for your lab will be 2-3 years from now but the PSU…. you'll probably keep it if its an efficient model, right?
Now, Is for example "80 Plus Bronze" good enough to build an Power efficient home system or is the Platinum (or even Titanium) the way to go? One of the questions folks might be asking is how to choose a good power supply? I'm talking here a PSU for a ESXi Lab, not a production environment.
There is no reason to get huge power supply as the new Intel CPUs (4th Gen i7 and higher, or 4th gen low power E5 Xeons) are drawing less and less power while being more powerful. You might need more powerful Power supply if you still design your system with a large amount of spinning drives or you're planning to build a double CPU system. Power Efficiency has to be carefully studied before choosing different lab components. And one of the components which is important is an efficient power supply.
As you might know there are Silver, Gold, Platinum or Titanium labeled PSUs out there, but not all are always suitable. For example the Titanium labeled PSUs might have 96% efficiency, but their cost is high because they're not mainstream in the home enthusiasts segments.
The lab I've built few years back was based on 80 Gold plus PSU and I thought that already back in that time that with Gold I'm getting good efficient PSU. It's still true, but few years fast forward the Platinum models got cheaper and more affordable. So now we have very efficient Platinum PSUs with 92+ efficiency. Good and efficient PSU is necessity for lab designed to run 7/7.
Let's do some quick math (simplified):
Let's suppose you have a 500 W power supply, a system that pulls 250 W, and is on 24 hours a day, 7 days a week. That puts your PSU at 50% load so its going to be at peak efficiency.
Power drawn from the wall:
Basic – 312.5 W
Bronze – 304.9 W
Silver – 294.1 W
Gold – 277.8 W
Platinum – 271.7 W
That means that you'll save:
7.6 W/h over basic with bronze
18.4 W/h with silver
34.7 W/h with gold
40.8 W/h with platinum.
With a lab which runs 7/7 at this load which is  comes out to be 5.47 kWh, 13.2 kWh, 24.9 kWh, and 29.3 kWh saved per month with bronze, silver, gold, and platinum respectively. Let's say that you pay 15 cents per kWh that means after 1 year having a platinum rated PSU compared to basic saves you about $53.61.
Compared to bronze (the one I run currently)  the savings will be minimal, but still you'll save $43.62 a year (291 kWh). Add this if you have 3-4 hosts at home which is nothing unusual for a virtualization geek and you'll see your savings.
Let's say you have 3 hosts and keep them during 5 years, than you'll save $654.3. Sounds good. You can do some good savings by going as efficient as possible – starting with a good and efficient PSU. If you don't care that much about the money savings, care about the planet! Unless you have 3/4 of your roof covered with solar panels like me… -:)
I found the FSP Group power supply with 92+ efficiency good compromise between price/efficiency. Titanium PSUs were mostly over dimensioned (1000W and more) and also more expensive. It's because the home server market isn't there just yet. But there are tons of PSUs out there and some of you might prefer to go completely fanless.
I did not want to go completely fanless the lab room is up at the mezzanine which has natural airflow but there is quite hot there all the year long. Don't forget I live at Reunion Island which is tropical island with sun all year. If you plan to get one of the fanless PSUs out there, take in mind that the PSU must be positioned in the case a certain manner in order to profit the natural airflow in the case. So building a lab host with fanless PSU isn't for me just yet.
Shoot from the lab…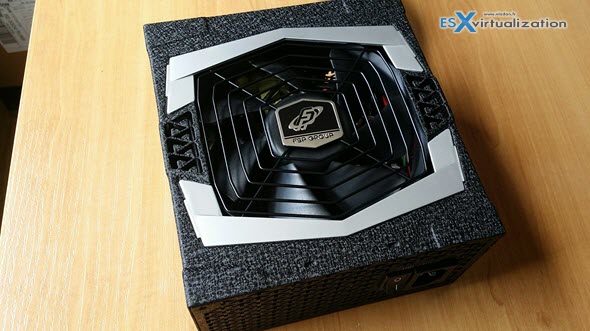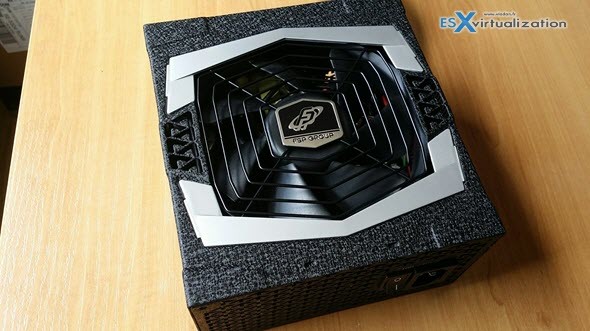 So with that here are the specs of the PSU I've took:
Complies with ATX 12V 2.3& EPS 12V 2.92 Version
High efficiency>92%
Meets 80 PLUS® Platinum Certification
Multiple+12V Rail Design
Multiple Safety Approval
Complete Protections: OCP, OVP, SCP, OPP, UVP
Quiet, Long- lasting 120mm FDB Fan
Industrial Grade Component: Japanese Capacitor
Multiple 6+2 pin PCI-Express VGA Card Connector
Specifications:
| | |
| --- | --- |
| Model | PT-550 |
| Efficiency | >92% |
| Input Voltage | 100 ~ 240Vac |
| Frequency | 50 ~ 60Hz |
| PFC | Active PFC (0.99) |
| Power Provided | 550W |
| Over-Current Protection | V |
| Over-Voltage Protection | V |
| Short-Circuit Protection | V |
| Line Type/ Main connector | 24 Pins |
| EPS 12V 4+4 pin Connector | 1 |
| 4 pin Floppy Connector | 1 |
| SATA Connector | 7 |
| 4 pin Molex Connector | 4 |
| PCI-E 6+2 pin Connector | 4 |
| Case Color | Black |
| Chassis Fan | 120mm |
| Noise | <21 dBA |
| Form Factor | ATX12V V2.31 & EPS12V V2.92 |
| Safety Approval | cUL, FCC, CE, TUV, CB |
| Dimensions(Lx W x H)mm | 150 x 160 x 85 |
FSP Aurum comes with 5 years warranty.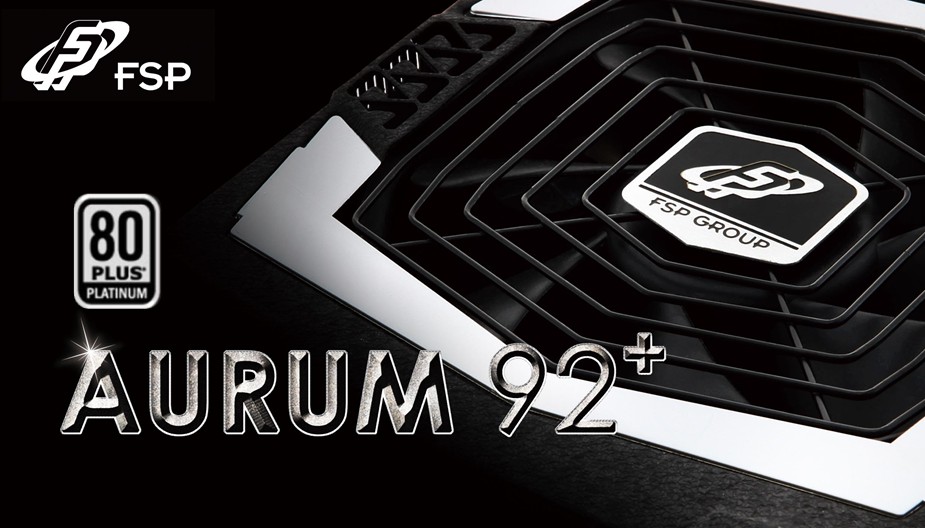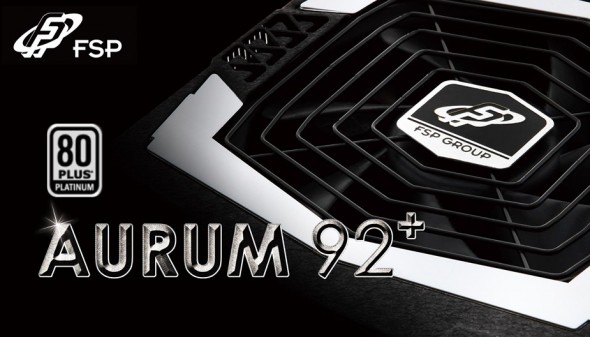 The PSU is semi modular. I found the best value. What's also good is that they bundle cables which are flattened, to allow optimized air flow inside the case.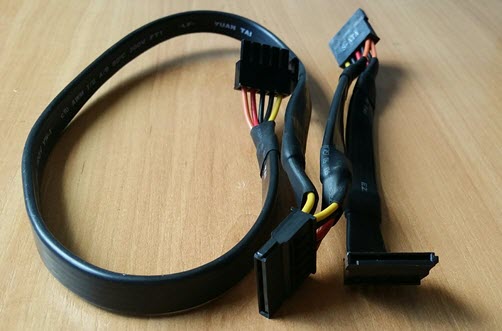 The 80 Plus Platinum certification promises efficiency of at least 90% under light (i.e., 20%) load, 92% under typical (i.e., 50%) load, and 89% under full (i.e., 100%) load.
Usually the components inside of a Platinum certified PSU are better quality than the ones found in Bronze, Silver or Gold. The FSP Aurum has japanese capacitors and Industrial-Grade components. The cost savings with energy reduction footprint as well as less heat are principal factors to take in mind when thinking about lab upgrade or extension.
Five year warranty is also good quality point for a PSU. Price of such a PSU depends many factors but in Europe one can find those PSUs just under €100. This does not mean that you won't find Platinum based PSU for cheaper.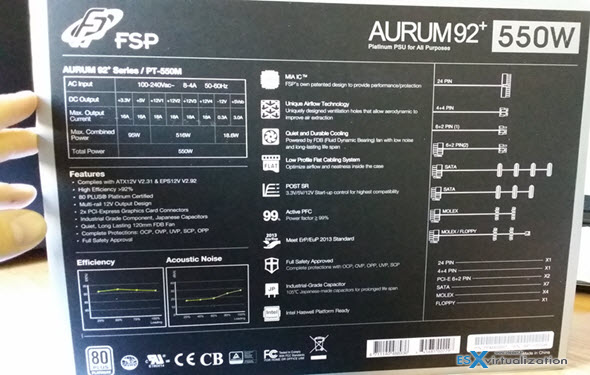 In 2014 my lab was hitting the 500W/h limit. After moving to another house I decided it's time to reduce my energy footprint by going more efficient. The lab will take some time to be re-organized. It's work-in-progress with budget constraints.. -:)
Stay tuned for more articles that will come in during few weeks time. If you like this post don't hesitate to react in comments or (and) share it through your social media channels. This blog can live thanks to sponsors and few affiliates links here and there. If you find our content useful, don't hesitate to support us.
The different models Platinum 92+ …
| | | |
| --- | --- | --- |
| | | |
| | FSP 450W Modular Cable Power Supply 80 PLUS Platinum AURUM 92+ Series (PT-450M) | Amazon US |
| | FSP 550W Modular Cable Power Supply 80 PLUS Platinum AURUM 92+ Series (PT-550M) | Amazon US |
|   | FSP 650W Modular Cable Power Supply 80 PLUS Platinum AURUM 92+ Series (PT-650M) | Amazon US |
Energy Efficient ESXi Home Lab: