In the previous part I've detailed the specs of this board, talked a bit about the 2011-3 CPU architecture and possibilities, but also touched a bit on IPMI management. Since it's something new in my homelab as previous builds were always done from consumer (desktop) boards I thought that it might be a good idea to share my thoughts so far. The Single CPU Board for ESXi Home lab got a Low power E5-2630L v3 Intel Xeon CPU which has 55W TDP only. You can start reading the whole serie for building Energy efficient ESXi homelab here – Energy Efficient Home Server – Start with an Efficient Power Supply.
The board has an IPMI for remote management and Supermicro is one of the manufacturers which dose not require an additional license to use this feature (Fujitsu, HP, Dell and others does….)  This is one of the reasons that Supermicro boards are so popular and that's why I decided to take the plunge and start to build a ESXi platform based on this board.
How does the IPMI on this Supermicro Board works and what's the options?
For those of you who owns Supermicro board in your lab it might be something not so interesting as you already know the insight out, but probably for was majority of the readers of this blog might not. There is a NIC dedicated for the IPMI so you configure the IP on that management interface through the BIOS. To go to the BIOS you'll need to hit F2 key, and so on…. But let's start from the part where we have already done the IPMI configuration in the bios and we just want to for example… power On our host.
Start, stop, reset the host remotely…
The web based UI starts with a connection screen. It's probably the first thing to do … change the ADMIN/ADMIN user's name and password. (note the admin/password are in CAPITALS).
Once logged in, the default screen shows System Information, where you can hit the Power On button. As our server is right not shut down, the Preview Image does not show anything…
Well, cool enough. What's the options then? We can imagine you have your server in the basement and want to Power it On from the comfort of your desktop. Still not sold? Wait there is more. If you want to bring a remote window where you can see the remote server's screen as if your monitor was actually plugged in, then there is something called console redirection.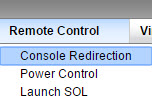 It uses Java (Oh well..), but it works without hassle. Your browser downloads small java file which you need to execute, and then accept the security prompt from Java. That's it. A new window will show up which is the actual remote screen of the server.
Sometimes it might be a bit cumbersome to use the keyboard as the keys you have on your keyboard does not exactly reflect the keys you need to hit in this window. (in my case actually the F2 key to get me into the BIOS does not work. In this case you can use the built-in virtual keyboard which can be launched from the Virtual Media > Virtual Keyboard menu.
And in this case it brings a small software keyboard which you can use when needed special keys which do not work for you when typing on your normal (physical) keyboard….
But wait, this isn't the most useful, as you can do a remote login through SSH and Putty and type "DCUI" to obtain the same thing, right? Yes, but what you cannot do is to actually install a system remotely or change some BIOS settings, Storage controller card settings (RAID) remotely….
Let's start on showing how to attach ISO file remotely so you can start an Installation of new system. First launch the console redirection window if you haven't already done so and then through the menu Virtual Media > select the second option – Virtual Storage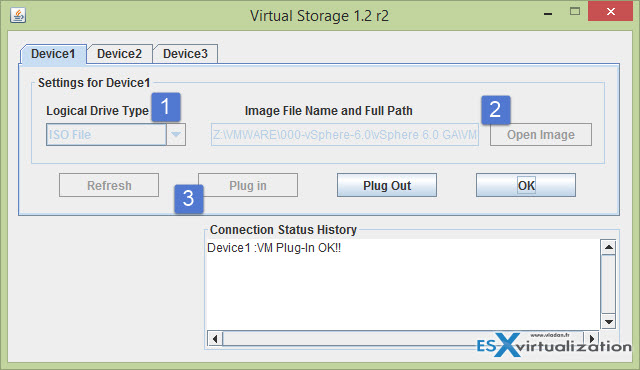 Then boot the server and enter the BIOS to change the boot order to boot from the ISO…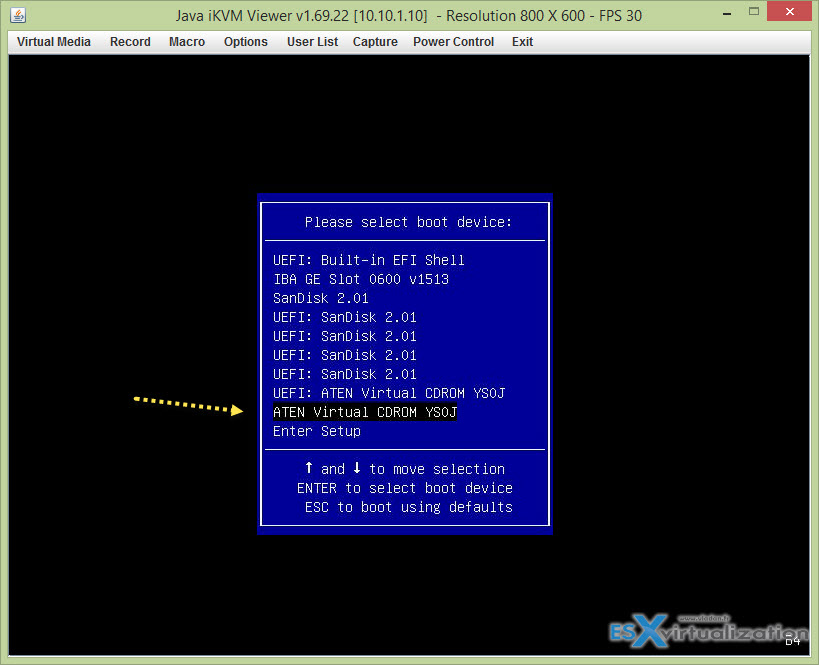 And this will boot from the ISO. As I have presented the ESXi 6.0 boot ISO it shows the ESXi installer which will start installing the system…. cool enough? You have probbably done that already on your nested lab through Workstation software, or in a lab where you had your server next to you, but thanks to the IPMI this can be done remotely over long distance….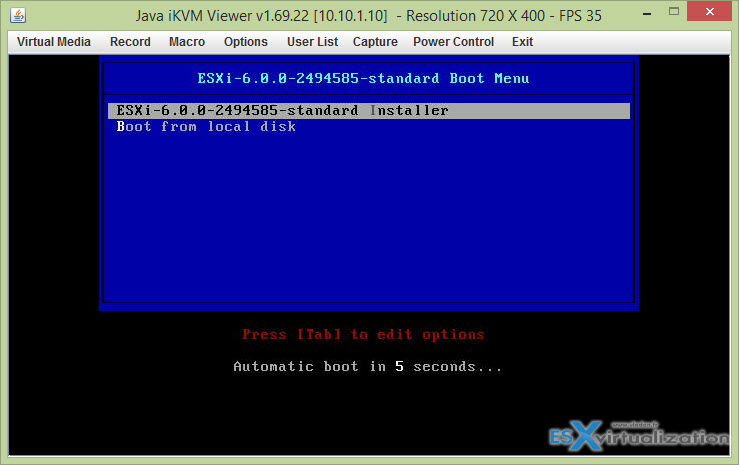 Is there is more that IPMI on the Supermicro board can offer?
I have talked about remote console, or remote virtual keyboard, but note that the hardware monitoring is also very powerful. You can check the sensors, fans, CPU, Memory…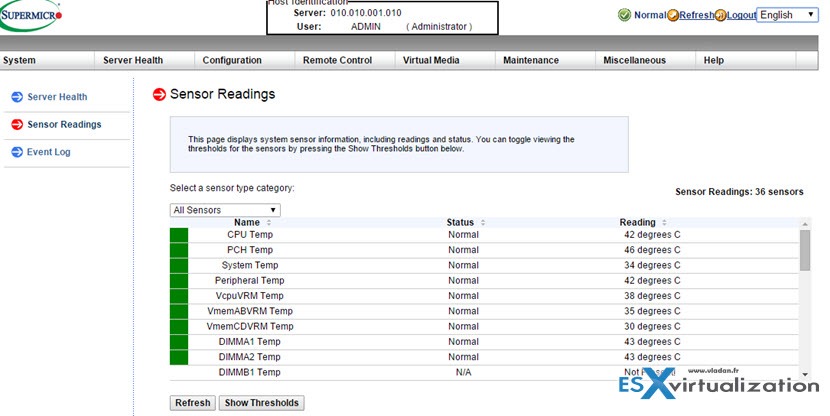 Last, but not least you can also do a Firmware update through IPMI….  pretty neat…
This is the screen…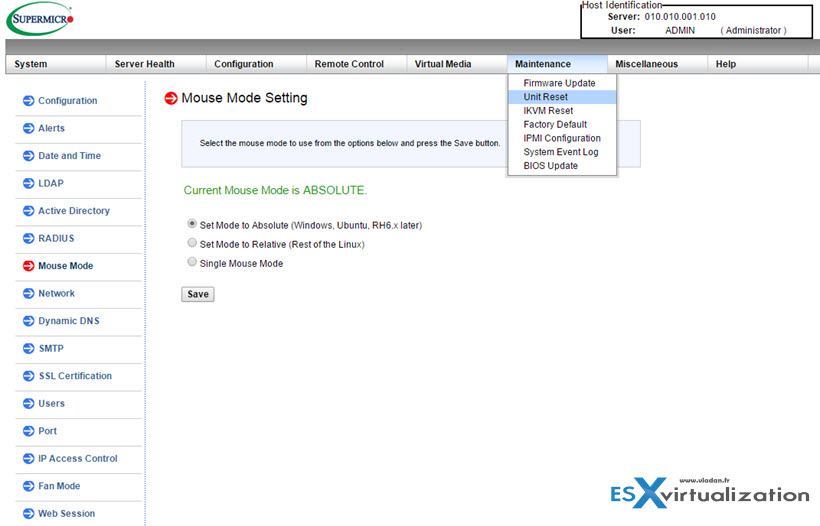 Wrap up:
This board has LSI 3008 built-in 12 Gbps SAS adapter, which recently has made its apparition on the VMware HCL, so it works out of the box (OOB) without additional drivers installation. No tests were done so far by me (upcoming post), but the queue depth of this adapter is 600… You can see other storage controller card plugged in, which is my Dell Perc H310 flashed by IT firmware and which has also queue depth 600 (after the flash).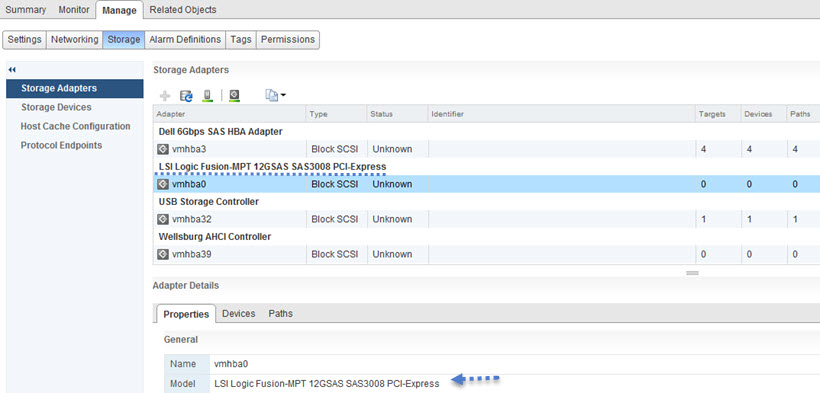 The board has 4 1Gb NICs – Intel i350-AM4 Quad port. (also works OOB)
There are 8 RAM slots which allows to boost the single server up to total of 512 GB of RAM when using DDR4 LRDIMMs. Or when used with lower capacity DDR4 1.2V-2133 RAM ECC sticks (8 or 16Gb RAM sticks) you can go up to 64Gb or 128Gb of RAM respectively.
In the same category at Supermicro you can find a board less expensive, with only 2 Intel 1Gb NICs, or a board without the storage controller from LSI. Here are the 3 Single CPU boards for 2011-3 architecture with DDR4 8 memory slots, (all boards are ATX format):
Supermicro X10SRH-CLN4F-O (with LSI 3008 SAS, SATA, IPMi) – the board I use
Supermicro X10SRH-CF-O (with LSI 3008 SAS, SATA, 2 NICs, IPMi)
Supermicro X10SRI-F-O ( with 2 NICs, IPMi)
Energy Efficient ESXi Home Lab: