A while back we have reported on a Debian for 3CX in beta. A stripped down version of Debian Linux which runs a PBX software. Today we wanted to report on another news from 3CX which consists of installing the distro on MiniPC. Yes, it can be a low-cost alternative, to run a PBX software on a $100 MiniPC and we have already written about the possibility, as such devices are usually bundled with Windows 10. Debian for 3CX on MiniPC is today's post.
The installation can be done via USB key prepared via tools such as Rufus for example. We'll go into details in a minute. Let's first have a look on some recommended MiniPCs and the advantages. One of the first advantages is cost. A device like this can cost about $100 and will support between 16-32 simultaneous calls.
The cost can be low, power consumption as well as heat and noise too. The MiniPC alternative comes with less power, than a full-blown server or even a virtual machine (VM) configured with 4 or 8 vCPUs. Yes, the MiniPCs are usually limited to 2Gb of RAM and running Intel Atom (quad-core) or similar. One of that recommended hardware is the one from Cloudsto which runs Intel Z8300 Cherrytrail. (But 3XC have a page with other recommended hardware). The device is preinstalled already with a Linux, but it can easily be replaced with another installation.
By having a USB preinstalled with Debian and 3CX it reduces the number of setup steps. Updates to 3CX and to Debian will be installed automatically on Sunday at 4 o'clock in the night.
Prepare USB key for installation of Debian for 3CX: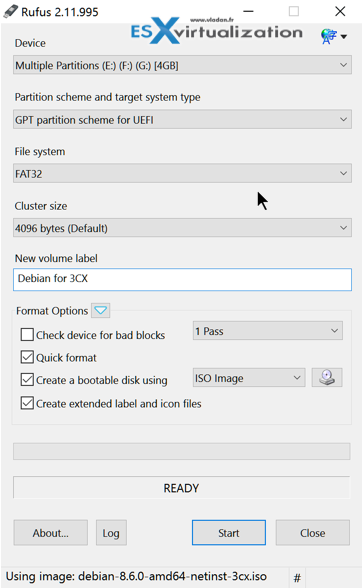 Set Partition scheme to "MBR partition scheme for BIOS or UEFI"
File System – "FAT32 (Default)"
Cluster Size – "4096 bytes (Default)"
Give a name to New volume label – example ISOLINUX
Enable Quick format
Enable "Create bootloader disk" and Select "ISO image" and configure the ISO image to the path where the ISO is located.
Click Start and choose Write in DD image mode.
Enable "Write in DD Image mode" is selected before pressing ok.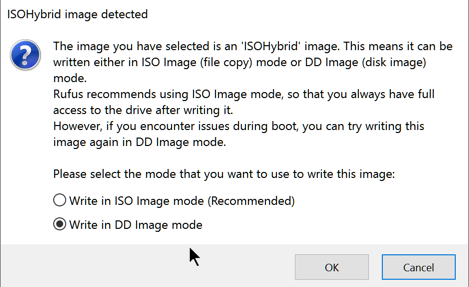 The 3CX ISO will be copied to the USB and the USB will be configured to work as a bootable device. When done, you can use this USB and plug it in your MINI PC.
A Debian-based Linux distribution with 3CX software is designed to run a complete unified communications platform. There is a 3CX client included in the distribution but you can also install it separately.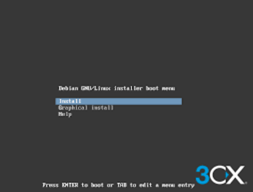 The 3CX PBX provides a complete open standards-based IP PBX and phone system that works with popular SIP trunks and IP phones. It will automatically configure all supported peripherals and it also comes with clients for Windows, OS X, iOS, and Android.
The ISO image includes a free license for the 3CX PBX edition. The Debian for 3CX ISO image runs the standard Debian installer which installs a minimal system with the nginx web server, PostgreSQL database, iptables firewall and Secure Shell. Options not relevant to 3CX have been removed form the distribution.
In case you'll need help with the installation, there is quite a few documentation pages available at 3CX, as well as on number of websites and blogs. You can get help for the installation from this post.
Check other posts about 3CX: