DISM ++ is a freeware application which allows managing of WIM images and also your PC. I'd recommend doing a full image backup (with Veeam endpoint for example) before using this software. DISM ++ is Free Utility which is very promising. To manage WIM images and do different Windows optimizations and cleaning. In fact, it is better than the command line version because it is much enhanced and has many other built-in utilities. It's compatible with Windows 10/8.1/8/7.
I have also reviewed a GUI utility which can be used with DISM command line utility. You can read the post here – DISM 4.0 – nice GUI.
There is no installer. It is a portable application. Automatically it detects your language. The product comes from China but has been translated into English, French or Czech language. Other translations are coming. A slight problem can be with the documentation If you want to learn more about a specific function. The source site is in the Chinese language and I did not find English help file.
Fortunately, the product is easy to manage and master. On the left side, a minimalistic menu gives you an overview what the tool can do. In addition, there is a file menu too. Let's check for example the Toolkit menu which shows many sub-tools such as System Backup & Restore, Startup Repair, Activation Backup, ESD/ISO/WIM file conversion, God Mode ++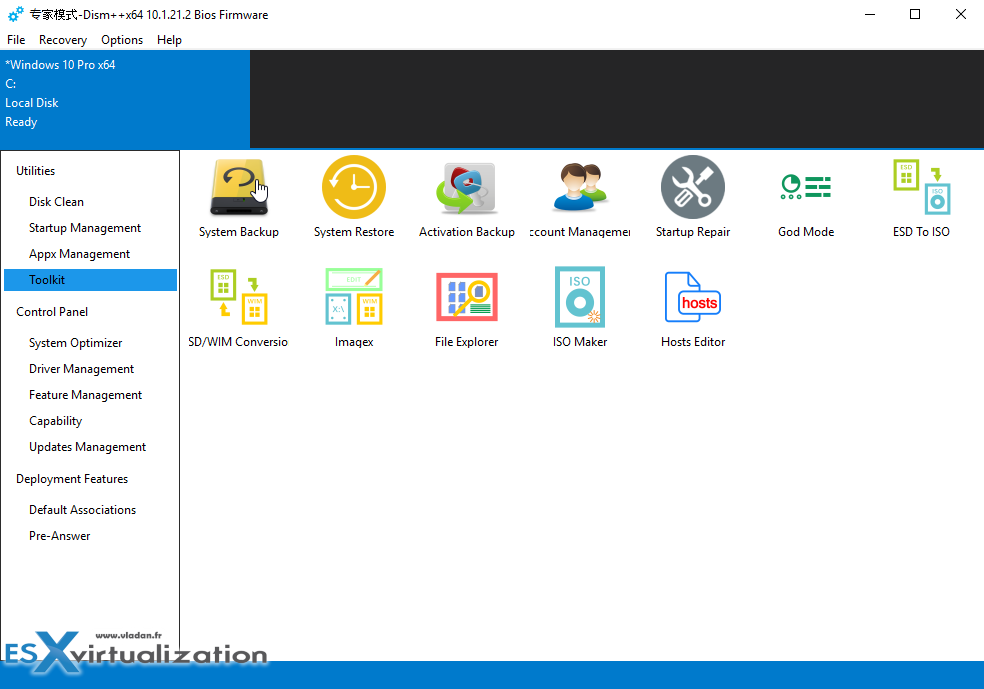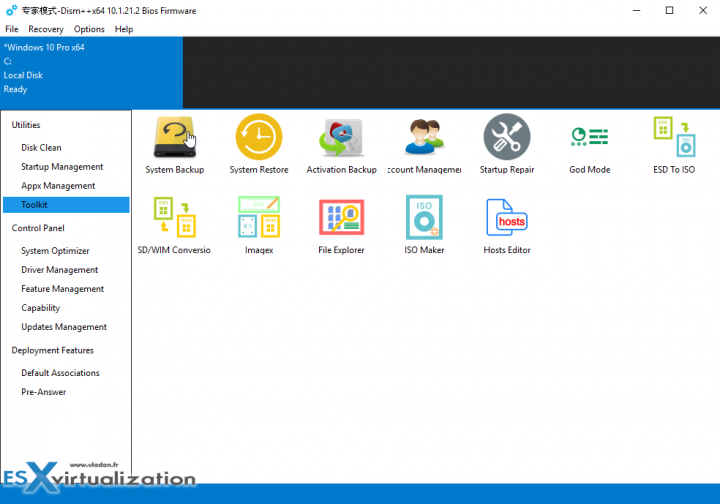 DISM ++ Product Features:
System Optimizer – tweak various sytem-wide settings. Export/delette new
Creation of ISO files
Using ESDs
Conversion of WIM to ESC/sWM
Manage User accounts
Manage startup applications
Manage services
System backup/ Restore/ Startup repair/ Activation backup/ God Mode
Here is the overview of the different menus. A simplistic (a very light) UI coupled with a file menu. Additionally, you can also enable expert mode (enabled via Options > More Settings menu). Bu I could not find what this checkbox "unlocks"…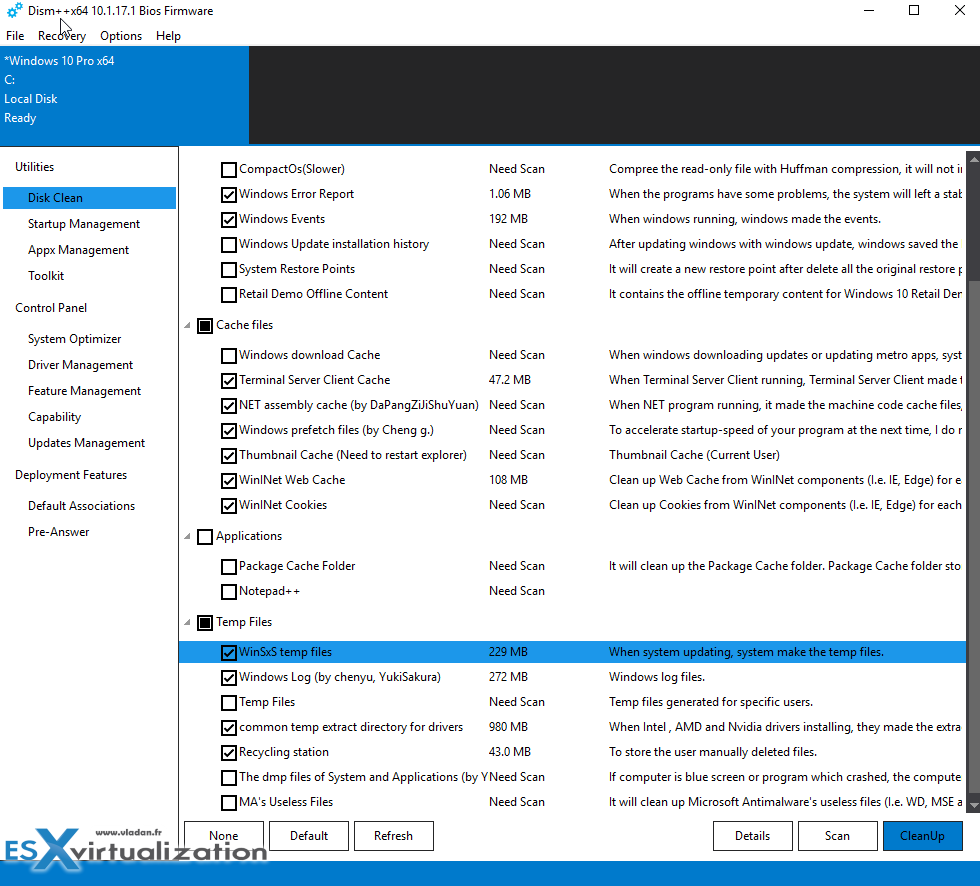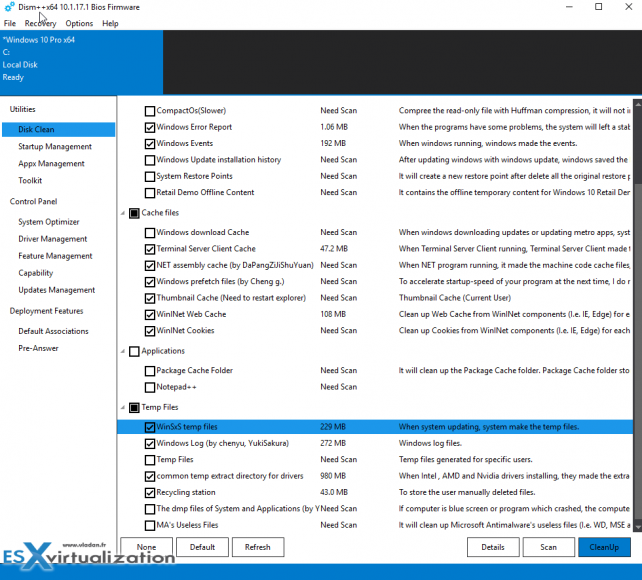 For me, I'd see a usefulness on "skimming" a system which is installed on SSD which does not have enough capacity or where capacity matters. This would be number one use, after cleaning with traditional methods and tools (CCleaner etc..).
The file menu offers the options to work with images (WIM, ESD, SWM, ISO…)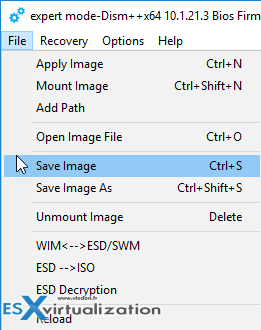 System optimizer menu gives you the hand on activating/deactivating individual options for different Windows software, taskbar, Themes, Explorer etc….:
Taskbar and Cortana Settings
Windows theme Settings
Security Settings
Explorer
Windows 7 experience
Desktop icon management
Icon Management in navigation pane of windows Explorer
Context menu management
Windows update
Network
Service
Photo viewer (enable disable)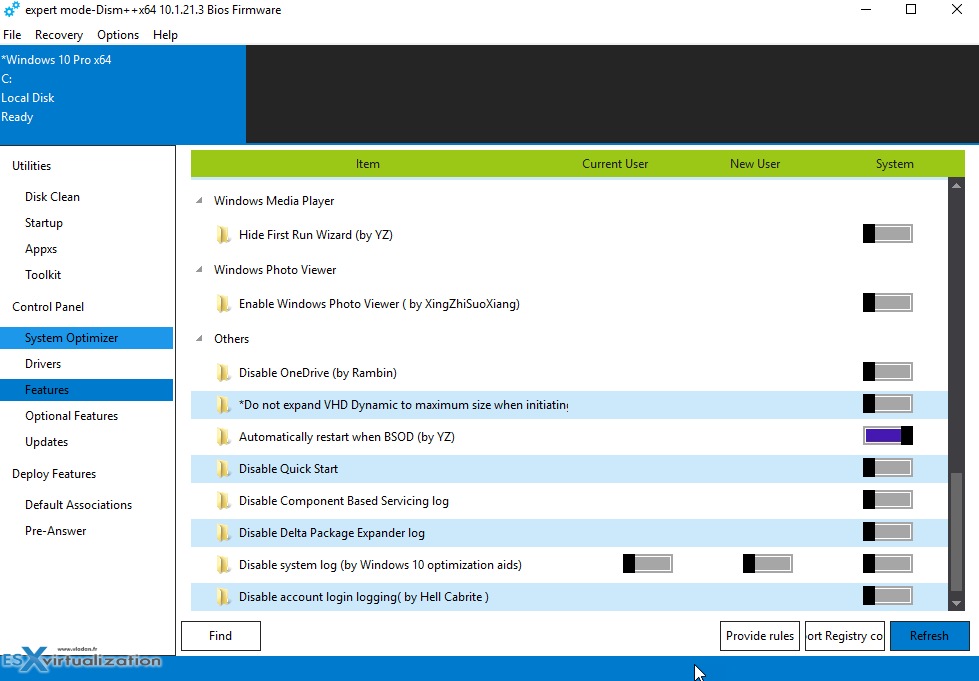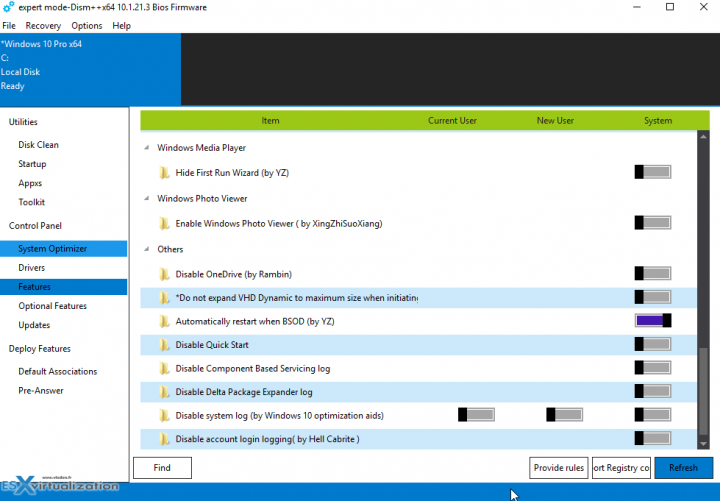 From within the Optional features, you can then uninstall the optional features such as "contact support" or features you will never use such as "speech recognition" or handwriting. Otherwise, it is pretty cool and promising software which can effectively manage your Windows PC. You can access the Windows options faster and from single Window. Compared to the original DISM command line tool you don't have to know any commands. However, there is a learning curve for this software too, and again, backup, before you tweak break something!
You can download it from Softpedia.
More from ESX Virtualization:
Also
Stay tuned through RSS, and social media channels (Twitter, FB, YouTube)