I've seen few questions about around about where to get or how to get a Windows 10 ISO with the Anniversary update in it. Some of the posts pointed into some weird file serving websites not inspiring enough confidence and were quite misleading. That's why I thought it might be useful to guide you in case you want to have the latest copy of the Windows 10 with Anniversary Update SlipStreamed.
Worth to mention, what Windows 10 Anniversary brings important? In my recent post, we wrote about the possibility to use ReFS within W10 Creators update as a Veeam Storage Repository. Other things that Creators update brings new Paint 3D application included with Windows 10 allows you to work with and create 3D models.
Microsoft Edge browser now supports 3D content. It can be used to upload and download 3D models—including models exported from Minecraft and SketchUp—from Remix3D which is a community website.
The main focus is really on 3D with "Windows Mixed Reality" which is the new name for "Windows Holographic" and it works together with 3D support. Microsoft's HoloLens headset is a mixed reality headset. It allows you to see through the headset to the real world, and digital images are superimposed on that image of the real world. With HoloLens you can download a 3D model from Edge or create one in Paint 3D and virtually place it somewhere in the real world.
Download Windows 10 With Creators Update SlipStreamed
Go to Microsoft's website here and download small exe program which enables few things:
Upgrade computer from which you're executing the program
Create bootable USB key
Downloads an ISO
At first, the tool asks you what you want to do…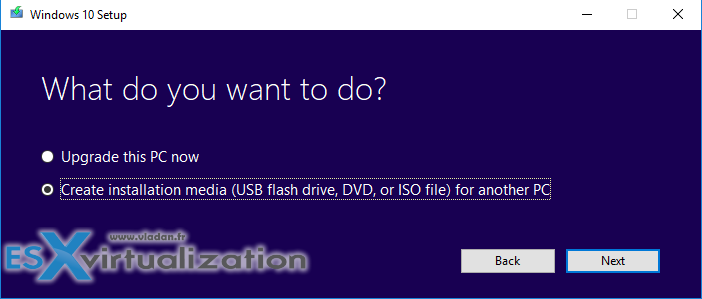 If I remember right, this is not the first time that Microsoft rather uses an exe for choices like this instead of direct download links which are usually reserved for MSDN or enterprise customers. I think we already seen this with Windows 7 and Windows 8.x (Server 2012)….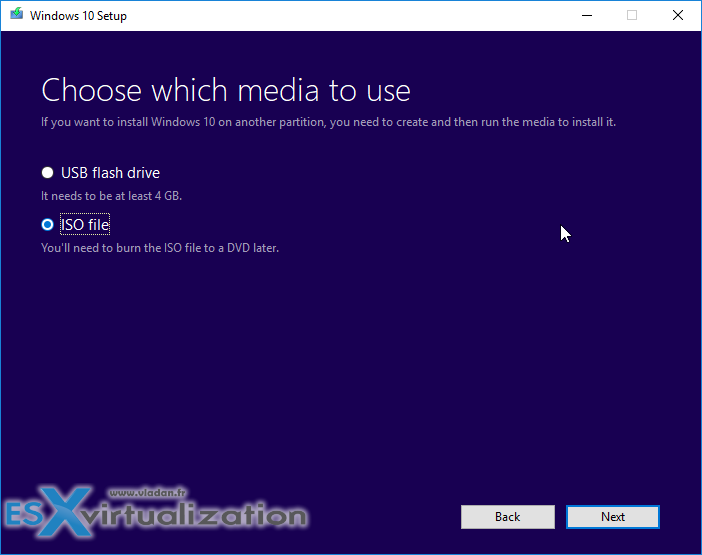 Check a few things on the PC where you want to install Windows 10:
64-bit or 32-bit processor (CPU). You'll create either a 64-bit or 32-bit version of Windows 10. To check this on your PC, go to PC info in PC settings or System in Control Panel, and look for System type. (most of the time, modern CPUs are 64 bit, but older computers might have still only 32bit support).
System requirements. Make sure the PC meets the system requirements for Windows 10. We also recommend going to the PC manufacturer's website for additional info about updated drivers and hardware compatibility.
Language in Windows. You'll need to choose the same language when you install Windows 10. To see what language you're currently using, go to Time and language in PC settings or Region in Control Panel.
Edition of Windows. You should also choose the same edition of Windows. To check what edition you're currently running, go to PC info in PC settings or System in Control Panel, and look for Windows edition.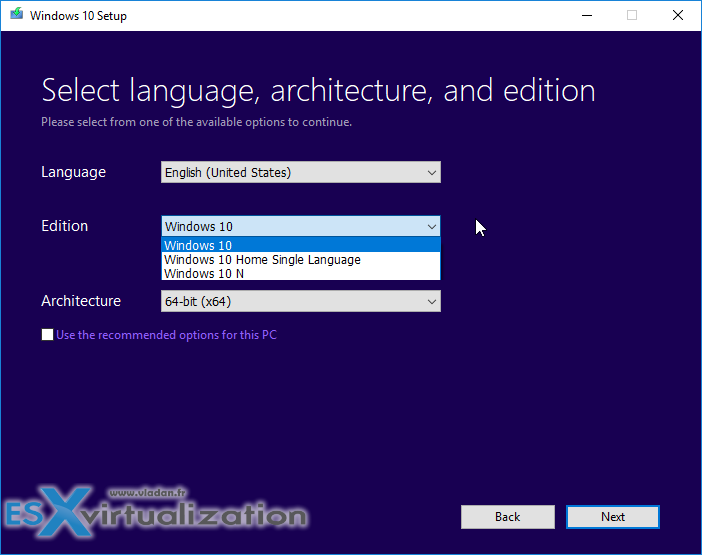 then you just wait until the ISO is downloaded to your computer. After, you can use tools such as Rufus to create bootable USB key or just use this ISO via VMware Workstation to create a new VM which you can test within your Windows desktop environment.
Windows Insider Program
Whether you're an IT nerd you might certainly want to know what's Microsoft cooking next? I'm sure you know, but for those of you who does not, I'd like to point out about the Insider Previews.
Windows 10 Insider Preview are preview builds which are good for testing, usually as VMs via VMware Player, Workstation or Fusion as usually those builds are only for testing purposes, with some bugs.
You should check this page from Microsoft where you'll find more information and from where you'll be able to download (Note you'll need to have Microsoft ID and Microsoft account before you want to do that).
Follow these steps to download Insider Preview:
Sign up for the Windows Insider Program, if you haven't already.
Read the system requirements.
Click one of the Download links there.
In addition to the standard Windows 10 Insider Preview edition this page will allow you to download these editions:
Windows 10 Insider Preview Enterprise is built to address the needs of large and midsize organizations and comes with the management tools that IT administrators need.
Windows 10 Insider Preview Education is built for students and faculty and comes with the management tools that IT administrators need.
Windows 10 Insider Preview Home Single Language is built for consumers in emerging markets and can only run a single language.
Windows 10 Insider Preview Home China is built for consumers in China and is delivered in Simplified Chinese
Update: Direct Download from MAC or Linux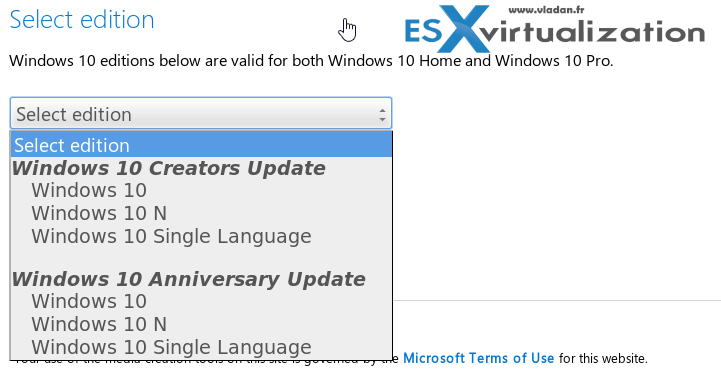 Thank for one of our users (in the comment section) we can share an update which might be interesting. It's the fact, that when using another Operating system than Windows. In fact, the Windows 10 Media creation tool isn't supported outside of this OS.
If you're on MAC or Linux machine you won't get the same page as Windows users.
Microsoft, in this case, giving an option to download those ISOs directly. We can simply spin up a Linux VM and get to the same page to get a possibility to download those ISOs directly.
More posts from ESX Virtualization:
Stay tuned through RSS, and social media channels (Twitter, FB, YouTube)