DRS Best Practices – Free VMworld Video Showing Advanced Concepts, and Future Directions. VMware DRS is one of the best features of VMware vSphere. It gives you the possibility to automate the management of resources in virtual environments. There is quite a few parameters which one must take into consideration, but there is quite a lot when DRS can help you out. Like the automatic initial placement of VMs and load-balancing, depending on the load of a host, cpu utilization and ressource pools.
In this video, the presenters, Aashish Parikh and Ajay Gulati from VMware. It's a Full VMworld Session which you can watch here, the session is 1h long.
At the beginning the video, they quickly remind the fonctions of the DRS cluster – host maintenance mode, affinity and anti affinity rules, runtime CPU/memory load-ballancing and initial placement of VMs.
They talk about something called VM Happiness, which is a key to overall best application performance. There are some real life examples of  Resource pools, with different VMs configured with some specs. Then there is a question on the how many VMs can fit on the host? Well, it's quite instructive.
They give some very good advices on what to use as much as possible (shares) and what to use sparingly (limits). Using tiered reservation models for applications.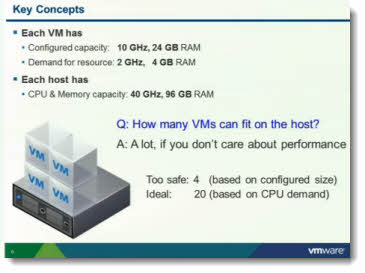 In this session, Aashish Parikh and Ajay Gulati from the DRS engineering team will present an insider's view of key concepts, specific use cases and advanced options.
Learn about important resource pool recipes and become a power-user; keep your VMs happy by discovering the importance of VM resource entitlements. Learn to avoid common pitfalls and effectively load-balance your clusters with new, advanced features and more.
Finally, this session will give you a sneak peek into DRS labs to check out some bleeding-edge features under consideration that add new functionality and address customer pain-points.
DRS Best Practices are one of the key fonctions to master. Learn how the Ressource pools interact with DRS and calculate those.
The use cases are pretty cool.
Here is the Full session video from VMworld 2012 – Session VSP2825
Enjoy…