One of the annoyances of W8.x OS (there are others too) is the fact that pressing WIN (Windows) + R and then typing cmd gives you command prompt window, but without elevated privileges. This is quite annoying because even with being member of the local administrator group you get restricted on that – you need Elevated Command Prompt in Windows 8.x.
I'm talking for Windows 8.x only as this behavior is new here. You need to have elevated privileges to clean up your dns cache for example when troubleshooting the TCP-IP stack and your ipconfig /registerdns command asks you to open an Elevated command prompt. So for some tasks through the CLI you need elevated command prompt no matter which account you're logged with.

So you have several options on how to do that, where the first works and it's kind of easy and the second one does not take any space on your desktop or taskbar. It's up to you which way you want to go.
1. Copy shortcut to desktop or taskbar – you can copy the shortcut to cmd window on your desktop and then do a right click to Open as an administrator, but that's just now what I want – another shortcut on already crowded desktop. Another option would be the task bar. You can pin the shortcut to the task bar and then do a double right click to open an elevated command prompt.
Is there is a way to check if the command prompt you opened is elevated or not?
Elevated: The window title says Administrator: Command Prompt
Not Elevated: The window title says Command Prompt only (no Administrator in front)

I won't go into details on how to make your account being the member of an administrator account and not even on how to disable the User access setting nag screens.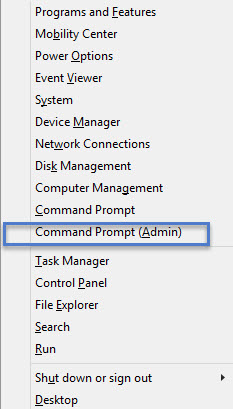 You can however open an elevated command prompt directly via keybord shortuct. It's still two steps process, but you don't need to create any shortcuts.
2. Press WIN (Windows) + X shortcut to bring up a window where in the menu you can choose to open an elevated command prompt. This brings what they call a Power User Menu. Hmm. Yes, but why hiding it?
Oh well, as you can see you can access to the principal parts of the OS, where as admin you usually need to go. Change netbios name, check event viewer, see network connections and others… Easy and convenient. The only thing is that you need to remember this shortcut.
The shortcut works as well on Windows Server Systems, so 2012 and 2012 R2, but you don't need the use the elevated privileges "trick" as the system behaves as expected. Not the strange way W8 does it…
It's kind of tricky from Microsoft, but that's the way it is. Still the most prefered system from the user's part is Windows 7 and I think that also every one else like IT admins or system architects say that W8 is not what they expected…
Anyway, this was just a small how-to to start the week with. I hope that you enjoyed it. Stay tuned for more.