Free ESXi host backup and restore utility allows backup and restore ESXi configuration. The backup/restore could be done only throug PowerCLI with commandlets Get-VMHostFirmware and Set-VMHostFirmware, but this utility called simply Host Backup & Restore GUI utility simplifies the process a bit.
The utility tests if the host is a valid host and if maintenance mode is activated. After restoring from backup the host needs to reboot.
The whole application is coded into a small script. It's a PowerCLI script which brings up a GUI window. Simple and effectif: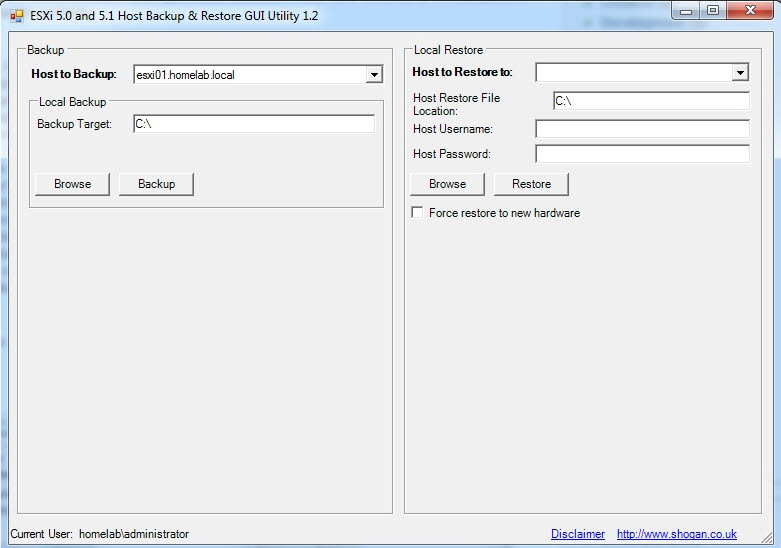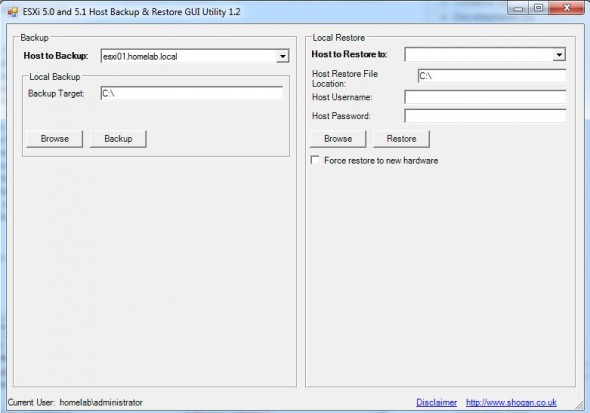 Quote from The author:
What it is essentially, is a GUI that allows you to Backup ESXi 5.0 or ESXi 5.1 hosts to a destination of your choice on a local drive. It also allows you to restore ESXi Host configuration bundle backups taken, to other Hosts.

As always, take care using the backup / restore functionality of this utility. The restore functionality works by first putting the ESXi host into Maintenance mode (if it isn't already in this mode) and then applying a backup bundle to the host (Restore). The Host will reboot immediately following this.
Free ESXi host backup and restore utility – TheFeatures:
Backup a host configuration to destination of your choice
Restore and apply configuration to a host (or to other hosts)
The author is Sean Duffy (shogan.co.uk) and he did this little project for fun. Haven't seen any note on the author's blog if the utility supports also ESXi 5.5U1 as he states that ESXi 5.0 or 5.1 were tested. But I think that the post will be updated soon. Here is the link tot he source. Enjoy.. -:)