VM (V2V) or Physical to Virtual (P2V) conversion isn't something new. Since virtualization has started there were tools that were used for one or the other. Today's post will list three principal tools that are still updated (kind of) and developed to maintain the possibility of conversion tasks. Note that while many admins have already reached the fully virtual environment, there are still some old and very old systems that need to be converted.
Not so long time ago I had someone converting an old physical NT4 system to a VM because an application running inside of the VM could not be re-developed for the modern environment. Oh yes, only the virtualization can do that magic and brings us the possibility to run old workflows. That's why we still need tools allowing us to perform P2V or V2V conversions.
Maintaining old OS is not a good practice but having an old OS which "does its job" is sometimes more important than anything else including keeping your job -:). You can secure such a workflow too even if you cannot secure the OS itself. For example, a VM with an OS can be on an isolated VLAN without internet access to minimize the risk of exposure. There are plenty of other possibilities.
Let's kick this post by listing some freebies and free software tools for VM conversion.
StarWind V2V Converter
A well known is Free StarWind V2V Converter which is a multi-hypervisor bi-directional tool (compared to VMware converter which only converts from other hypervisors into VMware format). StarWind V2V converter makes conversion between all the most used VM formats: *.VMDK, StarWind *.IMG, *.VHD and *.VHDX, *.QCOW. You can convert in both directions. A dual-direction migration between different formats and hypervisors is possible.
Note: StarWind tool can also do P2V (physical to virtual)
StarWind V2V Converter is compatible with most hypervisors such as Microsoft Hyper-V, VMware ESXi, Citrix XenServer, and KVM.
You can convert a physical computer or VM to cloud VM too. However, before converting a virtual machine or an image file, check whether the following prerequisites are met
Network adapters are enabled on system boot
Network adapters have IP addresses assigned over DHCP
RDP or SSH are enabled
A firewall is set to allow for remote connections over RDP or SSH
The VM that is to be converted is powered off
Before converting a virtual machine, virtual machine disk, or a local file to Microsoft Azure, you need to:
create and subscribe a Microsoft Azure application to a plan
create a Microsoft Azure resource group
create a Microsoft Azure storage account
https://www.starwindsoftware.com/converter
Convert from physical into VMware or Hyper-V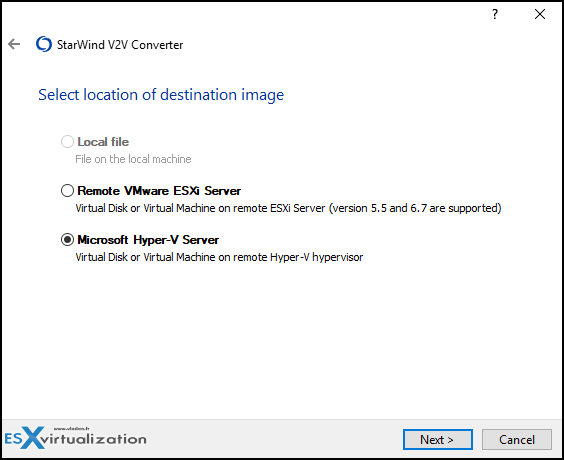 Features:
RAW image .IMG – StarWind Virtual SAN, and other software
MS VHD/VHDX – thick- and thin-provisioned
VMware VMDK for ESXi – thick-provisioned
VMware VMDK for Workstation – thick- and thin-provisioned
VMware VMDK stream-optimized for OVF
QCOW2 – QEMU (KVM)
Physical to virtual from Windows Machine
VMDK files – all versions ranging from 5.x to 6.7
remote connection – all versions ranging from 5.5 to 6.7
snapshots from files do not get converted
Works with MS Windows Server and MS Hyper-V Server.
VHD / VHDX files of all versions, ranging from Server 2008R2 to Server 2016 supported;
virtual machines – ranging from Server 2008R2 to Server 2016;
snapshots from files do not get convert
The V2V Converter utility allows copying a virtual machine from one hypervisor to another one with a parallel conversion of virtual disks. The conversion of a virtual machine is made by creating a new virtual machine with similar parameters.
When creating a copy of a machine, the main parameters are taken into account: number of processor cores, amount of RAM, number of network cards and monitors, disk controllers and number of disks of the machine. The machine's virtual disks are in turn copied to the specified hypervisor and connected to the new virtual machine. All network cards are connected to the virtual network that the user specifies when converting (by default, the first one in the list).
Final Words
The StarWind V2V converter looks to mee the most complete as it allows multi-directional conversion of VMs and Disks. No matter the time it taks, it's important to have a tool which just does the job. You can launch multiple copies of the converter on multiple workstations if you have a bunch of VMs to migrate/convert.
https://www.starwindsoftware.com/converter 
VMware Converter Standalone
This tool is free too and I don't know any admins who have not used it at least once. It was the first tool I ever used for VM conversion and it was also the very first article on this blog with enormous success! Check it out – How to convert a physical server using VMware converter.
Update: the product is no longer available for download.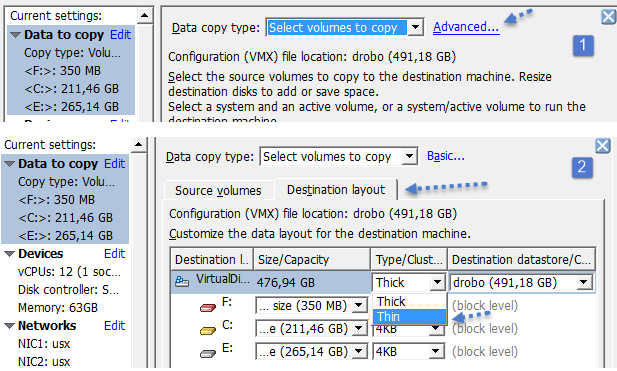 Microsoft Virtual Machine Converter 3.0
At first, Microsoft has discontinued this too, but recently a new release as appeared. However, only conversion from VMware to Microsoft are possible….
Microsoft Virtual Machine Converter (MVMC) is a Microsoft-supported, stand-alone solution for the information technology (IT) pro or solution provider who wants to:
Convert virtual machines and disks from VMware hosts to Hyper-V hosts and Windows Azure
Convert physical machines and disks to Hyper-V hosts
MVMC provides native support for Windows PowerShell, so it enables scripting and integration with data center automation workflows, such as those authored and run within Microsoft System Center Orchestrator 2012 R2. It can also be invoked through the Windows PowerShell command-line interface.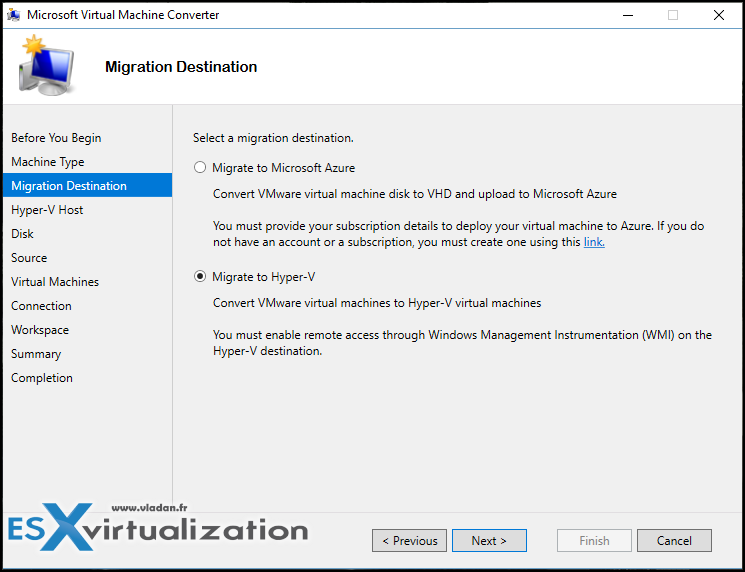 Download from Microsoft here.
As being said, converter utilities are always handy. Free tools, especially those were the 3 are very good free V2V and P2V converter tools where the StarWind one can do a bi-directional conversion.
More from ESX Virtualization
Stay tuned through RSS, and social media channels (Twitter, FB, YouTube)