File Menu Tools is free utility (or rather set of utilities) which installs on x86 or x64 systems. The goal of this free application is to ease the pain (as usually) and to make the life of th admin easier. We all seek to make our lives easier, right? Than read on because this utility is simple a pure gold. If you want to expand your right click menus with command prompt here or see what's the size of a folder, those are just 2 features of this free software.
You can also manage the right-click menu on your system, where you can enable or disable individual menu items. (for example you want to get rid of some items but not other). I know that possibly going through some registry entries would do the same thing, but you would need to go deep into the registry. And it's probably not your intention.
The utility has also built-in file synchronizer which allows you to synchronize directories. A Swiss knife too have in your toolbox? Sure thing -:). The right-click menu gets expanded with a commands which came in as pre-built commands (pre built menus), but those are fully customizable and expandable through the application.
The screenshots from the Right-Click view in Windows Explorer: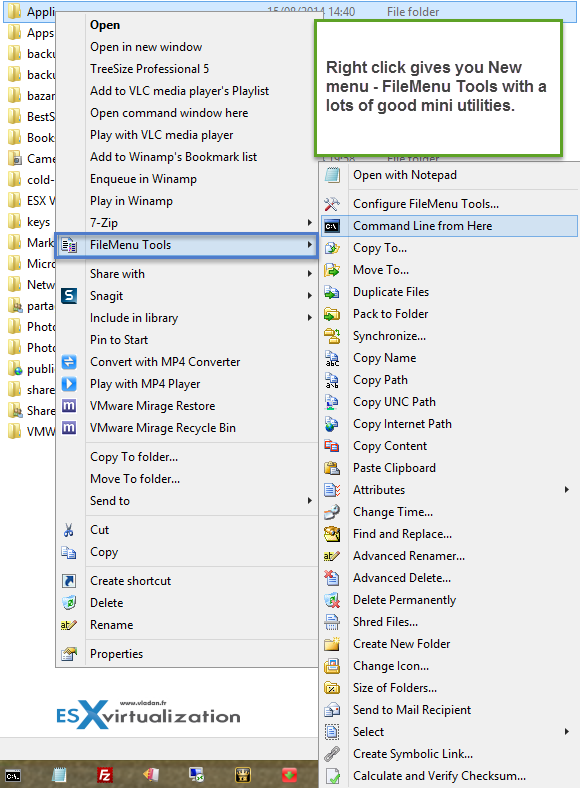 File Menu Tools Features:
Custom Commands to:
Run external applications
Copy/move to a specific folder
Delete specific file types
Send the selected files as attachments to e-mail recipient(s)
Rename the selected files using a set of rules
Configure the "Send to…" submenu
Enable/disable commands which are added by other applications to the context menu
Enable/disable commands which are added by other applications to the context menu
Screenshot showing the possibility to show size of a Folder (including subfolders)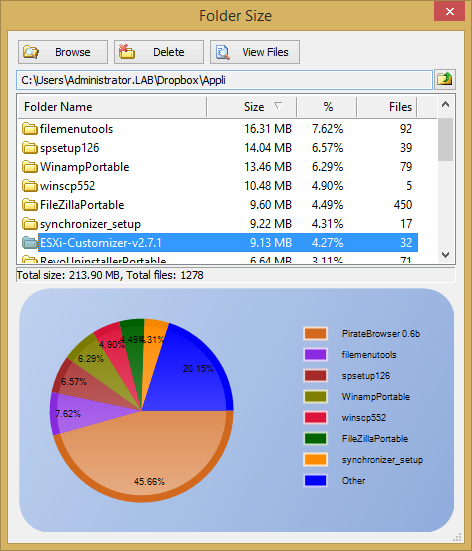 There is a portable version available too at the download location, in case you don't like to install just another software on your system. It is certainly more convenient. With he main program, the portable version creates 2 files (register File Menut tools and Unregister File Menu tools) allowing registering (unregistering) the applications.
However both versions, Installable and Portable version however wants you to install few apps (PriceGong and PlayWithMe) with the File menu tools which I don't like. So be careful when validating the NEXT button on WHAT you installing. You can easily SKIP the software that you DO NOT WANT, but as it's presented with the same colors and you usually don't read and just click the NEXT button you'll end-up with some applications that you certainly won't like because there are completely out of topic! I warned you.
Here is a screenshot from the main UI where you can see 3 tabs at the top. Each tabs allows personalization through the UI.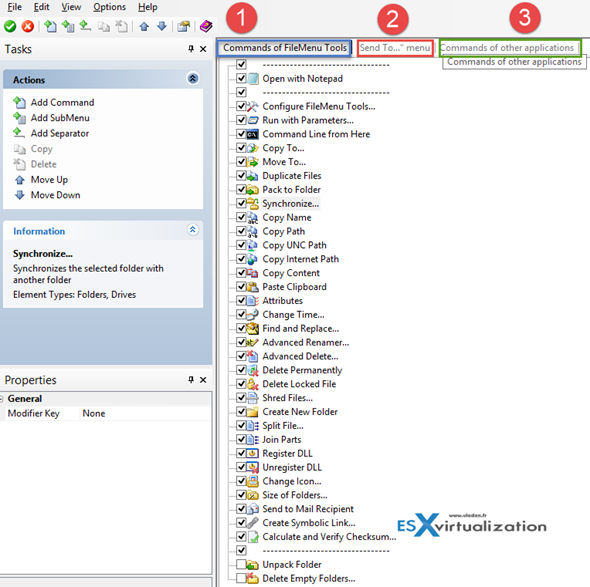 Worth to note that there is also a functions for shredding files or changing the date of creation. The utility is really packed with functions. Last week I talked about SyncBack Free which allows synchronization and backup of directories (bi-directional, mirror etc..). Well File Menu Tools has the same function built-in too.
One of the menu options has the synchronize option. You can:
Copy from folder 1 to folder 2
Copy from folder 2 to folder 1
Bi-Directional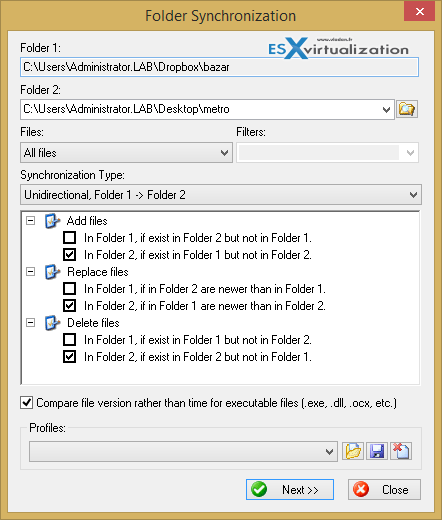 Certainly complete tool which is very cool. With small inconvenience when installing without taking much attention…. It's a bad idea IMHO and I'd recommend to the developper go rather different way. Provide a free version and paid version which would be packed with more tools.
Tools like this eases the admin's life and offers value, however they should not be packed with spyware, bloatware or something like that. So I recommend this program, but be careful what else wants to install as well!!!
You can download your copy here : Lopesoft.com