Today we'll have a look at How-To Create a Training Class Through Ravello Training Platform. If you're a regular reader of our blog you already know that Ravello/Oracle Cloud Platform allows you not only to set up a cloud lab but also to run enterprise cloud applications as their recent upgrade allows you to run workloads directly on bare metal.
Ravello allows you to run your VMware VMs on a hypervisor installed on a bare-metal server hardware with almost native performance and also Hardware Assisted Nested Virtualization option. Ravello claims up to 14x speed increase compared to the previous offering with software assisted virtualization.
The whole idea behind a training class is not only to have a blueprint which will be used to do the training from, but also to create a course and create a class where you place your students. Classes are based on courses, so you need to create a course before creating classes. You can have a course, with several classes for a course, like in school where the teacher teaches several classes with the same course. Let say you want to assist your students during their progress so you better create several classes with 10 students each only, instead of a single class with too many students.
Students can be added manually or imported via XLS sheet.
The system will simply allow you to be more organized (through Courses and Classes) and manage the access for your students (each student has an individual link to connect). The overall process is fairly simple. Create a Course and then > Class > Blueprint > Students. And the good news is, that if you're already a Ravello client, the Ravello Training Platform is available for free with no additional cost.
Ravello Training Platform Benefits
Move between cloud regions – You can move sessions between cloud regions and avoid the setting up overhead which exists in a traditional cloud environment.
Use existing environment for training – You can create training from an On-Prem environment, which means you do not need to recreate it in Ravello if you have something already within your existing environment.
Add new students to the course On-The-Go – You are able to dynamically scale resources in order to accommodate late registrations without over-provisioning.
Monitor student progress with one-click access to their screens – Teacher can monitor student's screens thanks to VNC tunnel provided by Ravello training platform. Like this, the teacher can connect to the student's console and monitor in real-time what they do.
Create Ravello Training Class – How to Get started?
Before we jump into the process, you'll need to have already some VMs and at least one blueprint available in Ravello. If not, you can quickly create one. Check some of our past articles at the bottom of this post if you haven't used Ravello yet.
Step 1: Enter the Training platform section – go to the top and select Training Platform.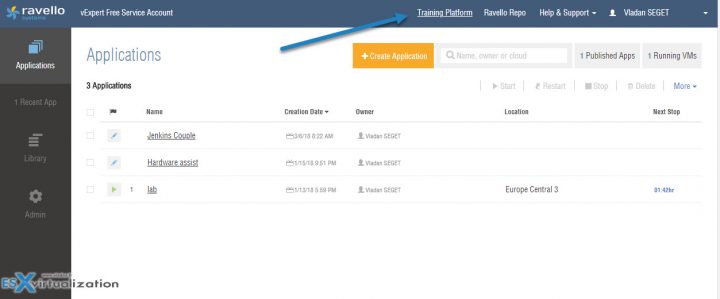 This is the start. Next, you'll have two buttons on the left. Courses and Classes.
Step 2: Create a Course – Click the Courses button and create a new course. Put some meaningful name and description,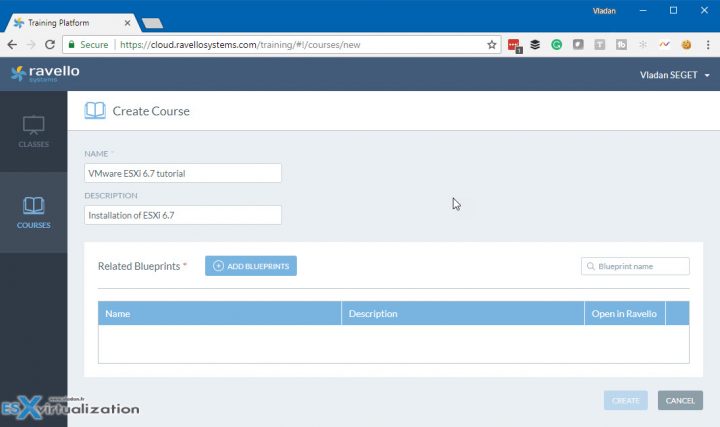 then select and attach a blueprint. The blueprint for a class is inherited from the course, but you can override it and pick a different blueprint for the class.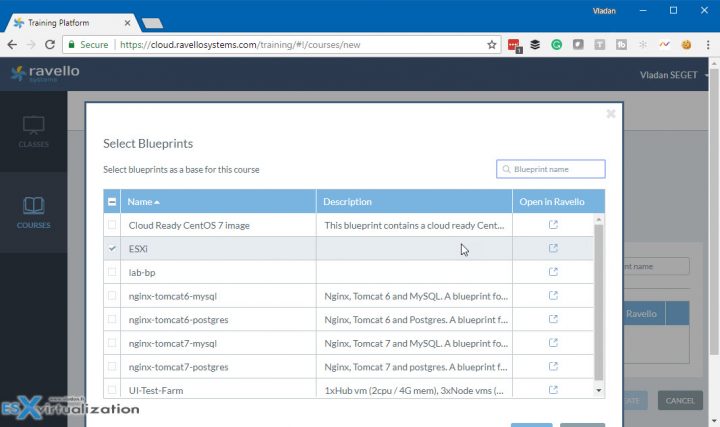 Click Select and then Save.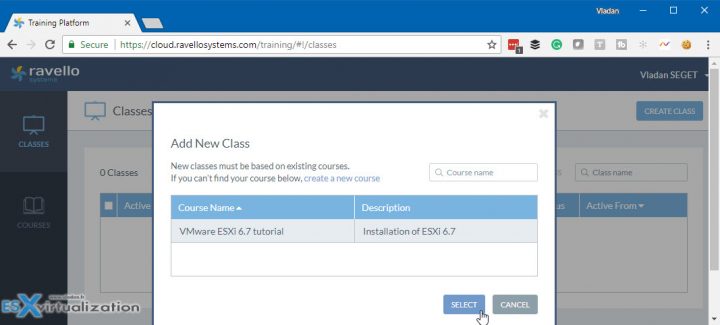 That's it for the Course part. Next, we need to create a new class.
Step 3: Create a New Class. Click the Classes button on the left and again, put some meaningful name and description, then chose for how long this lab will be active (From) and (Until). You have also a possibility to select the Trainer, Timezone and also chose between Cost or Performance.
Then chose the Datacenter where the workflow will be running.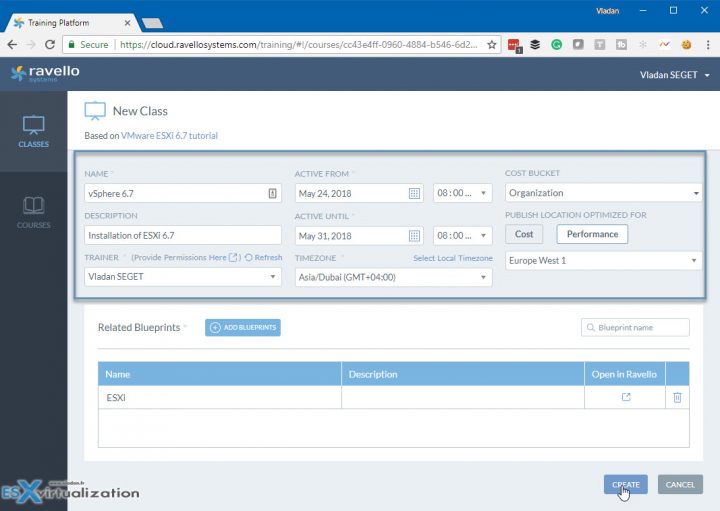 Click Create button and that's it.
Step 4: Add Students – now the last part, we need to add some students to our class so the class is not empty.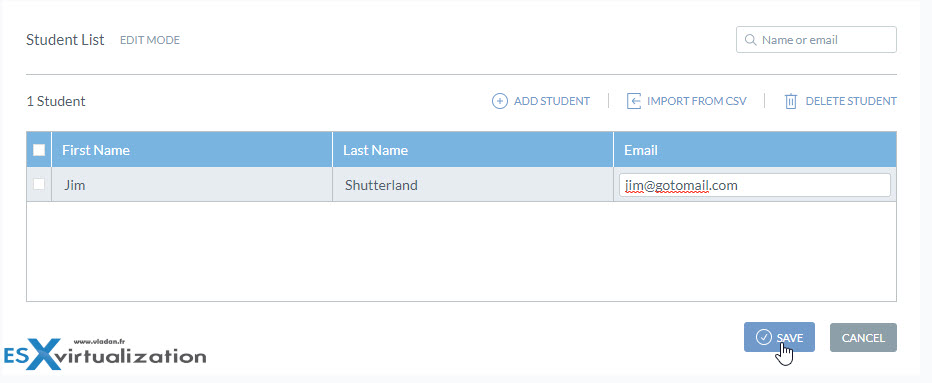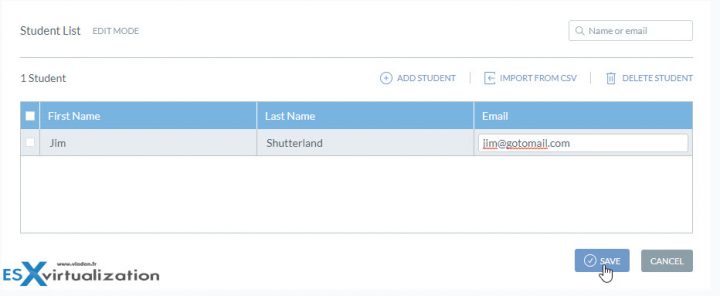 The student portal link is accessible through single click through the UI, and you also can export via CSV if you have many students.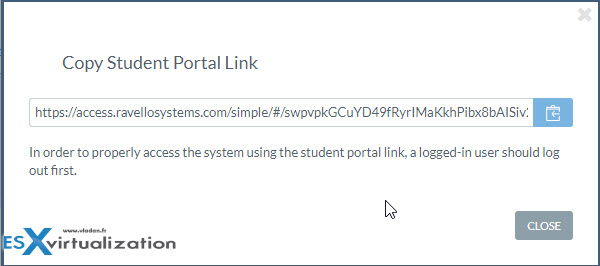 As I mentioned, when adding students to your course, you have a possibility to import many students in once so you avoid the tedious manual task….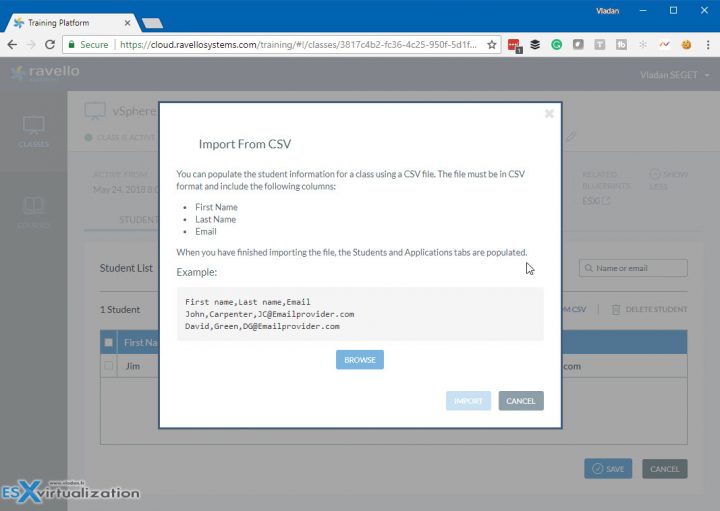 This is it. We're done. We have created Class, Course, Added a student and generated a link for him/her. Simple and easy.
Here is a demo video created by Ravello which shows all the steps and further details.
Organizations and individuals can prepare their training classes and then send a link through e-mail to their students.
Quote:
With Ravello's new Training Platform, organizations can plan, manage, and conduct training and hands-on labs efficiently. The platform can be used to educate large crowds at conferences and also supports distributed organizations.

The Training Platform incorporates the benefits of Ravello such native VMware/KVM deployments and L2 networking and is fully integrated with the Ravello service. It enables organizations to create, customize, and manage Courses, Classes, and Student labs efficiently, and help deliver instructor-based and self-paced training. It is available to all Ravello customers at no additional cost.
Wrap Up:
Ravello adds more features to the backend and also to the front end on regular basis. Ravello allows you to upload and run your on-prem workloads, including multi-VM applications, into the Oracle Cloud Infrastructure (OCI) without any changes to those VMs. Without the need for any reconfiguration, including networking.
This is usually not possible if you are VMware shop and willing to use Azure or AWS (even if AWS for VMware is now available, but you have to start with 4 hosts minimum). So if you want to use Azure or AWS, you'd have to completely change your VMs, their config, their storage, their networking… A lot of manual steps involved. There is not much compatibility between VMware VMs and Microsoft VMs. You know that.
Through Ravello, it's pretty easy and fast. The idea is to pick your already configured VMs, upload them to Ravello, create a blueprint and run your workloads there. The UI is fast and intuitive. Now with the possibility to create and manage classes and courses and give an access quickly and easily to students or co-workers which needs training, the system finds an even larger audience. I'm a fan, are you?
Check Ravello website here.
I have created a couple of posts in the past, you might want to look at them to get you started:
More from ESX Virtualization
Subscribe to RSS, and social media channels (Twitter, FB, YouTube)