As you know, the VMware management has evolved over a couple of years. In this post, we'll explain how and what's changed, but also do a quick demo of How To Login Into VMware vCenter Server Appliance (VCSA) Management page.
This post is destined people who are NOT VMware administrators but they just need some basic information about management of VMware vCenter Server Appliance (VCSA). If you're VMware admin, just skip this post.
With the release of vSphere 6.7 U1, vCenter Server on Windows lives its last version. In the next major release, there will be only VMware VCSA to manage vSphere. VMware vCSA is Linux distribution based on Photon OS. Some of you who do not follow VMware at all and knows only ESXi then we could say that yes, VCSA is a management VM for ESXi hosts.
In order to understand vSphere management, a while back, we have put a simple article which explains What is The Difference between VMware vSphere, ESXi and vCenter. The posts explain the basics about VMware vSphere, which is basically a commercial name for the whole VMware Suite. Again, real basic, real simple explanation to people who do not deal with VMware.
The VMware vCenter 6.7 Appliance Management Page
The VCSA appliance runs Linux Photon OS and is manageable via a web-based interface. The management I mean, to set up (change) root password, change time zone, networking settings, configure file backup and get an insight of how this appliance performs in terms of network, CPU, storage etc. The latest version has also the possibility to check how the different VMDK disks aren't filling up too much (there is a new built-in view in there).
In order to connect to this web-based UI, you can use your web browser to connect to a page, where the 5480 is the default management port. You'll need the root user account and password which has been assigned during the installation of the appliance.
Here is he connection URL.
VMware Appliance Management (https://x.x.x.x:5480)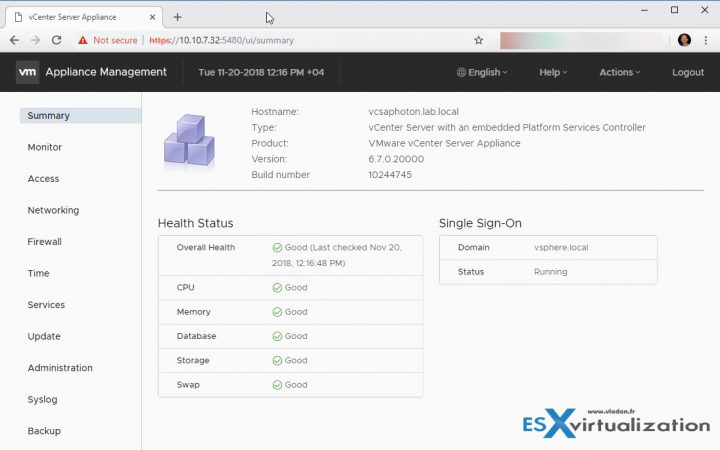 You have also a possibility if VMware support asks you to do so, to generate and send a support bundle. You can do that via the Actions menu.
Management of vSphere
The above is valid just for the vCenter Server Appliance (VCSA).  The vSphere management it has other access URL. Also, you don't need any software anymore as vSphere Legacy Windows client no longer exists on vSphere 6.7. The only URL you need to know for the connection is this URL:
https://IP_or_FQDN_VCSA/
Overview of the web-based access for vCenter Server Appliance for VMware vSphere.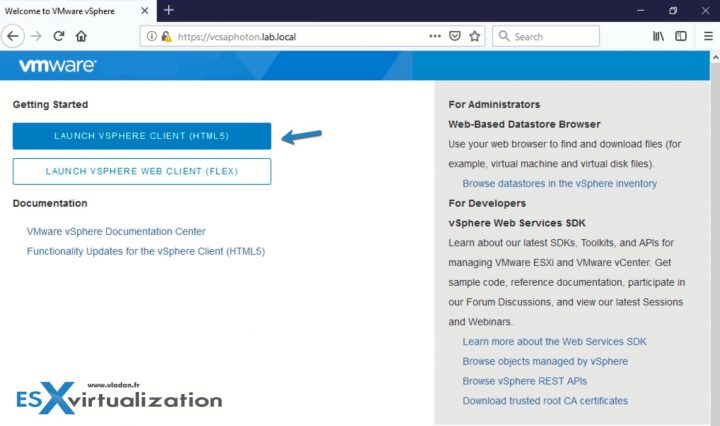 As you can see, you can still use the legacy FLEX client where you'll need to install Adobe Flash plugin as an add-on to your browser. The HTML 5 web client does not need any plugins installed. The vSphere 6.7 Update 1 has feature parity (or even more) now.
So after connection via the HTML 5 web client you'll end up in this page where you have all the icons and all the shortcuts to manage your vSphere infrastructure.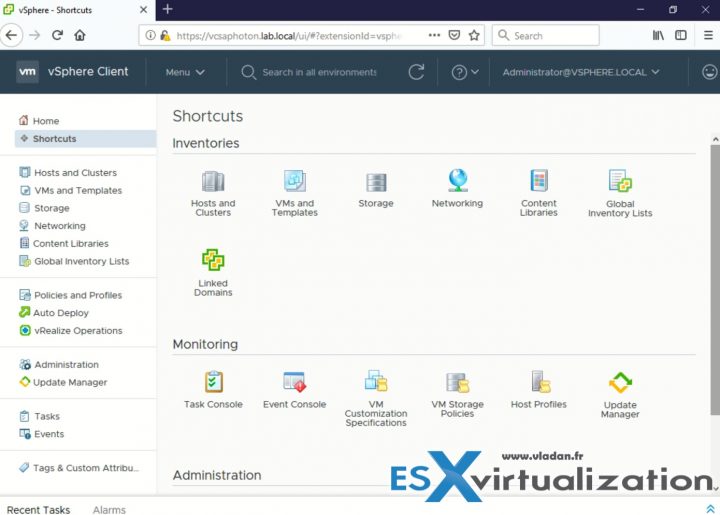 What's the difference in one of the most popular small business packages?
Usually, small business does not need too many VMs, so Essentials or Essentials plus are good bundles which exist since a long time. The differences between Essentials and Essentials PLUS below.
As you can see Essentials does not have High Availability (automatic VM restart), vMotion, backup software (VDP) or possibility to add VSAN as shared storage option (separate licensing option – per physical CPU).


The Essentials is good for very small clients and clients who do not really need availability. Clients which stop a VM and then move it to another host where they can start it again, to do a hardware maintenance on the first host.
On the other hand, having the possibility to migrate your VMs to another host and do a host maintenance or security patching without interruption, gives you a real advantage. This can be done during business hours and users can continue to work. That's why Essentials Plus has a much better value even if it's more expensive.
Note: Both licensing packages do have vCenter Server Appliance (VCSA).
So basically you'll have the right to install 3 ESXi hosts and vCenter where, depending of the licensing you chose, you'll need further configuration for VMware HA, VMware vMotion and (if used) vSphere Data Recovery (backup).
Shop for vSphere licenses at VMware Store:
Also, if there is an unplanned hardware failure, vSphere High Availability (HA) can restart automatically those VMs which failed when the host failed. Those VMs are automatically restarted on other hosts which are part of VMware cluster.
There is small downtime during which the system figures out which host has failed and which are the hosts that are able to start the failed VMs. Those hosts must have enough available capacity in terms of memory or CPU.  Once this automatic decision is taken, the VM boots up. The whole process is completely automatic and acts without the admin's intervention. A shared SAN/NAS storage or VMware vSAN needs to be part of the cluster. (Please note that VMware VSAN is separate product).
vSphere Tips:
I hope that you've learned the real basics about VMware management, administration and tools. This post was mentioned to help other than VMware admins, about vSphere, ESXi hypervisor, vSphere management and access to the vCenter Server Appliance (VCSA) which is the main vSphere management piece.
More from ESX Virtualization
Stay tuned through RSS, and social media channels (Twitter, FB, YouTube)