In this post and video, we'll discuss a migration of Center Server 6.5 running on Windows server to the latest VMware Center server appliance (VCSA) 7.0 running Photon OS. Yes, I know, most people have already migrated to VCSA, but willing to post it anyway as in some cases with old infrastructures, you'll need to migrate from 6.0 to 6.5, and then to 7.0. So this post will detail with a video How to migrate VMware vCenter Server 6.5 Windows to vCSA 7.0.
This post might be interesting for admins which inherited an older vSphere 6.0 infrastructure with Center server on Windows. If you're running Center server 6.0 on Windows (you're out of support btw), you cannot upgrade directly to VCSA 7.0 but you must do an in-place upgrade of 6.0 to 6.5 first and also upgrade your hosts from ESXi 6.0 to ESXi 6.5. After only you have a direct path from 6.5 to 7.0.
VMware has no Windows version of Center Server 7.0 so the only path you're able to upgrade to is to upgrade to VCSA 7.0. If you're running vCenter Server and Platform Service Controler (PSC) on Windows Server these systems, those will be converged for you via the upgrade process.
The installer performs a pre-check of the environment and it does make sure that your architecture meets some requirements. As an example, the pre-check validates that you have enough space on the system where you are migrating from.
If you're running vSphere 6.7 and your vCenter server is already running on Linux, then you will not use the "Migrate" option, but rather the "Upgrade" one. It's just to make sure you follow ….
vCenter Server 6.5 Windows to VCSA 7.0 Requirements
Your current vCenter must be running vSphere 6.5 or higher
ESXi must be running at least version 6.5 or higher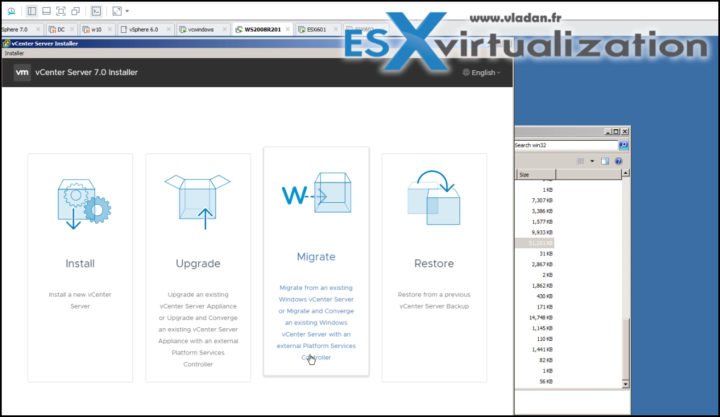 The steps:
Connect to your vCenter server 6.5 Windows machine and mount the VCSA 7.0 ISO you have downloaded from VMware.
Then go to the folder called "migration-assistant" where you'll find an executable called VMware-Migration-Assistant.exe which you'll need to launch. It will open a command-line prompt asking you for a single sign-on (SSO) password.
Note: If you forgot SSO password here is how to reset if Center is installed together with Platform services controller (PSC) on the same machine:
On your Windows-based Center server, open a command prompt and change dir to:
C:\Program Files\VMware\vCenter Server\vmdird
Then type:
vdcadmintool
this gives you different options. Just pick the option 3 to Reset account password.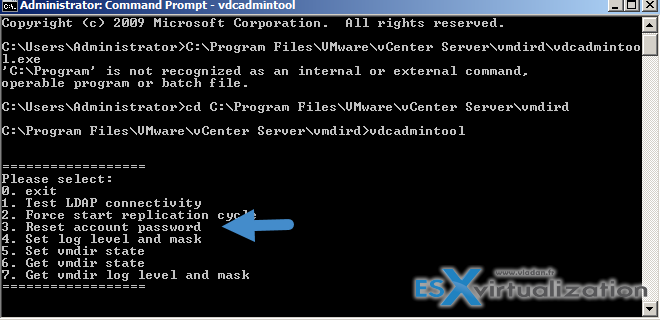 Video of migration of Windows vCenter Server 6.5 to VCSA 7.0
Here is a detailed video recorded in my nested lab which shows the whole process. Parts of the video are accelerated as the whole process is quite long. You'll see phase 1 where a new VCSA appliance is deployed to the target vCenter or ESXi host and takes a temporary IP address. And then there is a phase 2 where you'll chose what to migrate:
Configuration and inventory
Configuration, Inventory, tasks and events
Configuration, In inventory, Tasks, Events and Performance Metrics
The detailed video is here:
Enjoy, share and come back for more -:)
More from ESX Virtualization
Stay tuned through RSS, and social media channels (Twitter, FB, YouTube)