Zerto's technology for replicating VMs without snapshots was detailed quite a few times on our blog. Today, we'll focus on How to Restore individual Files from Journal File Level Recovery in Zerto. Previously you could already recover a full site, application(s) or VMs, but the additional granularity giving you a possibility to recover files within the Zerto UI.
Zerto does not use hypervisor's snapshot technology for replication purposes. Zerto's Virtual Replication Appliance (VRA) is able to tap into a virtual machine's IO stream causing no overhead or performance problems.
The VRA uses the vSphere APIs to see the data flowing from the VM each time there is a read or write operation. So every time the VM writes to its VMDKs, the write command is captured, cloned, and sent to the recovery site. Ingenious, no?
Having the ability to restore specific files from a Virtual Machine at any given point in time (within seconds) is a must see. The journal has all the checkpoints and if you defined your RPO with few seconds interval, you'll find yourself with lots of checkpoints to chose from.
The process is fairly simple:
Select the VM
Select the Check Point
Disks get mounted – It will mount the VMDK as read-only on this site.
Restore your files (File Server Data, Application Files, Data Base Files – SQL, Oracle, Exchange, etc)
The file will be downloaded to a machine you're connecting to the UI from.
How to Restore individual Files from Journal File Level Recovery – the detailed steps:
The first step consists, after connecting to the Zerto UI, to Click on the Actions > Restore files buttons. This will launch an assistant.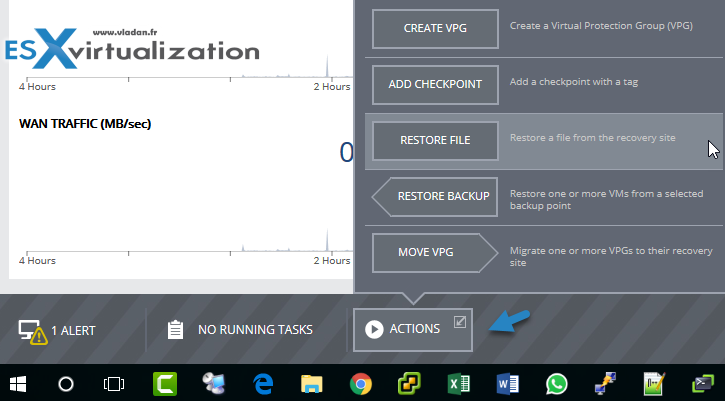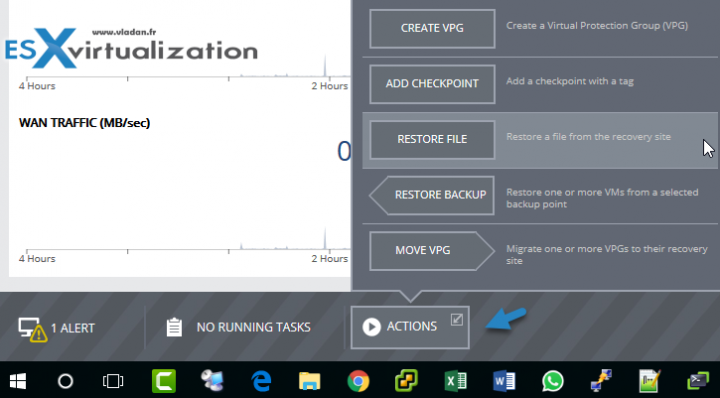 The assistant will ask you few questions, such as selecting a VM to recover files from (on my screen below I'm only protecting single VM).

You're then asked to select a checkpoint you want to recover the files from. Dead easy.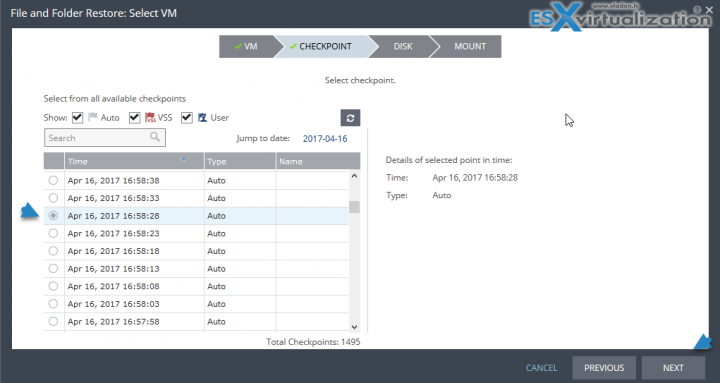 After that, you have a choice to mount a disk from within that particular VM. Necessary option when your VM has more than one virtual disk attached. File servers or DB servers may use different volumes, different disks outside the c: drive where usually the Operating system is installed only.

Now, we're ready to mount the disk.

We have one more notification window informing us what's next.

We not only can do that from the Monitoring > Tasks tab, but also from within the dashboard. On the dashboard, you also have a section on the right-hand you have Running Tasks (just below the Active alerts).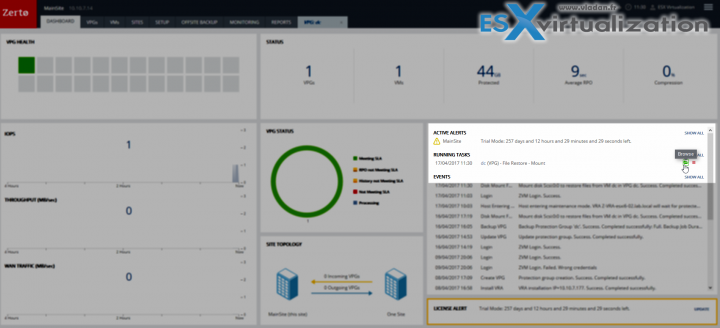 So you can simply click the Browse Icon which will launch another small assistant window.

Now the disk is mounted. All you need to chose is the file itself or a whole directory. The selection will be a ZIP file which you'll download via your web browser to your local machine.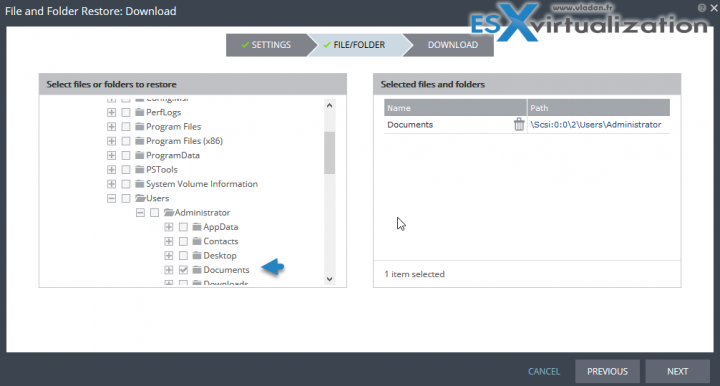 Click the download button and you are done. Depending which browser you're using, you'll download a zipped file to your machine. You can then restore to wherever you like or send to your peer via e-mail etc…

Then, one more task to do actually. If not you'll have your disk mounted forever. Click the Unmount disk icon to unmount the disk.


Wrap up:
This is a very cool feature indeed, which will certainly be used most of the time unless of course your VM is completely corrupted or destroyed by a virus. Yes, most of the time you only need to restore individual files during daily administration tasks. And having the right tools and the right knowledge to do it, is crucial.
Zerto continues its development. Journal history has been extended from 14 days to 30 days period in the 5.0 release. The journal is really kind of "point-in-time" history from where you can recover individual VMs or individual files (added in v 4.5). With Zerto you can travel back in time and you basically can choose the exact point in time where you want to land. The granularity is in seconds rather than in 5-10 or 15 minutes intervals.
Download Zerto trial from their website.
Some recent lab posts about Zerto:
Check out Zerto!
More posts from ESX Virtualization:
Stay tuned through RSS, and social media channels (Twitter, FB, YouTube)