I'm sure you've heard about Zerto before. ESX Virtualization readers know Zerto's technology since a long time. Their "no-snapshot" technology when it comes to replication is unique. We have covered this in many posts and installed their product in our lab quite a few times. In today's post, we will focus on something called Commit Policy – What is Zerto Commit Policy?
We'll get to What is Zerto commit Policy is in a sec, but before I'd like to point out what is a checkpoint. I think everyone knows it from other hypervisor's technology, for example, Hyper-V uses this when talking about snapshots, but also VMware is using fast checkpointing technology within FT. A checkpoint is simply a recovery point, so if you restore VM to specific checkpoint it means that the VM will simply be "restored" to that specific point.
You can failover with a commit policy of 10 min which gives you enough time to verify that the VM at the remote site works as expected, has the data untouched, unaltered from a virus or for whatever reason you failing over. You then validate the state of the VM's content before actually committing the operation  (or rolling back).
You Have Three Options:
Auto Commit – this policy will after some default time period assume that everything is OK and that it is ok to commit. The default is zero so if you don't change it, by default, Zerto will commit the changes automatically without waiting for your input. You can change the default settings when you failing over or via the default site settings.
But once you commit, Zerto journal is consolidated and Zerto cannot use go back to any other point in time. The advantage is that you basically can leave the system to handle the failover process by itself by committing automatically to a specified checkpoint. You have nothing else to do. No validation for the commit or rollback. The commit is executed. (period).

None – Manual intervention is necessary. You must manually say yes (commit) or no (rollback) to the VM, otherwise it will stay in a non-committed state which uses scratch disks, and at the end, you might run out of space your datastore as scratch disks grow in size, apparently, quite rapidly.
You can change the commit policy when you start the failover wizard (not the test) and you are at step 2 as on the image above, where you have those three options available via a drop-down menu.
Auto Rollback – Manual specification (in minutes) is necessary. The admin has to specify let's say 10 min before the rollback will occur, so he has time to wait until the VM is up and ready at the remote site. Then he/she has 10 min (for our example) to react and accept that VM's state for commit, or to do a rollback.
Can I specify default settings?
Sure you can. You must click the icon on the right-hand side > Site Settings > Policies > Then change the default policy and default timeout.


The maximum time you can delay the commit or rollback operation is 1440 minutes (24 hours).
Example:
This is an example failover where I'll show you where to click.

Then when the assistant starts, select the VPG and click Next.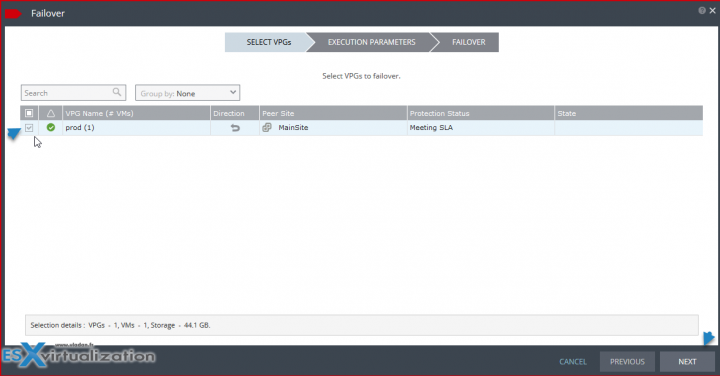 Then from the commit policy click the pen icon and chose Auto-Commit and enter 10 min as default timeout.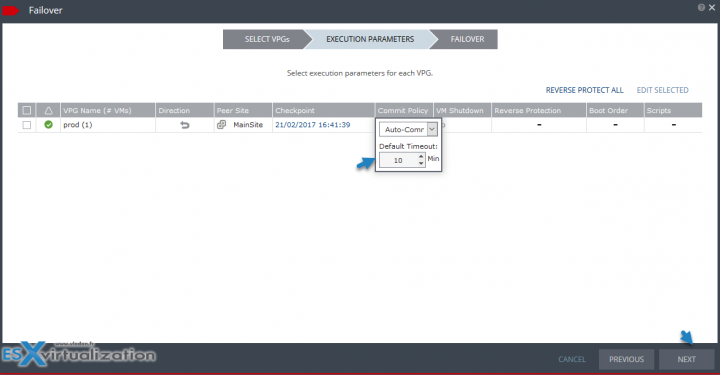 Then hit the Start Failover button.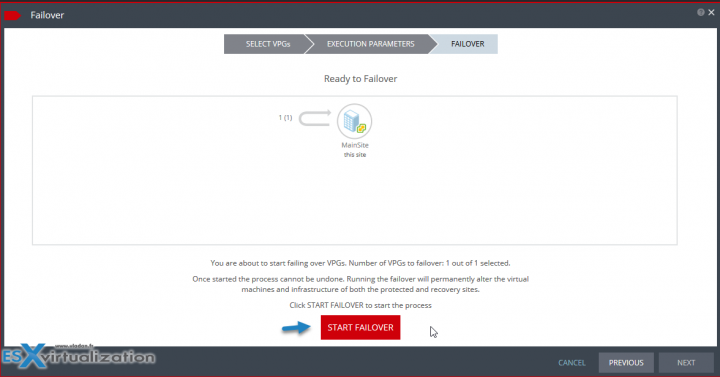 Now you should check the VM and see what you want to do.
Then come back to the Zerto UI and pick one of the two options.
Option 1 commit or option 2 is rollback. You can see both options on the image below.

That's all for today. I hope you have learned some more about Zerto and the options you have when protecting your workloads.
Last year Zerto brought significant enhancements to their product. The latest version of Zerto 5.0 (5.0 Update 1 is the latest) can simultaneously replicate a VM to multiple target platforms that are supported, which includes local or remote VMware vSphere, Microsoft Hyper-V, AWS, Microsoft Azure, and Zerto Cloud Service Provider infrastructures.
Other posts about Zerto Technology on ESX Virtualization:
Check more articles from ESX Virtualization:
Stay tuned through RSS, and social media channels (Twitter, FB, YouTube)