Vebmbu Backup and Disaster Recovery Suite ( Vembu BDR) is composed of many software solutions. Backup for VMware vSphere, Hyper-V, physical server backup, network backup, client backup. But today we will focus on How to Restore Individual Files via Vembu BDR for VMware infrastructure.
In this post, we won't go into details on how to install and configure the product. If you're interested, you can read the detailed product review post [sponsored] where we have detailed those steps.
In the lab, we have set up few backups and we simply need to recover an individual file. Within production environments, It can be a file server share where user or admin deleted some files, it can be an important individual virtual desktop where some files were deleted by error. There is always a need to recover individual file from a desktop/laptop system. However, it's important to set the backup job accordingly.
Before we actually do the recovery operation (and it's fast) we want to mention the schedule possibility of Vembu BDR. As you can see on the image below, you can go as low as 15 min. This means that you can achieve 15 min of Recovery point objective (RPO). For people not familiar with RPO, it's basically "How much work you can lose"?
How far to the past the admin has to go? Which latest restore point can he/she pick up to restore? If you're set to every hour, it means that you lost only one hour of work. If it's set every 12 hours there are chances that part of your work might be lost because the RTO is set too high.
It is per-job setting so if within your organization you have an application which needs lower RPO times, thinks of this screen and creates a backup job especially for this system. However, it does not mean that all your jobs need this setting. Backup every 15 min will put some additional pressure to your production storage as VMware backup technology leveraging change block tracking (CBT) uses VMware snapshots to work.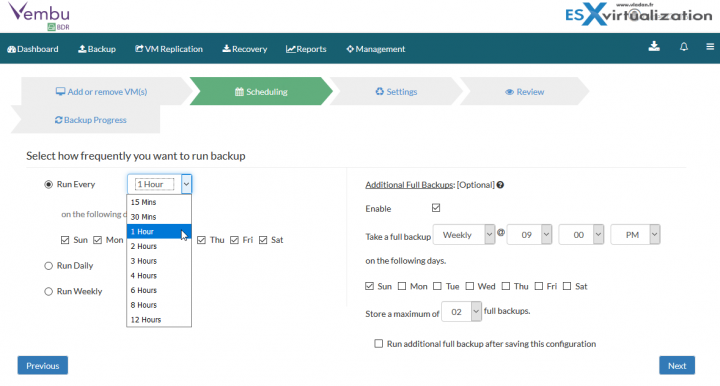 How to Restore Individual Files via Vembu BDR
Let's get back to our initial topic. Individual file restore. We can do that just in a few steps.
Step 1: Connect to your Vembu BDR server > Recovery > Click the Restore Icon

The assistant will start on the next screen. The product is responsive, the UI is fast, and if I haven't mentioned already, you don't need any plugins installed in your browser to manage this product. Pure HTML.
Step 2: Follow the Restore assistant. Pick the File Level Recovery option > Click Next.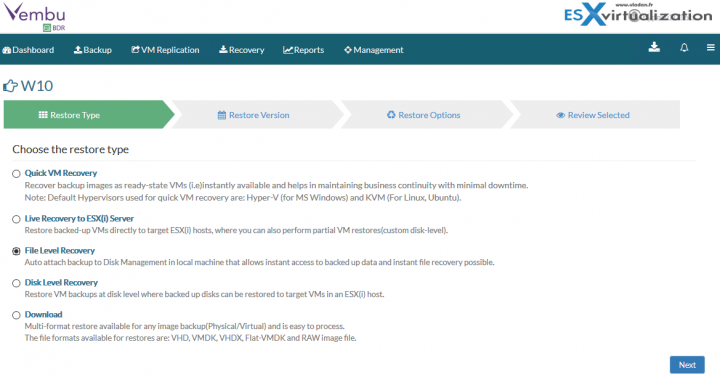 Step 3: You'll be presented with different restore points on the left. Pick a restore point (in my case I have only two points, I pick the backup done at 8:11 this morning) > Pick a virtual disk from which you want to restore your file from and click next.
You can have VMs with several disks you're backing up so that's why this option. Some VMs can have one system disk and several data disks to keep things separated. It depends on the environment. In my case, it is a simple desktop VM.

The overview screen will show up.
Here just click the Restore Now button.

You'll have a small pop-up overlay window where you have to confirm.
After that, just check your Windows Explorer for a new disk drive. Navigate to a directory where the deleted files were located and copy – paste back to the production VM.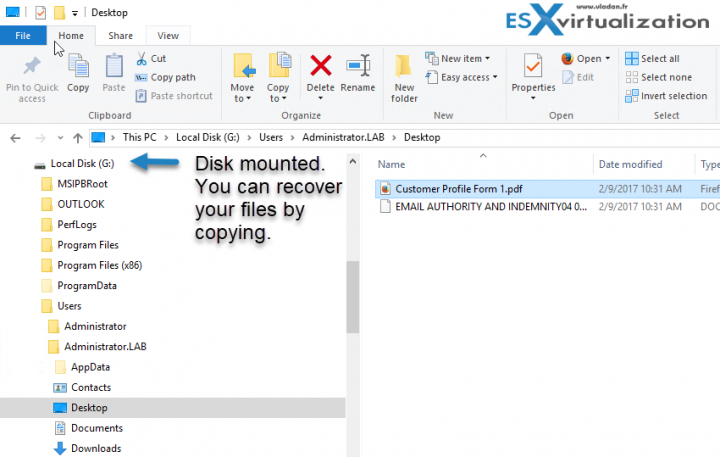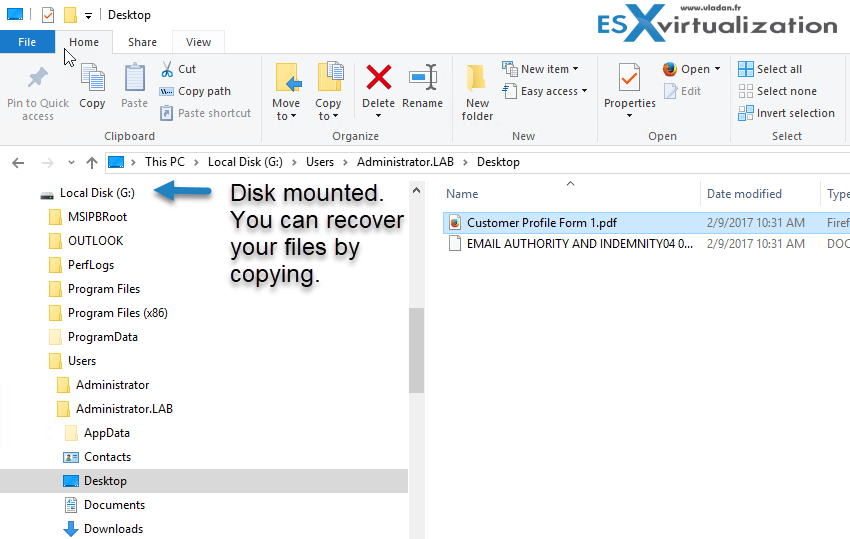 As being said, it really depends on your backup job settings how "far" you'll need to reach for the latest recovery point. If you need low RPO then consider 1h or less. If this is not a requirement, use a just daily backup schedule. Basically, It does not mean that if a particular feature is there that you have to use it. The product adapts to your needs, but know the technology limits. Know that snapshots are usually creating an additional pressure on the storage system and if your storage system does not have enough power, enough performance, performing many snapshots often might impact the performance of existing VMs.
Wrap up:
How to Restore Individual Files via Vembu BDR is quite simple indeed, but very effective, via a web-based wizard. You can connect to Vembu backup server from any machine without needing to install some console or client.
Imagine that you can do the same, within the same console, for physical systems such as remote desktops or laptops. Particularly useful when you have a hybrid environment with some virtual machines, some physical Windows servers.
More from ESX Virtualization:
Stay tuned through RSS, and social media channels (Twitter, FB, YouTube)