A quick tip today for users struggling with a free space on their W10 computer. We'll show you a quick tip for a new way to free disk space. Windows 10 (starting build has introduced a new way to Free Up Disk Space. Previously this was usually possible through the properties of the C: drive (right click > properties), where you have an additional option for selecting to remove previous Windows installation files.
Now with the build 1709 and higher you can find the option via the System option. I'm not really a fan of this, but rather an old school, but you might find some additional options which are not present via the "classic" option, which has been around since Windows 7.
You can clean the primary OS partition, which is usually C:\ drive (but can be another too).
Other than that, you have plenty of other free tools which you can install, where one of the well known is CCleaner. But there are many others. Today, we do have an option to clean those natively without installing any additional software.
You can some core system files, log files, temporary files, system created Windows error reporting files and others.
Where to find it the option?
Right-click the Start button > System > Storage > Then click the Free Up Space Now link.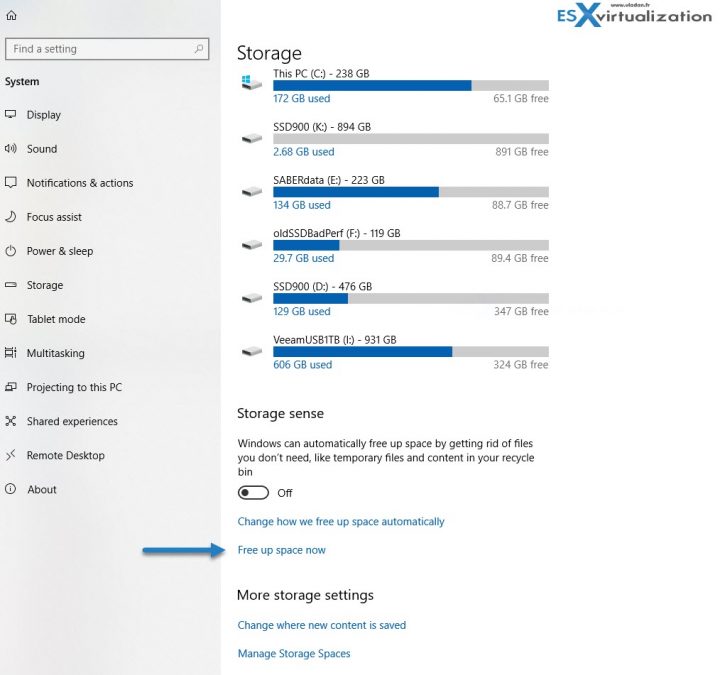 You'll open a new window allowing you to check some boxes (including the Previous Windows Installations). After a quick scan of your system, the new window will refresh its content showing you the up-to-date information with the size of each element.
Screenshot from a lab system with W10 installed.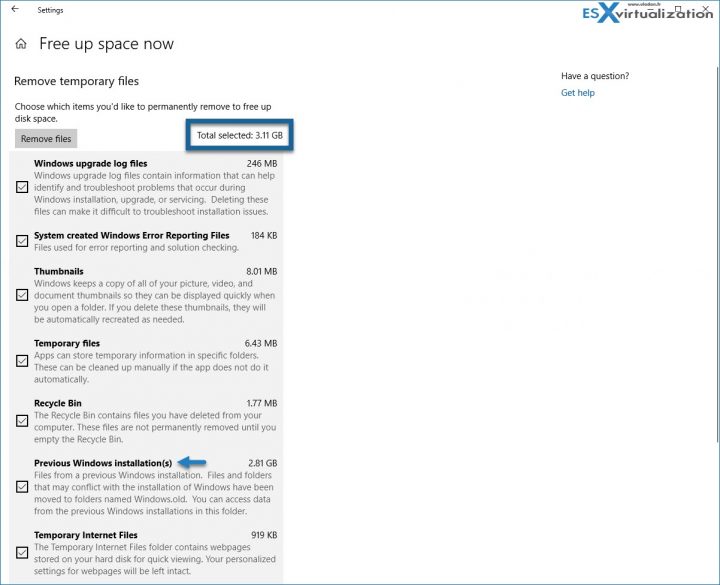 By default, the remove "Previews Windows installations(s)" is not selected, but in our case, we can safely wipe 2.81 Gb of old data plus all the other log entries as well.
Note that the old way of cleaning disk space via Disk Cleanup still exists, but it seems that Microsoft, is getting rid of those old sub-programs in order to homogenize all Windows platforms for every device. So every new release we're "losing" the way we use to work in the past.
I know many of our readers (including me) are Mac users, but enterprise customers and clients are and will be Windows users because it's too difficult to change people's mind to learn new ways to work with different OS or different applications. And additionally, you have applications compatibility. It's usually more costly to re-write application for different OS then keep using the system you've used so far.
One last note concerning a free upgrade to Windows 10. It seems that it is still possible, for Windows 7 users, to upgrade to W10 for free. As long as you have legit W7 or higher (W8.x or even Vista) you can still upgrade.
One of the ways to upgrade is to download Media Creation Tool from Microsoft and prepare a bootable Windows 10 installation USB drive. Once done, from there is fairly simple to continue with a fresh installation, and enter the product key when prompted during the fresh installation of Windows 10.
More from ESX Virtualization
Stay tuned through RSS, and social media channels (Twitter, FB, YouTube)