Infinio is a software company which provides an unique server side software acceleration solution for NAS which uses RAM to accelerate VMware vSphere workloads. They just released version 1.2 of their product – Infinio Accelerator. The latest 1.2 release of Infinio Accelerator is compatible with the latest version of vSphere 5.5. Infinio is fairly new company, with the product offering has started only in November last year, but their product is quite unique.
Update: You might want to check my post about Infinio Accelerator 2.0!
The product is easy to install, no downtime is necessary, all you needs to allocate is just 2 vCPU with 8Gb of RAM from each server to create a pool of RAM based cache, shared and de-duplicated across the cluster. The storage requests does not need to go all the way down to your NAS, but it's the cache which serves the requests, not the back end NAS device.  And all the cache sits in the RAM – the fastest medium! There is no SSD you need to buy.
The Infinio 'secret sauce' is an in-memory global cache that is shared and de-duplicated across the entire vSphere cluster." More information on the product is available at Infinio.

Here is what looks like the Infinio Dashboard (img. from Infinio website)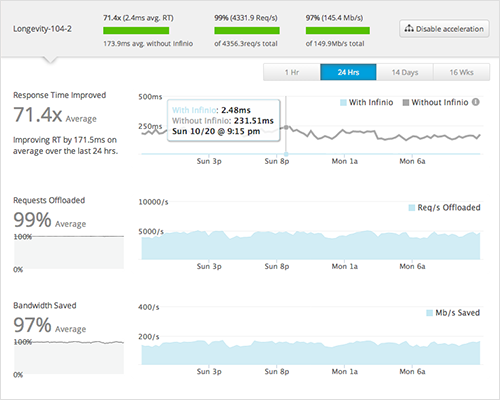 So it's a software solution which uses RAM, not SSDs to provide server side caching for acceleration of VMware vSphere workloads. If you want all the details, the best is to watch this excellent 3 part video series by Vishal Misra (@vishalmisra) , CTO and founder of Infinio. I really liked it and I'm embedding the Video 2 below –  Accelerator Architecture.
Infinio looks at the content of a block, not a location of where the block is located on the storage. By deduplicating the blocks with the same content they are able to serve the block from the RAM's cache. Each request of a block is requested from the NAS first and cached immediately. Second time any of the VMs located on any of the hosts in the cluster requests the same block, then this block is served from cache.
The full 3 video series can be found here: https://info.infinio.com/content-based-caching where the 3rd video shows the real benefits.
Infinio lab setup.
A fellow blogger and vExpert Arjan Timmerman has done a setup of Infinio in his lab. You can check out his two part series here: Part1 and Part2.
Infinio provides 30 days trial to test the solution.
Infinio accelerates NFS based workloads only. For block based acceleration (FC, iSCSI) you might want to look at PernixData. Check out my post which shows the lab setup and some UI screenshots.
Source: Infinio Blog