Infinio announcing version 2.0 of their accelerating software for VMware workloads – Infinio Accelerator v2.0. While the previous release was able to accelerate NFS based workloads only, the second release can accelerate workloads on Fibre Channel, iSCSI, FCoE, NFS and environments with multiple protocols.
Infinio creates a pooled storage layer from server's RAM across the vSphere cluster without the need of change anything in the storage configuration. What you need is just to allocate some RAM from each host in order to deploy the Infinio appliance. Each appliance uses 8Gb of RAM and 2 vCPU).
Instead of the IO request being handled by the storage array (already busy serving IOs for the most demanding workloads), the infinio cache looks if the bits are already present in the cache. If yes, then it's Infinio who serves the IO, not the storage array. In less than 30 min the most demanding IOPs requests are cached and the solution shows the
How it works?
Infinio has content-based architecture with global deduplication, Infinio takes only a small amount of RAM from each ESXi host and delivers SSD-like performance gains. Infinio works across a VMware cluster to improve storage performance. By creating a distributed caching layer across hosts, Infinio can offload 65%-85% of reads from the storage system, improving latency and lengthening the life of storage.

Infinio Compatibility?
vSphere 5.x
To get the details you can check this video showing how the content based caching works.
Screenshot showing the full UI from where you can drill down to the datastores, VMs, etc…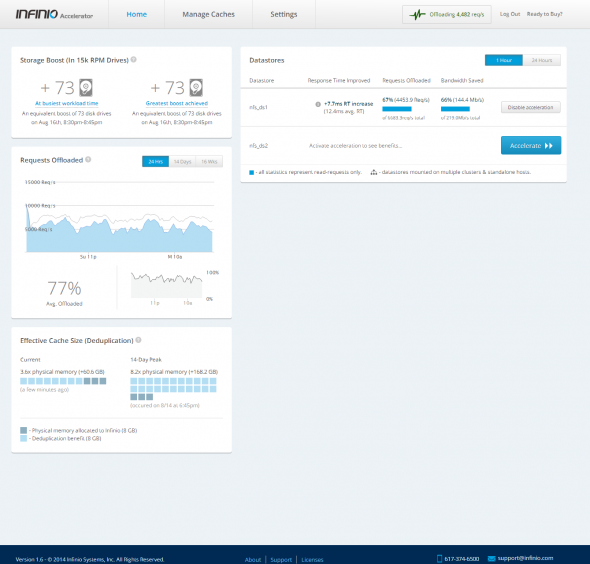 What's New in Infinio v2.0?
SAN and Unified Storage support: In addition to support for the NFS storage protocol, v2.0 will also include full support for Fibre Channel, iSCSI, FCoE, and environments with multiple protocols. No matter which storage protocol customers choose, the Infinio user experience remains the same, including wizard-driven installation, zero operational impact, and instant access to advanced reporting.
Application-level reporting: Infinio v2.0 adds the ability to start with a weekly datastore performance view and drill all the way down to a minute-by-minute per-application view of storage performance. Users can easily identify peak latency spikes, and then explore them at a level of detail that allows them to determine which workloads are responsible for increasing the load on storage, and which workloads are best suited for Infinio caching.
Cache Advisor for smart sizing of memory: This new feature is designed to help administrators determine how much RAM to dedicate to Infinio's cache. While many customers achieve strong results with the default 8 GB of RAM per host, this new feature will allow them to select any period of time and calculate what performance would have looked like with one of several larger physical cache sizes. This guidance, based on actual workload characteristics, will allow administrators to fine-tune their cache size for optimal results.
Here is a nice screenshot showing the cache advisor. You can click to enlarge.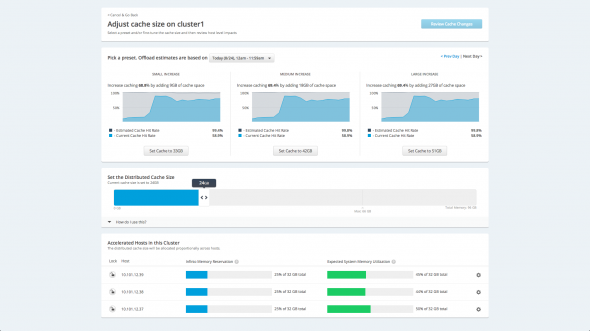 Continued innovation for VDI: More than one third of current Infinio customers have found the product especially valuable for VDI, and with v2.0, Infinio has tuned the cache with heuristics and algorithms that better support VDI workloads. This will help virtualization administrators provide an even better experience to virtual desktop users while driving down the cost of VDI deployments.
You can also have a view on your important VMs for example… You can pick VMs you want.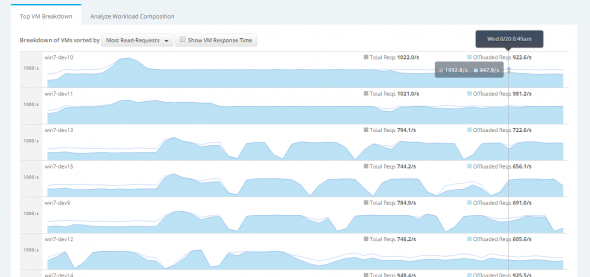 Content-based vs Location-based caching?
Content-based caching is more efficient. A good example from Infinio's blog shows that the "Do more with less" is possible. And it's actually what Infinio does. They only need 8Gb of RAM per ESXi host with some CPU cycles…..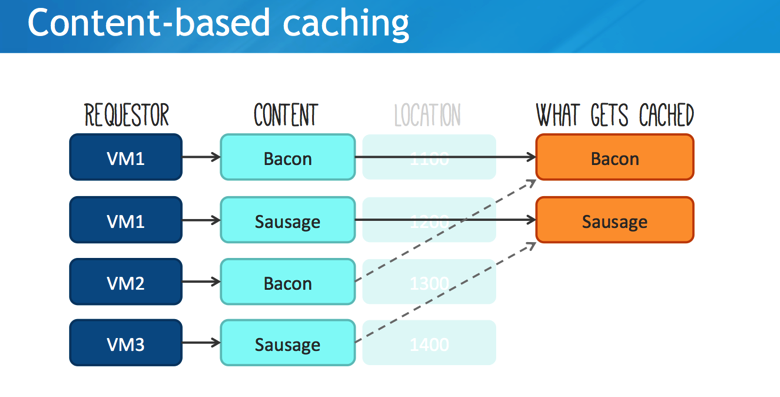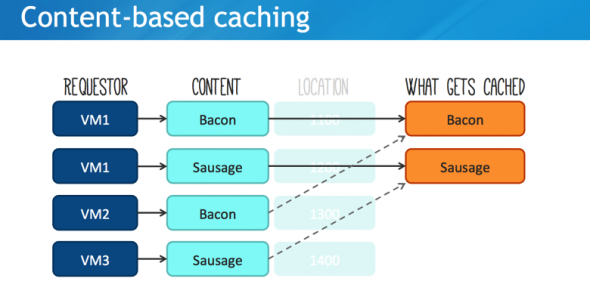 Here is another interesting screenshot showing an elimination of requests during peak period.  You can see how would be the response time of your storage without Infinio as well. The blue line is the actual workload and optimized via the Infinio accelerator. You can click to enlarge.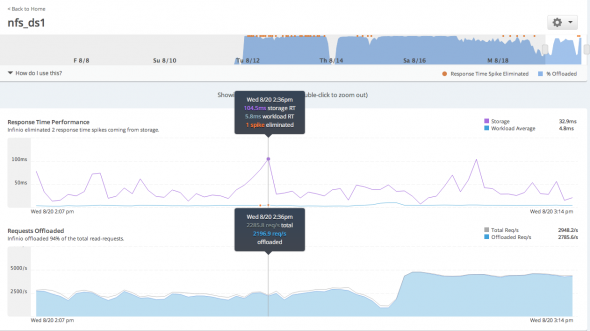 Infinio Deployment is very easy.
All you need is vCenter address and credentials. The installer do the rest and you just click to launch the web based management console.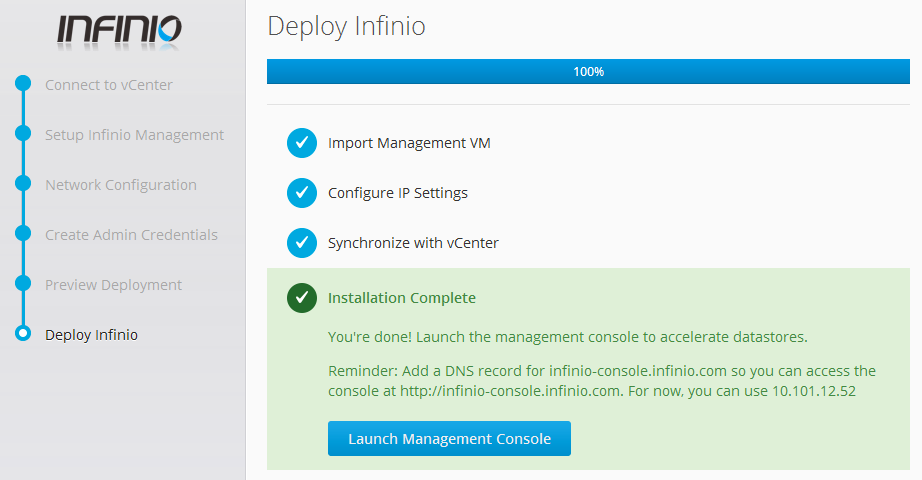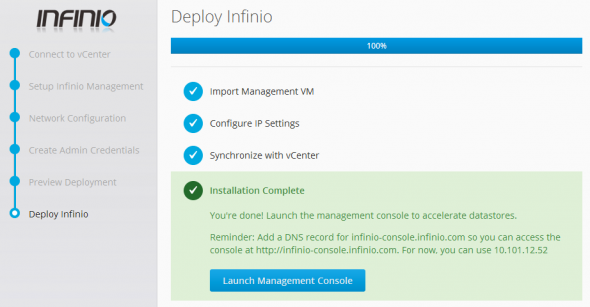 As for now the product is still in beta stage.
Infinio Accelerator v2.0 will be in beta later this year, with general availability to follow.
To learn more about what Infinio can do for you today, request a free 30-day trial, at www.infinio.com, or attend a live product demo by registering here: https://www.infinio.com/see-infinio/product-demo.
If you're not at VMworld San Francisco you can still register for VMworld Barcelona.
Special Report:
Stay tuned via RSS or Twitter.
Stay tuned for more. Grab our RSS Feed, follow on Twiter, Facebook.