Iperius Backup for VMware ESXi and vSphere, as well as Microsoft Hyper-V, is a product that isn't much known within the virtualization community. We have written about this solution a while back and we have also done a full review here. The product can backup and replicate Virtual machines (VMs) for VMware ESXi (including ESXi Free version) but also Microsoft Hyper-V.
The version 6.5.1, just released, introduces a killer feature on the ESXi Replication: Iperius allows to make Incremental Replication between ESXi Free hosts. And it's probably the only one tool that allows to make this.
If you're looking for an easy to use product which does what it should – simply protects your workloads which can be restored if anything happens to your VMs (virus, ransomware, malware). Iperius Backup creates full and incremental backups which can be sent to local storage, but also new to Amazon S3 compatible storage. (Differential backup capability is present as well).
It is an agent-less backup solution so you don't have to install any agents in your VMs, it has incremental or differential backup capabilities. Replicate to another datacenter or simply to another server room within the same building is also possible within the same UI.
Using a backup solution and leveraging replication for DR purposes. Replication can be full or incremental. Iperius is leveraging incremental replication. It's a great feature since it allows to make an incremental replication (first the machine is replicated entirely, a full replica, then, the next replication jobs simply update the part that have changed, incrementally) so it is very fast and allows to keep a perfect clone of a virtual machine on a different datastore and/or a different host.
This clone can be immediately started if necessary if the original VM has a failure. Iperius incremental replication works without needing a vCenter and also between ESXi FREE hosts to works in incremental mode, it needs the CBT to be enabled for the virtual machines, however, it can works also without CBT enabled (in that case only full backups can be made, and a warning is shown to the user in the log). "
Iperius Backup New features
Iperius Storage, now also S3: new cloud storage service that allows you to save your data via the S3 protocol on Tier III and Tier IV datacenters.
VMware ESXi INCREMENTAL REPLICATION of virtual machines from host to host (without needing vCenter). Also for ESXi Free.
Iperius Console –  now Push notifications are even more powerful: it is in fact possible for each user to enable their push notifications independently.
Iperius Console – now you can consult the history of Push notifications.
Iperius Backup Features:
Hot backup of ESXi, ESXi Free, vCenter
Hot backup of Hyper-V, also from a different machine
VM Replication from host to host and from datastore to datastore
Compatible with vSphere ESXi Cluster
Incremental and differential ESXi backup (CBT/VDDK)
Backup to disk, network, Cloud, NAS and LTO Tape
Restore of ESXi and Hyper-V virtual machines also to different hosts
Restore of individual files
Totally agentless – Backup from the network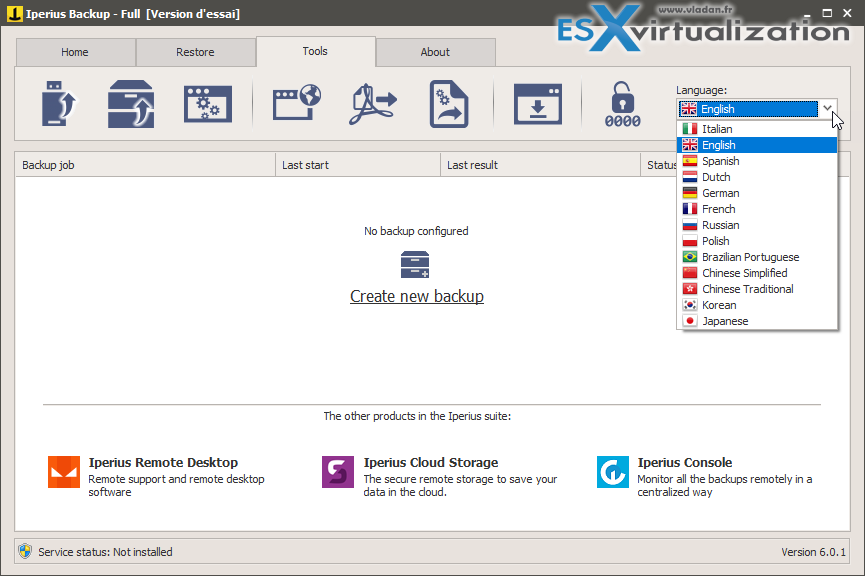 Iperius backup supports VMware Changed Block Tracking (CBT/VDDK) technologies, so you can do either the incremental or differential backup.
Other features:
AES 256 bit encryption
Compression and Synchronization
Ransomware protection
Access your files from any browser, FTP client and mobile devices
Backup from unlimited PCs/Servers
File search and file preview
Share files with other users
ISO 27001 and GDPR certified data centers
Quote from the product page:
Iperius can back up unlimited virtual machines from any local or network Hyper-V server. The backup runs quickly and without interruptions, thanks to VSS technology, and you can back up directly to NAS, Tape, or Cloud / FTP. Iperius also supports incremental image backup of virtual machines, with the possibility of truncating application logs.
As you can see, it is a simple and affordable solution for small or medium businesses.
There is also a limited free version you can start with or download a free trial here.
Check Iperius backup software website here.
More from ESX Virtualization
Stay tuned through RSS, and social media channels (Twitter, FB, YouTube)