I was playing with Nakivo Backup and Replication 6.0 in the lab the other day. They released their 6.0 version not so long time ago and you could have probably read my detailed post on that here – Nakivo Backup and Replication 6 Released. Today I thought that it might be a good idea to get back and check some of the features announced and also others which stand out when using the product.
I downloaded an NFR from their site (if you're IT pro you can get 2 Socket Enterprise License valid 12 months) and quickly set up the product. Deploying the virtual appliance, hooking up my vCenter server and configuring the first job takes few minutes only, through the web-based UI.  No, there is no flash, don't worry. Pure HTML based UI which is fast and responsive.
Note that Nakivo can be deployed not only as a virtual appliance but the product can be installed on Windows Server or Linux server. So it can be deployed and configured within VM or as a physical server.
But let's go back to today's post where I was looking around within the Nakivo UI.
While I was configuring the e-mail reporting, I thought that I set up the branding. You have two options: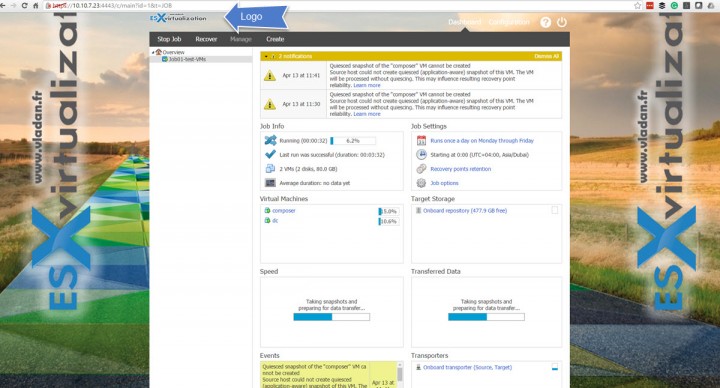 The options can be found through the Configuration > General > Branding where you can find both options….

The Service Title, company name, URL and the other information allows personalizing the footer where the hyperlinks show up after configuration…

Copy Jobs
Copy jobs can be configured after the first full backup done where you need to select the source backup first.
Start the assistant creation of job via the dashboard by going to the Create > Backup Copy Job.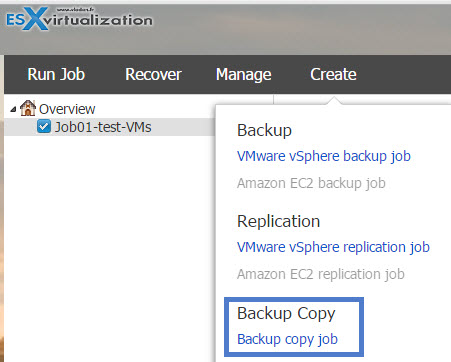 Then simply pick a VM(s) which you want/need to include in the copy job. The example here where I have two VMs and I only want to have my DC included in my copy job.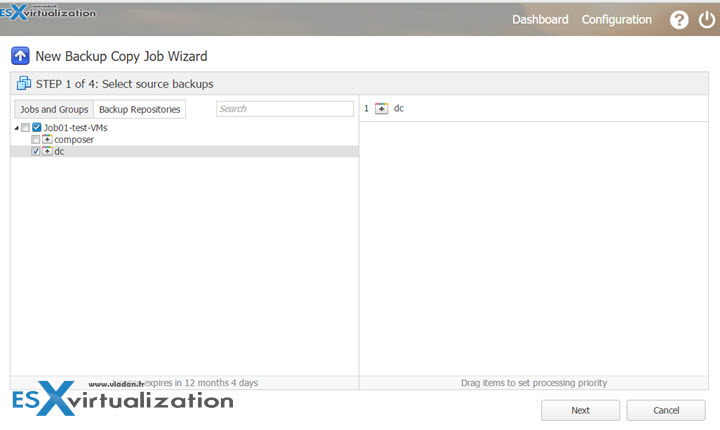 Then by clicking next you chose the destination. In my case, I only have a single repository, so it's a same destination as the backups. It's certainly not what you would like to do in a production environment where you would rather set up second repository on another host or another media.
But never mind. This is only a test environment and the purpose of this post is to show you the "look and feel" of the Nakivo UI.
So next screen is pretty much similar as the backup screen. Schedule choice where you can pick up daily, weekly, monthly or periodically (by default each 30 min) schedule and then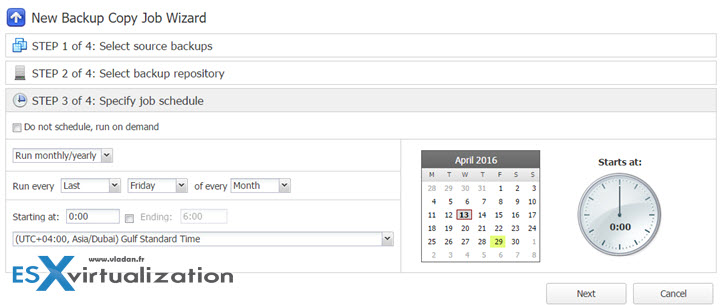 Last step is to put a name for this new job. Note that the Backup copy job runs completely independently from the regular backup jobs.  Also on this screen you're allowed to specify if you want to hava a screenshot verification. This allows you to specify if you want start the VM and have a screenshot showing the VM up and running. If you configure this option you also needs to specify the the host and datastore with some other options….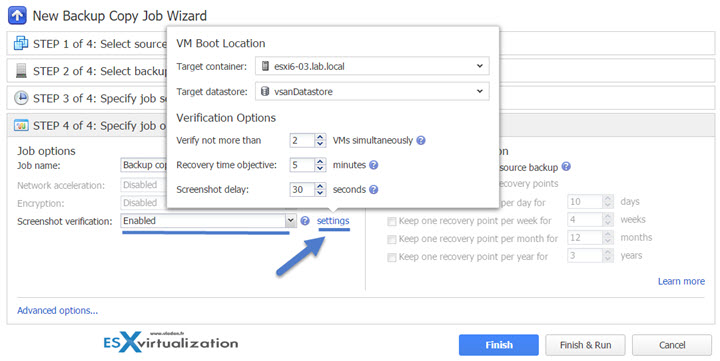 The Advanced options link (on the picture above it's down-left) allows you to specify if you want the report to be sent to an e-mail and if you want to execute local pre-job and post-job scripts. Usefull if you for example have a custom application which needs manual input or something like that….

Well, this is about what we have time to cover while keeping the post reasonably long. Nakivo product web based UI is pleasant to navigate through and it's fast enough that you don't have to wait when you click. It reminds me the ESXi host client which has now nice and fast HTML5 UI.
Nakivo and its distributed architecture is interesting for SSII and service providers.
Multi-tenancy enables to create isolated tenants within single product deployments. It means that the service provider will deploy single copy of Nakivo, and will be able to deploy self-service for each tenant, where the person who manages the backups, sees only his (hers) isolated environment.
Check more details from Nakivo website. Note that they also have Free version allowing you to backup 2 VMs.
More posts about Nakivo:
Nakivo Backup and Replication 6.0 Look and Feel