Nakivo Backup and Replication 6 product can be deployed on single site, in simple deployment model. In this case, the Director and Transporter are deployed together. The second choice is to do a Nakivo Distributed Deployment, where you'll be using two or more sites. In this case, a second transporter component shall be deployed at a remote site(s). You basically need to install the Director (the main Nakivo product) and Transporter on one site (main site), where at least one Transporter will be installed on every other site that you want to backup/replicate. Nakivo Backup and Replication 6 has now also had a possibility to add a Transporter component at Amazon EC2 – Check the details of the product release in my detailed post here.
But in this post we'll focus on Transporter installed within WAN environment, at a second site(s). The first thing to note is the fact that you don't have to have vCenter server at the remote location. Through the Nakivo UI, you can add an individual ESXi host if the remote site has only a single host, or if the remote site at the remote location is there only to host the VM's replicas. But it's good to know that It is the Transporter VM which does all of the work:
Performs backup (if you're running workloads there)
Runs replication jobs
Runs recovery jobs
Does data compression, deduplication, and encryption
Screenshot from the lab where I have vCenter server with some hosts and VMs (2), and as a remote site (1) I have a single ESXi host with one VM…

Deploying multiple Transporters also enables network acceleration and AES 256 encryption of traffic between a pair of Transporters. For example, if VMs are replicated over WAN between two sites, the Transporter installed in the source site can compress and encrypt VM data before transferring it over WAN, and the Transporter installed on the Target site can unencrypt and decompress the data prior to writing it to the Replica VM.
Screenshot from Nakivo Online Helps portal.

And the simplified architecture….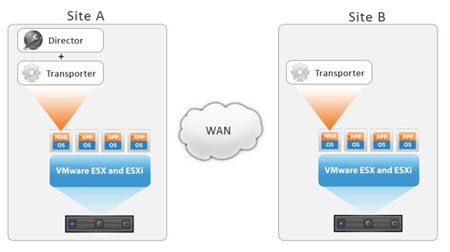 So the transporter is a key piece in the distributed architecture where the data are compressed before they hit the wire. Transporters optimize network traffic and improve data transfer speeds.
Firewall Requirements:
TCP 9446 is the default port for Nakivo Director.
TCP 443 is default communication port between vCenter server and ESXi hosts.
At Remote sites, machines, where Transporters are installed, should have a connection to vCenter servers and ESXi hosts running source VMs.
Standalone Transporter Virtual Appliance
Transporter is a standalone virtual appliance which is deployed very easily. Based on Ubuntu Server, the Transporter VM consumes 2vCPU and 2Gb of RAM. Simple config is done through the console.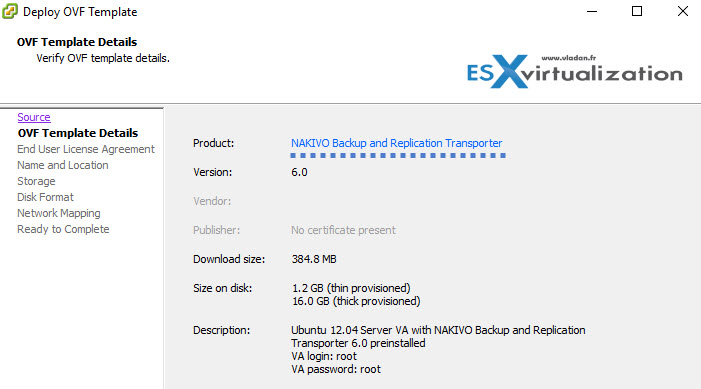 Once deployed, you will want to go to the console and setup static IP and Time zone. Other options allows:
Add backup storage (by adding another VMDK to the VM)
Check system performance
Software Update check
Exit to the system console
The console looks like this…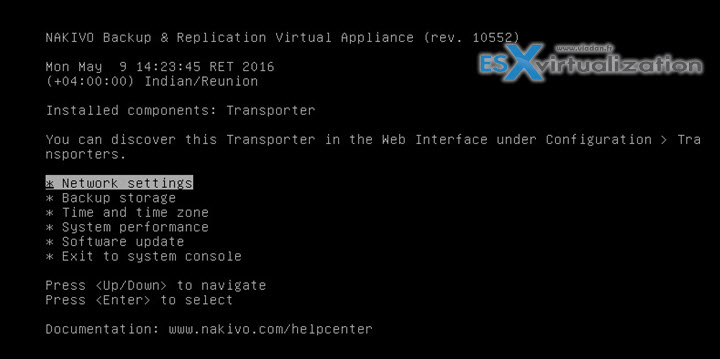 Even if the choice of a transporter is done automatically (you don't see the transporter VM when planning your replication job), the choice of a transporter is determined automatically. By default, the product automatically determines which Transporter should be used based on a proximity of a Transporter to the source or target host. The proximity is measured by using the ping round trip time (RTT).
Another Architecture schema from Nakivo…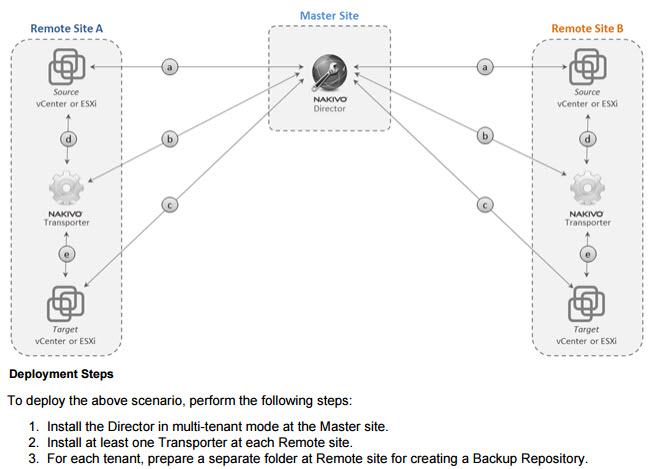 Transporter deployed at Amazon
Another option would be to deploy a transporter component at Amazon EC2. This is newly possible since Nakivo 6. The option is grayed out if you don't enter your Amazon AWS account…

This allows protecting environment running at Amazon as EC2 instances. As you might know, Amazon itself does not provide an efficient backup solution. So the only way you can protect your data was to use snapshots or use physical backup solutions. Amazon does not have deduplication or compression… Nakivo brings to Amazon:
Global deduplication and compression
Up to 1000 recovery points for each backup (forever incremental)
Instant file recovery
Daily, weekly, monthly or yearly backup schedule
Application awareness – SQL, DBs… Windows and Linux
Replication to the same region or to another region for DR
The environment running at Amazon is treated as it was a local environment to Nakivo, so the same manner you schedule backups for local protected VMs, you can now backup Amazon's EC2 instances.
Get Nakivo NFR
Interested to test? You can get a free trial from Nakivo, or, if you're an IT engineer recognized as vExpert of certified person, you might ask for Nakivo NFR.
Current VMUG members, VMware vExperts, VCIs, VCPs, VTSPs, and VSPs can receive an NFR license of NAKIVO Backup & Replication v5.5. The NFR license keys are available for non-production use only, including educational, lab testing, evaluation, training, and demonstration purposes. NFR licenses are available at www.nakivo.com/en/free_nfr_license.htm.
The new version provides a set of new features and improvements, including:
Instant object recovery for Microsoft Active Directory
Execution of pre and post job scripts
Customizable data compression levels
Disk-to-Disk-to-Tape
Configurable handling of VMware CBT errors
Enhanced iSCSI SAN support
Get the NFR from here.
More posts about Nakivo:
Nakivo Distributed Deployment – How it works?