Our friends at EasyVirt have released a new product called DC NetScope for VMware vSphere. As you can imagine from the title, the product allows you to visualize network traffic flowing inside your vSphere environment. This is already their second product for vSphere. You might already know DC Scope for vSphere? If not get the trial here.
DC NetScope is distributed as a virtual appliance consuming only 1vCPU with 4Gb of RAM. You can use it even with older vSphere environments as the compatibility with the older vSphere releases goes as far as to vSphere 5.5 (currently unsupported of course).
DC NetScope allows you to different network traffic flows, which protocols and ports are used etc. The installation and configuration are very simple and consist only in 3-4 steps. You can download a free trial here.
By seeing the flow of your traffic, you can optimize it. The product allows you to:
Visualize network traffic and ports used by applications and services
Audit network flows and active ports of your virtual machines and switches
Discover the network interactions in your datacenter
Screenshot from EasyVirt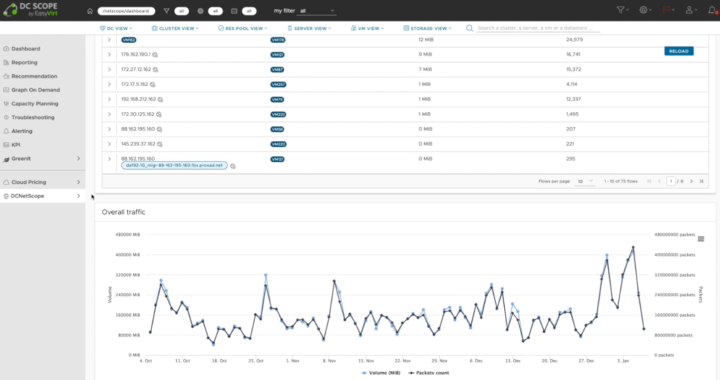 And another one.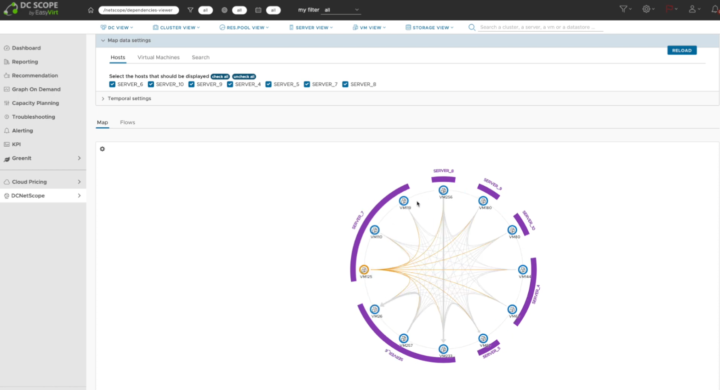 Quote:
The solution provides operational and interactive views of network flows virtual machines involved, metrics, ports, and protocols. Additionally, DC NetScope®   provides different levels of abstractions to understand and visualize the network traffic in the datacenter from the infrastructure layers (servers, virtual machines, distributed vSwitches), to the software layer (network ports, protocols, and applications).
You can download a free trial here.
More posts from ESX Virtualization:
Stay tuned through RSS, and social media channels (Twitter, FB, YouTube)