There has been a new whitepaper released about vCenter 4.1 performance improvements and also Best practices.
vCenter is a tool which you're using everyday since you're managing you VI with VI client, and since there has been lot's of improvements made especially on the performance side, it's always interesting to see why you should upgrade to vCenter 4.1. Sure that you must first check with your backup vendor to see if your existing backup solution is vSphere 4.1 ready, but VDR (VMware Data Recovery), Veeam, and many others are ready and fully supports the 4.1 version.
The paper is very useful and you'll learn a lot since it gives you some exact case studies and examples on sizing your vCenter Server. You'll be presented with 3 exemples size of Virtual infrastructure and the guidelines shows you what size of Memory, disks or CPU you should use for your vCenter Server.
If you're not decided yet to make your move to vCenter 4.1, you'll find a grid with explanations what's changed and what's been improved compared to the vCenter 4.0.
– Improved performance at higher vCenter Server inventory limits – up to 7 times higher operational throughput and up to 75% reduced operational latency
– Improved performance at higher cluster inventory limits – up to 3 times higher operational throughput and up to 60% reduced operational latency
– Faster vCenter Server startup – around 5 minutes for maximum vCenter Server inventory size
– Better vSphere Client responsiveness, quicker user interaction, and faster user login
– Faster host operations and VM operations on standalone hosts – up to 60% reduction in latency
– Lower resource usage by vCenter agents by up to 40%
– Reduced VM group power-on latency by up to 25%
– Faster VM recovery with HA – up to 60% reduction in total recovery time for 1.6 times more VMs
– Better load balancing with improved DRS/DPM algorithm effectiveness
What I like with the new version of vCenter 4.1? It's the possibility to setup the maximum amount of RAM to be used by JVM during the installation steps. This is helpful for  installation of vCenter Server on hadware with less RAM even if 4Gigs is the bare minimum and I would not go below that. Especially when in most situations vCenter Server (if physical), is also used as a bakup server with a backup solution installed too….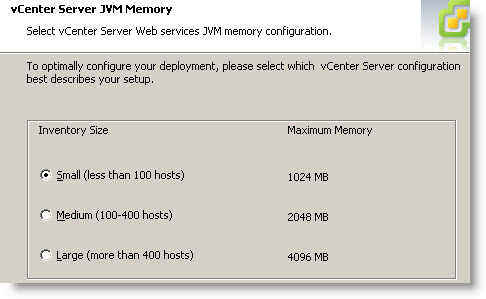 HA scallability was also improved in vCenter 4.1, since vCenter now 4.1  supports 32 host with up to 3000 VMs…
HA, DPM and DRS best practices are also discussed in the whitepaper.
At the end there is a nice case study comparing the vCenter 4.0 and 4.1 in exact case with measures done by the VMware engineers.
The authors: Nikhil Bhatia, Chirag Bhatt, Lei Chai , Adarsh Jagadeeshwaran, Alper T. Mizrak, Xiaoyun Zhu
I can highly recommend to read (and to keep) this PDF.
Source: Vroom!