If you're VCP, vExpert or VCI go and get NFR keys for your homelab.
There are editors and software vendors who cares and who are close to the users…. and customers. One of them is Veeam. With this excellent news from Veeam software. Veeam offers NFR keys of their products for all people certified VCP, vExperts or VCI (VMware Certified Instructors).
The whole story is that since users and people are spread through the whole planet, only Twitter is fast enough to interact with group of people, it can let you stay informed and you can follow/tweet/retweet/reply immediate reactions between software creator or vendor and a customer, or just between two bloggers. It's direct, since you only have 160 characters for your Tweet. I could see the power of Twitter in VMworld Copenhagen 2010 in the bloggers lounge where a big Plasma Panel was installed and where the stream of tweets from VMworld was flowing…
The idea of this Veeam's gift came in by one Swedish blogger Calr Fredrik – @cape2000 who tweeted the wish and Veeam was listening…..Twitter is the key to all that.
The only one point which really bothers me are the timezones. I do miss quite a lot of tweets and when I wake up, you guys in US are almost closing your sessions…. -:)
Go and see the info about the NFR keys on Veeam's blog here.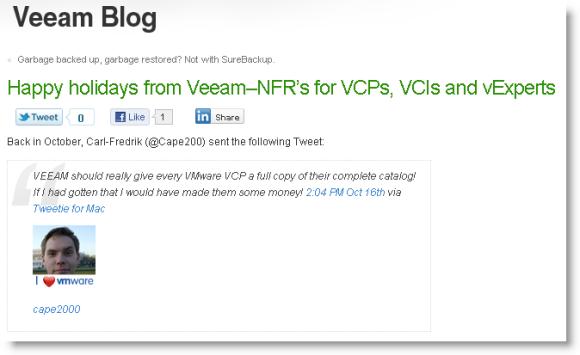 A quick quote from Veeam blog:
Veeam Software, innovative provider of VMware data protection, disaster recovery and VMware management solutions for virtual datacenter environments, today announced that Veeam Backup & Replication™ v5 with vPower™ is now available free to all VMware vExperts, VMware Certified Professionals, and VMware Certified Instructors. Any vExpert, VCP or VCI can receive a free two-socket software license (valued at approximately $1,800) for non-production use, including training, evaluation and development.
Source: Veeam's Blog